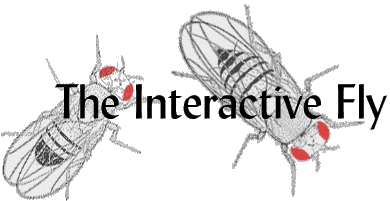 What's new in edition 91
May 2021
Gene sites new with this edition
---
The Interactive Fly was first released July/August 1996, with updates provided at approximately one month intervals, through September 1997 (edition 13). Updating quarterly started with edition 14. With edition 40, the Interactive Fly began to schedule updates three times a year: fall, winter and spring.
---
Axon degeneration is a hallmark of neurodegenerative disease and neural injury. Axotomy activates an intrinsic pro-degenerative axon death signaling cascade involving loss of the NAD+ biosynthetic enzyme Nmnat/Nmnat2 in axons, activation of dSarm/Sarm1, and subsequent Sarm-dependent depletion of NAD+. This study has identified Axundead (Axed) as a mediator of axon death. axed mutants suppress axon death in several types of axons for the lifespan of the fly and block the pro-degenerative effects of activated dSarm in vivo. Neurodegeneration induced by loss of the sole fly Nmnat ortholog is also fully blocked by axed, but not dsarm, mutants. Thus, pro-degenerative pathways activated by dSarm signaling or Nmnat elimination ultimately converge on Axed. Remarkably, severed axons morphologically preserved by axon death pathway mutations remain integrated in circuits and able to elicit complex behaviors after stimulation, indicating that blockade of axon death signaling results in long-term functional preservation of axons (Neukomm, 2017).
The nuclear lamina (NL) is an extensive protein network that underlies the inner nuclear envelope. This network includes LAP2-emerin-MAN1-domain (LEM-D) proteins that associate with the chromatin and DNA binding protein Barrier-to-autointegration factor (BAF). This study investigated the partnership between three NL Drosophila LEM-D proteins and BAF. In most tissues, only D-emerin/Otefin is required for NL enrichment of BAF, revealing an unexpected dependence on a single LEM-D protein. Prompted by these observations, BAF contributions were studied in the ovary, a tissue where D-emerin/Otefin function is essential. Germ cell-specific BAF knockdown causes phenotypes that mirror d-emerin/otefin mutants. Loss of BAF disrupts NL structure, blocks differentiation and promotes germ cell loss, phenotypes that are partially rescued by inactivation of the ATR and Chk2 kinases. These data suggest that similar to d-emerin/otefin mutants, BAF depletion activates the NL checkpoint that causes germ cell loss. Taken together, these findings provide evidence for a prominent NL partnership between the LEM-D protein D-emerin/Otefin and BAF, revealing that BAF functions with this partner in the maintenance of an adult stem cell population (Duan, 2020).
Centrosomes are microtubule-organizing centers required for error-free mitosis and embryonic development. The microtubule-nucleating activity of centrosomes is conferred by the pericentriolar material (PCM), a composite of numerous proteins subject to cell cycle-dependent oscillations in levels and organization. In diverse cell types, mRNAs localize to centrosomes and may contribute to changes in PCM abundance. This study investigated the regulation of mRNA localization to centrosomes in the rapidly cycling Drosophila melanogaster embryo. RNA localization to centrosomes was found to be regulated during the cell cycle and developmentally. A novel role for the fragile-X mental retardation protein was identified in the posttranscriptional regulation of a model centrosomal mRNA, centrocortin (cen). Further, mistargeting cen mRNA is sufficient to alter cognate protein localization to centrosomes and impair spindle morphogenesis and genome stability (Ryder, 2020).
Balanced mitochondrial fission and fusion play an important role in shaping and distributing mitochondria, as well as contributing to mitochondrial homeostasis and adaptation to stress. In particular, mitochondrial fission is required to facilitate degradation of damaged or dysfunctional units via mitophagy. Two Parkinson's disease factors, PINK1 and Parkin, are considered key mediators of damage-induced mitophagy, and promoting mitochondrial fission is sufficient to suppress the pathological phenotypes in Drosophila Pink1/parkin mutants. Additional factors were sought that impinge on mitochondrial dynamics and which may also suppress Pink1/parkinphenotypes. The Drosophila phosphatidylinositol 4-kinase IIIβ homologue, Four wheel drive (Fwd), promotes mitochondrial fission downstream of the pro-fission factor Drp1. Previously described only as male sterile, this study identified several new phenotypes in fwd mutants, including locomotor deficits and shortened lifespan, which are accompanied by mitochondrial dysfunction. Finally, fwd overexpression can suppress locomotor deficits and mitochondrial disruption in Pink1/parkin mutants, consistent with its function in promoting mitochondrial fission. Together these results shed light on the complex mechanisms of mitochondrial fission and further underscore the potential of modulating mitochondrial fission/fusion dynamics in the context of neurodegeneration (Terriente-Felix, 2020).
The Drosophila hindgut is commonly used model for studying various aspects of organogenesis like primordium establishment, further specification, patterning, and morphogenesis. During embryonic development of Drosophila, many transcriptional activators are involved in the formation of the hindgut. The transcription factor Orthopedia (Otp), a member of the 57B homeobox gene cluster, is expressed in the hindgut and nervous system of developing Drosophila embryos, but due to the lack of mutants no functional analysis has been conducted yet. This study shows that two different otp transcripts, a hindgut-specific and a nervous system-specific form, are present in the Drosophila embryo. Using an otp antibody, a detailed expression analysis during hindgut development was carried out. otp was not only expressed in the embryonic hindgut, but also in the larval and adult hindgut. To analyse the function of otp, the mutant otp allele otpGT was generated by ends-out gene targeting. In addition, two EMS-induced otp alleles were isolated in a genetic screen for mutants of the 57B region. All three otp alleles showed embryonic lethality with a severe hindgut phenotype. Anal pads were reduced and the large intestine was completely missing. This phenotype is due to apoptosis in the hindgut primordium and the developing hindgut. These data suggest that otp is another important factor for hindgut development of Drosophila. As a downstream factor of byn otp is most likely present only in differentiated hindgut cells during all stages of development rather than in stem cells (Hildebrandt, 2020).
The NineTeen Complex (NTC), also known as Pre-mRNA-processing factor 19 (Prp19) complex, regulates distinct spliceosome conformational changes necessary for splicing. During Drosophila midblastula transition, splicing is particularly sensitive to mutations in NTC-subunit Fandango, which suggests differential requirements of NTC during development. This study shows that NTC-subunit Salsa, the Drosophila orthologue of human RNA helicase Aquarius (CG31368), is rate-limiting for splicing of a subset of small first introns during oogenesis, including the first intron of gurken. Germ line depletion of Salsa and splice site mutations within gurken first intron both impair adult female fertility and oocyte dorsal-ventral patterning due to an abnormal expression of Gurken. Supporting causality, the fertility and dorsal-ventral patterning defects observed after Salsa depletion could be suppressed by the expression of a gurken construct without its first intron. Altogether these results suggest that one of the key rate-limiting functions of Salsa during oogenesis is to ensure the correct expression and efficient splicing of the first intron of gurken mRNA. Retention of gurken first intron compromises the function of this gene most likely because it undermines the correct structure and function of the transcript 5'UTR (Rathore, 2020).
Nervous system injury and disease have broad effects on the functional connectivity of the nervous system, but how injury signals are spread across neural circuits remains unclear. This study explored how axotomy changes the physiology of severed axons and adjacent uninjured 'bystander' neurons in a simple in vivo nerve preparation. Within hours after injury, suppression of axon transport was observed in all axons, whether injured or not, and decreased mechano- and chemosensory signal transduction was observed in uninjured bystander neurons. Unexpectedly, it was found the axon death molecule Sterile alpha and Armadillo motif (dSarm), but not its NAD(+) hydrolase activity, was required cell autonomously for these early changes in neuronal cell biology in bystander neurons, as were the voltage-gated calcium channel Cacophony (Cac) and the mitogen-activated protein kinase (MAPK) signaling cascade. Bystander neurons functionally recovered at later time points, while severed axons degenerated via α/Armadillo/Toll-interleukin receptor homology domain (dSarm)/Axundead signaling, and independently of Cac/MAPK. Interestingly, suppression of bystander neuron function required Draper/MEGF10 signaling in glia, indicating glial cells spread injury signals and actively suppress bystander neuron function. This work identifies a new role for dSarm and glia in suppression of bystander neuron function after injury and defines two genetically and temporally separable phases of dSarm signaling in the injured nervous system (Hsu, 2020).
Proteins of the ezrin, radixin, and moesin (ERM) family control cell and tissue morphogenesis. A previous study reported that moesin, the only ERM in Drosophila, controls mitotic morphogenesis and epithelial integrity. This study also found that the Pp1-87B phosphatase dephosphorylates moesin, counteracting its activation by the Ste20-like kinase Slik. To understand how this signaling pathway is itself regulated, a genome-wide RNAi screen was conducted, looking for new regulators of moesin activity. Slik was identified as a new member of the striatin-interacting phosphatase and kinase complex (STRIPAK). The phosphatase activity of STRIPAK reduces Slik phosphorylation to promote its cortical association and proper activation of moesin. Consistent with this finding, inhibition of STRIPAK phosphatase activity causes cell morphology defects in mitosis and impairs epithelial tissue integrity. These results implicate the Slik-STRIPAK complex in the control of multiple morphogenetic processes (De Jamblinne, 2020).
All growth and/or proliferation may require the reprogramming of metabolic pathways, whereby a switch from oxidative to glycolytic metabolism diverts glycolytic intermediates towards anabolic pathways. This study identified a novel role for TRIM32 in the maintenance of glycolytic flux mediated by biochemical interactions with the glycolytic enzymes Aldolase and Phosphoglycerate mutase. Loss of Drosophila TRIM32, encoded by thin (tn), shows reduced levels of glycolytic intermediates and amino acids. This altered metabolic profile correlates with a reduction in the size of glycolytic larval muscle and brain tissue. Consistent with a role for metabolic intermediates in glycolysis-driven biomass production, dietary amino acid supplementation in tn mutants improves muscle mass. Remarkably, TRIM32 is also required for ectopic growth: loss of TRIM32 in a wing disc-associated tumor model reduces glycolytic metabolism and restricts growth. Overall, these results reveal a novel role for TRIM32 for controlling glycolysis in the context of both normal development and tumor growth (Biwa, 2020a).
Drosophila Transmembrane channel-like (Tmc) is a protein that functions in larval proprioception. The closely related TMC1 protein is required for mammalian hearing and is a pore-forming subunit of the hair cell mechanotransduction channel. In hair cells, TMC1 is gated by small deflections of microvilli that produce tension on extracellular tip-links that connect adjacent villi. How Tmc might be gated in larval proprioceptors, which are neurons having a morphology that is completely distinct from hair cells, is unknown. This study has used high-speed confocal microscopy both to measure displacements of proprioceptive sensory dendrites during larval movement and to optically measure neural activity of the moving proprioceptors. Unexpectedly, the pattern of dendrite deformation for distinct neurons was unique and differed depending on the direction of locomotion: ddaE neuron dendrites were strongly curved by forward locomotion, while the dendrites of ddaD were more strongly deformed by backward locomotion. Furthermore, GCaMP6f calcium signals recorded in the proprioceptive neurons during locomotion indicated tuning to the direction of movement. ddaE showed strong activation during forward locomotion, while ddaD showed responses that were strongest during backward locomotion. Peripheral proprioceptive neurons in animals mutant for Tmc showed a near-complete loss of movement related calcium signals. As the strength of the responses of wild-type animals was correlated with dendrite curvature, it is proposed that Tmc channels may be activated by membrane curvature in dendrites that are exposed to strain. These findings begin to explain how distinct cellular systems rely on a common molecular pathway for mechanosensory responses (He, 2019).


---
date revised: 3 May 2021

Home page: The Interactive Fly © 2020 Thomas B. Brody, Ph.D.

The Interactive Fly resides on the
Society for Developmental Biology's Web server.