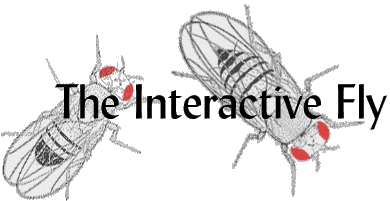 What's new in edition 86
January 2020
Gene sites new with this edition
---
The Interactive Fly was first released July/August 1996, with updates provided at approximately one month intervals, through September 1997 (edition 13). Updating quarterly started with edition 14. With edition 40, the Interactive Fly began to schedule updates three times a year: fall, winter and spring.
---
Gamete formation is key to survival of higher organisms. In male animals, spermatogenesis gives rise to interconnected spermatids that differentiate and individualize into mature sperm, each tightly enclosed by a plasma membrane. In Drosophila melanogaster, individualization of sister spermatids requires the formation of specialized actin cones that synchronously move along the sperm tails, removing inter-spermatid bridges and most of the cytoplasm. This study shows that combover (Cmb), originally identified as an effector of planar cell polarity (PCP) under control of Rho kinase, is essential for sperm individualization. cmb mutants are male sterile, with actin cones that fail to move in a synchronized manner along the flagella, despite being correctly formed and polarized initially. These defects are germline autonomous, independent of PCP genes and can be rescued by wild-type Cmb, but not by a version of Cmb in which known Rho kinase phosphorylation sites are mutated. Furthermore, Cmb binds to the axonemal component Radial spoke protein 3, knockdown of which causes similar individualization defects, suggesting that Cmb coordinates the individualization machinery with the microtubular axonemes (Steinhauer, 2019).
The synaptonemal complex (SC) is a conserved meiotic structure that regulates the repair of double-strand breaks (DSBs) into crossovers or gene conversions. The removal of any central-region SC component, such as the Drosophila melanogaster transverse filament protein C(3)G, causes a complete loss of SC structure and crossovers. To better understand the role of the SC in meiosis, CRISPR/Cas9 was used to construct 3 in-frame deletions within the predicted coiled-coil region of the C(3)G protein. Since these 3 deletion mutations disrupt SC maintenance at different times during pachytene and exhibit distinct defects in key meiotic processes, they allowed definition the stages of pachytene when the SC is necessary for homolog pairing and recombination during pachytene. These studies demonstrate that the X chromosome and the autosomes display substantially different defects in pairing and recombination when SC structure is disrupted, suggesting that the X chromosome is potentially regulated differently from the autosomes (Billmyre, 2019).
Dendrite pruning of Drosophila sensory neurons during metamorphosis is induced by the steroid hormone ecdysone through a transcriptional program. In addition, ecdysone activates the eukaryotic initiation factor 4E-binding protein (4E-BP) to inhibit cap-dependent translation initiation. To uncover how efficient translation of ecdysone targets is achieved under these conditions, the requirements for translation initiation factors during dendrite pruning were assessed. The canonical cap-binding complex eIF4F was found to be dispensable for dendrite pruning, but the eIF3 complex and the helicase eIF4A are required, indicating that differential translation initiation mechanisms are operating during dendrite pruning. eIF4A and eIF3 are stringently required for translation of the ecdysone target Mical, and this depends on the 5' UTR of Mical mRNA. Functional analyses indicate that eIF4A regulates eIF3-mRNA interactions in a helicase-dependent manner. It is proposed that an eIF3-eIF4A-dependent alternative initiation pathway bypasses 4E-BP to ensure adequate translation of ecdysone-induced genes (Rode, 2018).
Sensory systems sequentially extract increasingly complex features. ON and OFF pathways, for example, encode increases or decreases of a stimulus from a common input. This ON/OFF pathway split is thought to occur at individual synaptic connections through a sign-inverting synapse in one of the pathways. This study showed that ON selectivity is a multisynaptic process in the Drosophila visual system. A pharmacogenetics approach demonstrates that both glutamatergic inhibition through GluClα and GABAergic inhibition through Rdl mediate ON responses. Although neurons postsynaptic to the glutamatergic ON pathway input L1 lose all responses in GluClalpha mutants, they are resistant to a cell-type-specific loss of GluClα. This shows that ON selectivity is distributed across multiple synapses, and raises the possibility that cell-type-specific manipulations might reveal similar strategies in other sensory systems. Thus, sensory coding is more distributed than predicted by simple circuit motifs, allowing for robust neural processing (Molina-Obando, 2019).
A delayed organismic lethality has been reported in Drosophila following heat shock when developmentally active and stress-inducible noncoding hsrω-n transcripts were down-regulated during heat shock through hs-GAL4-driven expression of the hsrω-RNAi transgene, despite the characteristic elevation of all heat shock proteins (Hsp), including Hsp70. This study shows that hsrω-RNAi transgene expression prior to heat shock singularly prevents accumulation of Hsp70 in all larval tissues without affecting transcriptional induction of hsp70 genes and stability of their transcripts. Absence of the stress-induced Hsp70 accumulation was not due to higher levels of Hsc70 in hsrω-RNAi transgene-expressing tissues. Inhibition of proteasomal activity during heat shock restored high levels of the induced Hsp70, suggesting very rapid degradation of the Hsp70 even during the stress when hsrω-RNAi transgene was expressed ahead of heat shock. Unexpectedly, while complete absence of hsrω transcripts in hsrω66 homozygotes (hsrω-null) did not prevent high accumulation of heat shock-induced Hsp70, hsrω-RNAi transgene expression in hsrω-null background blocked Hsp70 accumulation. Nonspecific RNAi transgene expression did not affect Hsp70 induction. These observations reveal that, under certain conditions, the stress-induced Hsp70 can be selectively and rapidly targeted for proteasomal degradation even during heat shock. In the present case, the selective degradation of Hsp70 does not appear to be due to down-regulation of the hsrω-n transcripts per se; rather, this may be an indirect effect of the expression of hsrω-RNAi transgene whose RNA products may titrate away some RNA-binding proteins which may also be essential for stability of the induced Hsp70 (Singh, 2016).
Prion-like proteins can assume distinct conformational and physical states in the same cell. Sequence analysis suggests that prion-like proteins are prevalent in various species; however, it remains unclear what functional space they occupy in multicellular organisms. This study reports the identification of a prion-like protein, Herzog (CG5830), through a multimodal screen in Drosophila melanogaster. Herzog functions as a membrane-associated phosphatase and controls embryonic patterning, likely being involved in TGF-beta/BMP and FGF/EGF signaling pathways. Remarkably, monomeric Herzog, a protein-serine/threonine phosphatase, is enzymatically inactive and becomes active upon amyloid-like assembly. The prion-like domain of Herzog is necessary for both its assembly and membrane targeting. Removal of the prion-like domain impairs activity, while restoring assembly on the membrane using a heterologous prion-like domain and membrane-targeting motif can restore phosphatase activity. This study provides an example of a prion-like domain that allows an enzyme to gain essential functionality via amyloid-like assembly to control animal development (Nil, 2019).
A complete understanding of the physiological pathways critical for proper function of the insect nervous system is still lacking. The recent development of potent and selective small-molecule modulators of insect inward rectifier potassium (Kir) channels, Kir1, Kir2, or Kir3 in Drosophila, has enabled the interrogation of the physiological role and toxicological potential of Kir channels within various insect tissue systems. Therefore, this study aimed to highlight the physiological and functional role of neural Kir channels the central nervous system, muscular system, and neuromuscular system through pharmacological and genetic manipulations. The data provide significant evidence that Drosophila neural systems rely on the inward conductance of K(+) ions for proper function, since pharmacological inhibition and genetic ablation of neural Kir channels yielded dramatic alterations of the CNS spike discharge frequency and broadening and reduced amplitude of the evoked EPSP at the neuromuscular junction. Based on these data, it is concluded that neural Kir channels in insects (1) are critical for proper function of the insect nervous system; (2) represents an unexplored physiological pathway that is likely to shape the understanding of neuronal signaling, maintenance of membrane potentials, and maintenance of the ionic balance of insects, and (3) are capable of inducing acute toxicity to insects through neurological poisoning (Chen, 2018).
Olfactory associative learning in Drosophila is mediated by synaptic plasticity between the Kenyon cells of the mushroom body and their output neurons. Both Kenyon cells and their inputs from projection neurons are cholinergic, yet little is known about the physiological function of muscarinic acetylcholine receptors in learning in adult flies. This study shows that aversive olfactory learning in adult flies requires type A muscarinic acetylcholine receptors (mAChR-A), particularly in the gamma subtype of Kenyon cells. mAChR-A inhibits odor responses and is localized in Kenyon cell dendrites. Moreover, mAChR-A knockdown impairs the learning-associated depression of odor responses in a mushroom body output neuron. These results suggest that mAChR-A function in Kenyon cell dendrites is required for synaptic plasticity between Kenyon cells and their output neurons (Bielopolski, 2019).
Hunger and thirst are ancient homeostatic drives for food and water consumption. Although molecular and neural mechanisms underlying these drives are currently being uncovered, less is known about how hunger and thirst interact. This study used molecular genetic, behavioral, and anatomical studies in Drosophila to identify four neurons that modulate food and water consumption. Activation of these neurons promotes sugar consumption and restricts water consumption, whereas inactivation promotes water consumption and restricts sugar consumption. By calcium imaging studies, it was shown that these neurons are directly regulated by a hormone signal of nutrient levels and by osmolality. Finally, a hormone receptor and an osmolality-sensitive ion channel that underlie this regulation were identified. Thus, a small population of neurons senses internal signals of nutrient and water availability to balance sugar and water consumption. These results suggest an elegant mechanism by which interoceptive neurons oppositely regulate homeostatic drives to eat and drink (Jourjine, 2016).
Chromosome congression, the process of positioning chromosomes in the midspindle, promotes the stable transmission of the genome to daughter cells during cell division. Congression is typically facilitated by DNA-associated, microtubule (MT) plus end-directed motors called chromokinesins. The Drosophila melanogaster chromokinesin No distributive disjunction (NOD) contributes to congression, but the means by which it does so are unknown in large part because NOD has been classified as a nonmotile, orphan kinesin. It has been postulated that NOD promotes congression, not by conventional plus end-directed motility, but by harnessing polymerization forces by end-tracking on growing MT plus ends via a mechanism that is also uncertain. This study demonstrates that NOD possesses MT plus end-directed motility. Furthermore, NOD directly binds EB1 through unconventional EB1-interaction motifs that are similar to a newly characterized MT tip localization sequence. It is proposed that NOD produces congression forces by MT plus end-directed motility and tip-tracking on polymerizing MT plus ends via association with EB1 (Ye, 2018).
The PIWI-interacting RNA (piRNA) pathway preserves genomic integrity by repressing transposable elements (TEs) in animal germ cells. Among PIWI-clade proteins in Drosophila, Piwi transcriptionally silences its targets through interactions with cofactors, including Panoramix (Panx) and forms heterochromatin characterized by H3K9me3 and H1. This study identified Nxf2, a nuclear RNA export factor (NXF) variant, as a protein that forms complexes with Piwi, Panx, and p15. Panx-Nxf2-P15 complex formation is necessary in the silencing by stabilizing protein levels of Nxf2 and Panx. Notably, ectopic targeting of Nxf2 initiates co-transcriptional repression of the target reporter in a manner independent of H3K9me3 marks or H1. However, continuous silencing requires HP1a and H1. In addition, Nxf2 directly interacts with target TE transcripts in a Piwi-dependent manner. These findings suggest a model in which the Panx-Nxf2-P15 complex enforces the association of Piwi with target transcripts to trigger co-transcriptional repression, prior to heterochromatin formation in the nuclear piRNA pathway. These results provide an unexpected connection between an NXF variant and small RNA-mediated co-transcriptional silencing (Murano, 2019).
Circadian clocks modulate timing of sleep/wake cycles in animals; however, the underlying mechanisms remain poorly understood. In Drosophila melanogaster, large ventral lateral neurons (l-LNv) are known to promote wakefulness through the action of the neuropeptide pigment dispersing factor (PDF), but the downstream targets of PDF signalling remain elusive. In a screen using downregulation or overexpression (OEX) of the gene encoding PDF receptor (pdfr), this study found that a subset of dopaminergic neurons responds to PDF to promote wakefulness during the day. Moreover, this study found that small LNv (sLNv) and dopaminergic neurons form synaptic contacts, and PDFR signalling inhibited dopaminergic neurons specifically during day time. It is proposed that these dopaminergic neurons that respond to PDFR signalling are sleep-promoting and that during the day when PDF levels are high, they are inhibited, thereby promoting wakefulness. Thus, this study has identified a novel circadian clock pathway that mediates wake promotion specifically during day time (Potdar, 2018).
Cytokinesis requires a tight coordination between actomyosin ring constriction and new membrane addition along the ingressing cleavage furrow. However, the molecular mechanisms underlying vesicle trafficking to the equatorial site and how this process is coupled with the dynamics of the contractile apparatus are poorly defined. This study provides evidence for the requirement of Rab1 during cleavage furrow ingression in cytokinesis. The gene omelette (omt) encodes the Drosophila orthologue of human Rab1 and is required for successful cytokinesis in both mitotic and meiotic dividing cells of Drosophila melanogaster. Rab1 protein was shown to colocalizes with the conserved oligomeric Golgi (COG) complex Cog7 subunit and the phosphatidylinositol 4-phosphate effector GOLPH3 at the Golgi stacks. Analysis by transmission electron microscopy and 3D-SIM super-resolution microscopy reveals loss of normal Golgi architecture in omt mutant spermatocytes indicating a role for Rab1 in Golgi formation. In dividing cells, Rab1 enables stabilization and contraction of actomyosin rings. It was further demonstrated that GTP-bound Rab1 directly interacts with GOLPH3 and controls its localization at the Golgi and at the cleavage site. It is proposed that Rab1, by associating with GOLPH3, controls membrane trafficking and contractile ring constriction during cytokinesis (Sechi, 2017).
Epithelial patterning in the developing Drosophila melanogaster eye requires the Neph1 homolog Roughest (Rst), an immunoglobulin family cell surface adhesion molecule expressed in interommatidial cells (IOCs). This study using a novel temperature-sensitive (ts) allele, showed that the phosphoinositide phosphatase Sac1 is also required for IOC patterning. Sac1ts mutants have rough eyes and retinal patterning defects that resemble rst mutants. Sac1ts retinas exhibit elevated levels of phosphatidylinositol 4-phosphate (PI4P), consistent with the role of Sac1 as a PI4P phosphatase. Indeed, genetic rescue and interaction experiments reveal that restriction of PI4P levels by Sac1 is crucial for normal eye development. Rst is delivered to the cell surface in Sac1ts mutants. However, Sac1ts mutant IOCs exhibit severe defects in microtubule organization, associated with accumulation of Rst and the exocyst subunit Sec8 in enlarged intracellular vesicles upon cold fixation ex vivo. Together, these data reveal a novel requirement for Sac1 in promoting microtubule stability and suggest that Rst trafficking occurs in a microtubule- and exocyst-dependent manner (Del Bel, 2018).
Neuronal physiology is particularly sensitive to acute stressors that affect excitability, many of which can trigger seizures and epilepsies. Although intrinsic neuronal homeostasis plays an important role in maintaining overall nervous system robustness and its resistance to stressors, the specific genetic and molecular mechanisms that underlie these processes are not well understood. This study used a reverse genetic approach in Drosophila to test the hypothesis that specific voltage-gated ion channels contribute to neuronal homeostasis, robustness, and stress resistance. The activity of the voltage-gated potassium channel encoded by seizure (sei), an ortholog of the mammalian EAG-related gene (ERG) channel family, is essential for protecting flies from acute heat-induced seizures. Although sei is broadly expressed in the nervous system, the data indicate that its impact on the organismal robustness to acute environmental stress is primarily mediated via its action in excitatory neurons, the octopaminergic system, as well as neuropile ensheathing and perineurial glia. Furthermore, these studies suggest that human mutations in the human ERG channel (hERG), which have been primarily implicated in the cardiac Long QT Syndrome (LQTS), may also contribute to the high incidence of seizures in LQTS patients via a cardiovascular-independent neurogenic pathway (Hill, 2019).
Firing rate homeostasis (FRH) stabilizes neural activity. A pervasive and intuitive theory argues that a single variable, calcium, is detected and stabilized through regulatory feedback. A prediction is that ion channel gene mutations with equivalent effects on neuronal excitability should invoke the same homeostatic response. In agreement, this study demonstrates robust FRH following either elimination of Kv4/Shal protein or elimination of the Kv4/Shal conductance. However, the underlying homeostatic signaling mechanisms are distinct. Eliminating Shal protein invokes Kruppel-dependent rebalancing of ion channel gene expression including enhanced slo, Shab, and Shaker. By contrast, expression of these genes remains unchanged in animals harboring a CRISPR-engineered, Shal pore-blocking mutation where compensation is achieved by enhanced IKDR. These different homeostatic processes have distinct effects on homeostatic synaptic plasticity and animal behavior. It is proposed that FRH includes mechanisms of proteostatic feedback that act in parallel with activity-driven feedback, with implications for the pathophysiology of human channelopathies (Kulik, 2019).
The assembly of functional neuronal circuits requires growth cones to extend in defined directions and recognize the correct synaptic partners. Homophilic adhesion between vertebrate Sidekick proteins promotes synapse formation between retinal neurons involved in visual motion detection. This study shows that that Drosophila Sidekick accumulates in specific synaptic layers of the developing motion detection circuit and is necessary for normal optomotor behavior. Sidekick is required in photoreceptors, but not their target lamina neurons, to promote the alignment of lamina neurons into columns and subsequent sorting of photoreceptor axons into synaptic modules based on their precise spatial orientation. Sidekick is also localized to the dendrites of the direction-selective T4 and T5 cells, and is expressed in some of their presynaptic partners. In contrast to its vertebrate homologues, Sidekick is not essential for T4 and T5 to direct their dendrites to the appropriate layers or to receive synaptic contacts. These results illustrate a conserved requirement for Sidekick proteins to establish visual motion detection circuits that is achieved through distinct cellular mechanisms in Drosophila and vertebrates (Astigarraga, 2018).
Synaptic demise and accumulation of dysfunctional proteins are thought of as common features in neurodegeneration. However, the mechanisms by which synaptic proteins turn over remain elusive. Drosophila melanogaster was studied lacking active TBC1D24/Skywalker (Sky), a protein that in humans causes severe neurodegeneration, epilepsy, and DOOR (deafness, onychdystrophy, osteodystrophy, and mental retardation) syndrome, and identify endosome-to-lysosome trafficking as a mechanism for degradation of synaptic vesicle-associated proteins. In fly sky mutants, synaptic vesicles traveled excessively to endosomes. Using chimeric fluorescent timers, it was shown that synaptic vesicle-associated proteins were younger on average, suggesting that older proteins are more efficiently degraded. Using a genetic screen, it was found that reducing endosomal-to-lysosomal trafficking, controlled by the homotypic fusion and vacuole protein sorting (HOPS) complex, rescued the neurotransmission and neurodegeneration defects in sky mutants. Consistently, synaptic vesicle proteins were older in HOPS complex mutants, and these mutants also showed reduced neurotransmission. These findings define a mechanism in which synaptic transmission is facilitated by efficient protein turnover at lysosomes and identify a potential strategy to suppress defects arising from TBC1D24 mutations in humans (Fernandes, 2014).
Neuroendocrine cells communicate via neuropeptides to regulate behaviour and physiology. This study examines how STIM (Stromal Interacting Molecule), an ER-Ca2+ sensor required for Store-operated Ca2+ entry, regulates neuropeptides required for Drosophila development under nutrient restriction (NR). Two STIM-regulated peptides, Corazonin and short Neuropeptide F, were found to be required for NR larvae to complete development. Further, a set of secretory DLP (Dorso lateral peptidergic) neurons which co-express both peptides was identified. Partial loss of dSTIM caused peptide accumulation in the DLPs, and reduced systemic Corazonin signalling. Upon NR, larval development correlated with increased peptide levels in the DLPs, which failed to occur when dSTIM was reduced. Comparison of systemic and cellular phenotypes associated with reduced dSTIM, with other cellular perturbations, along with genetic rescue experiments, suggested that dSTIM primarily compromises neuroendocrine function by interfering with neuropeptide release. Under chronic stimulation, dSTIM also appears to regulate neuropeptide synthesis (Megha, 2019).


---
date revised: 5 January 2020

Home page: The Interactive Fly © 2019 Thomas B. Brody, Ph.D.

The Interactive Fly resides on the
Society for Developmental Biology's Web server.