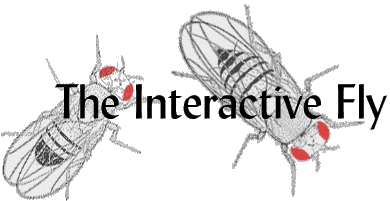 What's new in edition 82
September 2018
Gene sites new with this edition
---
The Interactive Fly was first released July/August 1996, with updates provided at approximately one month intervals, through September 1997 (edition 13). Updating quarterly started with edition 14. With edition 40, the Interactive Fly began to schedule updates three times a year: fall, winter and spring.
---
Forkhead box (FOXO) proteins are evolutionarily conserved, stress-responsive transcription factors (TFs) that can promote or counteract cell death. Mutations in FOXO genes are implicated in numerous pathologies, including age-dependent neurodegenerative disorders, such as Parkinson's disease (PD). However, the complex regulation and downstream mechanisms of FOXOs present a challenge in understanding their roles in the pathogenesis of PD. This study investigate the involvement of FOXO in the death of dopaminergic (DA) neurons, the key pathological feature of PD, in Drosophila. dFOXO null mutants exhibit a selective loss of DA neurons in the subgroup crucial for locomotion, the protocerebral anterior medial (PAM) cluster, during development as well as in adulthood. PAM neuron-targeted adult-restricted knockdown demonstrates that dFOXO in adult PAM neurons tissue-autonomously promotes neuronal survival during aging. dFOXO and the bHLH-TF 48-related-2 (FER2) act in parallel to protect PAM neurons from different forms of cellular stress. Remarkably, however, dFOXO and FER2 share common downstream processes leading to the regulation of autophagy and mitochondrial morphology. Thus, overexpression of one can rescue the loss of function of the other. These results indicate a role of dFOXO in neuroprotection and highlight the notion that multiple genetic and environmental factors interact to increase the risk of DA neuron degeneration and the development of PD (Tas, 2018).
Cholinergic activity is essential for cognitive functions and neuronal homeostasis. Choline Acetyltransferase (ChAT), a soluble protein that synthesizes acetylcholine at the presynaptic compartment, is transported in bulk in the axons by the heterotrimeric Kinesin-2 motor. Axonal transport of soluble proteins is described as a constitutive process assisted by occasional, non-specific interactions with moving vesicles and motor proteins. This study reports that an increase in the influx of Kinesin-2 motor and association between ChAT and the motor during a specific developmental period enhances the axonal entry, as well as the anterograde flow of the protein, in the sensory neurons of intact Drosophila nervous system. Loss of cholinergic activity due to Hemicholinium and Bungarotoxin treatments, respectively, disrupts the interaction between ChAT and Kinesin-2 in the axon, and the episodic enhancement of axonal influx of the protein. Altogether, these observations highlight a phenomenon of synaptic activity-dependent, feedback regulation of a soluble protein transport in vivo, which could potentially define the quantum of its pre-synaptic influx (Dey, 2018).
Sphingolipids are found in abundance at synapses and have been implicated in regulation of synapse structure, function and degeneration. Their precise role in these processes, however, remains obscure. Serine Palmitoyl-transferase (SPT) is the first enzymatic step for synthesis of sphingolipids. Analysis of the Drosophila larval neuromuscular junction revealed mutations in the SPT enzyme subunit, lace/SPTLC2 resulted in deficits in synaptic structure and function. Although neuromuscular junction (NMJ) length is normal in lace mutants, the number of boutons per NMJ is reduced to ~50% of the wild type number. Synaptic boutons in lace mutants are much larger but show little perturbation to the general ultrastructure. Electrophysiological analysis of lace mutant synapses revealed strong synaptic transmission coupled with predominance of depression over facilitation. The structural and functional phenotypes of lace mirrored aspects of Basigin (Bsg), a small Ig-domain adhesion molecule also known to regulate synaptic structure and function. Mutant combinations of lace and Bsg generated large synaptic boutons, while lace mutants showed abnormal accumulation of Bsg at synapses, suggesting that Bsg requires sphingolipid to regulate structure of the synapse. In support of this, Bsg was found to be enriched in lipid rafts. The data points to a role for sphingolipids in the regulation and fine-tuning of synaptic structure and function while sphingolipid regulation of synaptic structure may be mediated via the activity of Bsg (West, 2018).
Tight regulation of signalling activity is crucial for proper tissue patterning and growth. This study investigates the function of Pentagone (Pent/Magu), a secreted protein that acts in a regulatory feedback during establishment and maintenance of BMP/Dpp morphogen signalling during Drosophila wing development. It was shown that Pent internalises the Dpp co-receptors, the glypicans Dally and Dally-like protein (Dlp), and the study proposes that this internalisation is important in the establishment of a long range Dpp gradient. Pent-induced endocytosis and degradation of glypicans requires dynamin- and Rab5, but not clathrin or active BMP signalling. Thus, Pent modifies the ability of cells to trap and transduce BMP by fine-tuning the levels of the BMP reception system at the plasma membrane. In addition, and in accordance with the role of glypicans in multiple signalling pathways, Pent was found to be required for Wg signalling. These data propose a novel mechanism by which morphogen signalling is regulated (Norman, 2016).
The RET receptor tyrosine kinase is crucial for the development of the enteric nervous system (ENS), acting as a receptor for Glial cell line-derived neurotrophic factor (GDNF) via GFR co-receptors. Drosophila has a well-conserved RET homolog (Ret) that has been proposed to function independently of the Gfr-like co-receptor (Gfrl). This study found that Ret is required for development of the stomatogastric (enteric) nervous system in both embryos and larvae, and its loss results in feeding defects. Live imaging analysis suggests that peristaltic waves are initiated but not propagated in mutant midguts. Examination of axons innervating the midgut reveals increased branching but the area covered by the branches is decreased. This phenotype can be rescued by Ret expression. Additionally, Gfrl shares the same ENS and feeding defects, suggesting that Ret and Gfrl might function together via a common ligand. This study identified the TGFβ family member Maverick (Mav) as a ligand for Gfrl and a Mav chromosomal deficiency displayed similar embryonic ENS defects. These results suggest that the Ret and Gfrl families co-evolved before the separation of invertebrate and vertebrate lineages (Myers, 2018).
Mitotic spindles are primarily composed of microtubules (MTs), generated by polymerization of α- and β-Tubulin hetero-dimers. Defects in Tubulin polymerization dramatically affect spindle formation and disrupt chromosome segregation. Recently studies have described a role for the product of the conserved misato (mst) gene in regulating mitotic MT generation in flies, but the molecular function of Mst remains unknown. This study used affinity purification mass spectrometry (AP-MS) to identify interacting partners of Mst in the Drosophila embryo. Mst was shown to associate stoichiometrically with the hetero-octameric Tubulin Chaperone Protein-1 (TCP-1) complex, with the hetero-hexameric Tubulin Prefoldin complex, and with proteins having conserved roles in generating MT-competent Tubulin. RNAi-mediated in vivo depletion of any TCP-1 subunit phenocopies the effects of mutations in mst or the Prefoldin-encoding gene merry-go-round (mgr), leading to monopolar and disorganized mitotic spindles containing few MTs. Crucially, it was demonstrated that Mst, but not Mgr, is required for TCP-1 complex stability and that both the efficiency of Tubulin polymerization and Tubulin stability are drastically compromised in mst mutants. Moreover, structural bioinformatic analyses indicate that Mst resembles the three-dimensional structure of Tubulin monomers and might therefore occupy the TCP-1 complex central cavity. Collectively, these results suggest that Mst acts as a co-factor of the TCP-1 complex, playing an essential role in the tubulin-folding processes required for proper assembly of spindle MTs (Palumbo, 2015).
Active zones are specialized presynaptic structures critical for neurotransmission. A neuronal maintenance factor, nicotinamide mononucleotide adenylyltransferase (NMNAT), is required for maintaining active zone structural integrity in Drosophila by interacting with the active zone protein, Bruchpilot (BRP), and shielding it from activity-induced ubiquitin-proteasome-mediated degradation. NMNAT localizes to the peri-active zone and interacts biochemically with BRP in an activity-dependent manner. Loss of NMNAT results in ubiquitination, mislocalization and aggregation of BRP, and subsequent active zone degeneration. It is proposed that, as a neuronal maintenance factor, NMNAT specifically maintains active zone structure by direct protein-protein interaction (Zang, 2013).
In Drosophila, formation of the cardiac extracellular matrix (ECM) starts during embryogenesis. Assembly and incorporation of structural proteins such as Collagen IV, Pericardin, and Laminin A, B1, and B2 into the cardiac ECM is critical to the maintenance of heart integrity and functionality. The cardiac ECM connects the heart tube with the alary muscles; thus, the ECM contributes to a flexible positioning of the heart within the animal's body. Moreover, the cardiac ECM holds the larval pericardial nephrocytes in close proximity to the heart tube and the inflow tract, which is assumed to be critical to efficient haemolymph clearance. Mutations in either structural ECM constituents or ECM receptors cause breakdown of the ECM network upon ageing, with disconnection of the heart tube from alary muscles becoming apparent at larval stages. Finally, the heart becomes non-functional. This study characterised existing and new pericardin mutants and investigated biosynthesis, secretion, and assembly of Pericardin in matrices. Two new pericardin alleles, which turned out to be a null (pericardin3-548) and a hypomorphic allele (pericardin3-21), were identifed. Both mutants could be rescued with a genomic duplication of a fosmid coding for the pericardin locus. Biochemical analysis revealed that Pericardin is highly glycosylated and forms redox-dependent multimers. Multimer formation is remarkably reduced in animals deficient for the prolyl-4 hydroxylase cluster at 75D3-4 (Wilmes, 2018).
N(6)-methyladenosine (m(6)A) is the most abundant mRNA modification in eukaryotes, playing crucial roles in multiple biological processes. m(6)A is catalyzed by the activity of methyltransferase-like 3 (Mettl3), which depends on additional proteins whose precise functions remain poorly understood. This study identified Zc3h13 (zinc finger CCCH domain-containing protein 13)/Flacc [Fl(2)d-associated complex component] as a novel interactor of m(6)A methyltransferase complex components in Drosophila and mice. Like other components of this complex, Flacc controls m(6)A levels and is involved in sex determination in Drosophila. Flacc promotes m(6)A deposition by bridging Fl(2)d to the mRNA-binding factor Nito. Altogether, this work advances the molecular understanding of conservation and regulation of the m(6)A machinery (Knuckles, 2018).
The basement membrane (BM), a sheet of extracellular matrix lining the basal side of epithelia, is essential for epithelial cell function and integrity, yet the mechanisms that control the basal restriction of BM proteins are poorly understood. In epithelial cells, a specialized pathway is dedicated to restrict the deposition of BM proteins basally. This study reports the identification of a factor in this pathway, a homolog of the mammalian guanine nucleotide exchange factor (GEF) Mss4, which is named Stratum (CG7787). The loss of Stratum leads to the missecretion of BM proteins at the apical side of the cells, forming aberrant layers in close contact with the plasma membrane. This study found that Rab8 GTPase acts downstream of Stratum in this process. Altogether, these results uncover the importance of this GEF/Rab complex in specifically coordinating the basal restriction of BM proteins, a critical process for the establishment and maintenance of epithelial cell polarity (Devergne, 2017).
The kinetochore is an essential structure that mediates accurate chromosome segregation in mitosis and meiosis. While many of the kinetochore components have been identified, the mechanisms of kinetochore assembly remain elusive. This study identified a novel role for Snap29, an unconventional SNARE, in promoting kinetochore assembly during mitosis in Drosophila and human cells. Snap29 localizes to the outer kinetochore and prevents chromosome mis-segregation and the formation of cells with fragmented nuclei. Snap29 promotes accurate chromosome segregation by mediating the recruitment of Knl1 at the kinetochore and ensuring stable microtubule attachments. Correct Knl1 localization to kinetochore requires human or Drosophila Snap29, and is prevented by a Snap29 point mutant that blocks Snap29 release from SNARE fusion complexes. Such mutant causes ectopic Knl1 recruitment to trafficking compartments. It is proposed that part of the outer kinetochore is functionally similar to membrane fusion interfaces (Morelli, 2016).
The mechanisms regulating synapse numbers during development and aging are essential for normal brain function and closely linked to brain disorders including dementias. Using Drosophila, this study demonstrates roles of the microtubule-associated protein Tau in regulating synapse numbers, thus unravelling an important cellular requirement of normal Tau. In this context, it was found that Tau displays a strong functional overlap with microtubule-binding spectraplakins, establishing new links between two different neurodegenerative factors. Tau and the spectraplakin Short Stop act upstream of a three-step regulatory cascade ensuring adequate delivery of synaptic proteins. This cascade involves microtubule stability as the initial trigger, JNK signalling as the central mediator, and kinesin-3 (see Drosophila Unc-103) mediated axonal transport as the key effector. This cascade acts during development (synapse formation) and aging (synapse maintenance) alike. Therefore, these findings suggest novel explanations for intellectual disability in Tau deficient individuals, as well as early synapse loss in dementias including Alzheimer's disease (Voelzmann, 2016).
Assembly, maintenance and function of synaptic junctions depend on extracellular matrix (ECM) proteins and their receptors. This study reports that Tenectin (Tnc), a Mucin-type protein with RGD motifs, is an ECM component required for the structural and functional integrity of synaptic specializations at the neuromuscular junction (NMJ) in Drosophila. Using genetics, biochemistry, electrophysiology, histology and electron microscopy, this study shows that Tnc is secreted from motor neurons and striated muscles and accumulates in the synaptic cleft. Tnc selectively recruits alphaPS2/betaPS integrin at synaptic terminals, but only the cis Tnc/integrin complexes appear to be biologically active. These complexes have distinct pre- and post-synaptic functions, mediated at least in part through the local engagement of the spectrin-based membrane skeleton: the presynaptic complexes control neurotransmitter release, while postsynaptic complexes ensure the size and architectural integrity of synaptic boutons. This study reveals an unprecedented role for integrin in the synaptic recruitment of spectrin-based membrane skeleton (Wang, 2018).
As fundamental processes in mitochondrial dynamics, mitochondrial fusion, fission and transport are regulated by several core components, including Miro. As an atypical Rho-like small GTPase with high molecular mass, the exchange of GDP/GTP in Miro may require assistance from a guanine nucleotide exchange factor (GEF). However, the GEF for Miro has not been identified. While studying mitochondrial morphology in Drosophila, it was incidentally observed that the loss of vimar, a gene encoding an atypical GEF, enhanced mitochondrial fission under normal physiological conditions. Because Vimar could co-immunoprecipitate with Miro in vitro, it was speculated that Vimar might be the GEF of Miro. In support of this hypothesis, a loss-of-function (LOF) vimar mutant rescued mitochondrial enlargement induced by a gain-of-function (GOF) Miro transgene; whereas a GOF vimar transgene enhanced Miro function. In addition, vimar lost its effect under the expression of a constitutively GTP-bound or GDP-bound Miro mutant background. These results indicate a genetic dependence of vimar on Miro. Moreover, mitochondrial fission was found to play a functional role in high-calcium induced necrosis, and a LOF vimar mutant rescued the mitochondrial fission defect and cell death. This result can also be explained by vimar's function through Miro, because Miro's effect on mitochondrial morphology is altered upon binding with calcium. In addition, a PINK1 mutant, which induced mitochondrial enlargement and had been considered as a Drosophila model of Parkinson's disease (PD), caused fly muscle defects, and the loss of vimar could rescue these defects. Furthermore, it was found that the mammalian homolog of Vimar, RAP1GDS1, played a similar role in regulating mitochondrial morphology, suggesting a functional conservation of this GEF member. The Miro/Vimar complex may be a promising drug target for diseases in which mitochondrial fission and fusion are dysfunctional (Ding, 2016).
Stem cells reside in a niche, a complex cellular and molecular environment. In Drosophila ovaries, germline stem cells depend on cap cells for self-renewing signals and physical attachment. Germline stem cells also contact the anterior escort cells, and this study reports that anterior escort cells are absolutely required for germline stem cell maintenance. When escort cells die from impaired Wnt signaling or hid expression, the loss of anterior escort cells causes consequent loss of germline stem cells. Anterior escort cells function as an integral niche component by promoting DE-cadherin anchorage and by transiently expressing the Dpp ligand to promote full-strength BMP signaling in germline stem cells. Anterior escort cells are maintained by Wnt6 ligands produced by cap cells; without Wnt6 signaling, anterior escort cells die leaving vacancies in the niche, leading to loss of germline stem cells. These data identify anterior escort cells as constituents of the germline stem cell niche, maintained by a cap-cell produced Wnt6 survival signal (Wang, 2018).


---
date revised: 2 September 2018

Home page: The Interactive Fly © 2016 Thomas B. Brody, Ph.D.

The Interactive Fly resides on the
Society for Developmental Biology's Web server.