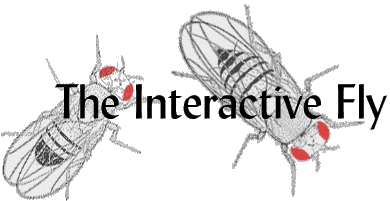 What's new in edition 76
May 2016
Gene sites new with this edition
---
The Interactive Fly was first released July/August 1996, with updates provided at approximately one month intervals, through September 1997 (edition 13). Updating quarterly started with edition 14. With edition 40, the Interactive Fly began to schedule updates three times a year: fall, winter and spring.
---
RNA-binding Fox (Rbfox) proteins have well-established roles in regulating alternative splicing, but specific Rbfox isoforms lack nuclear localization signals and accumulate in the cytoplasm. The potential splicing-independent functions of these proteins remain unknown. This study demonstrates that cytoplasmic Drosophila Rbfox1, called such to conform to mammalian homologs, but given the FlyBase designation Ataxin-2 binding protein 1 (A2bp1), regulates germ cell development and represses the translation of mRNAs containing (U)GCAUG elements within their 3'UTRs. During germline cyst differentiation, Rbfox1 targets pumilio mRNA for destabilization and translational silencing, thereby promoting germ cell development. Misexpression of pumilio results in the formation of germline tumors, which contain cysts that break down and dedifferentiate back to single, mitotically active cells. Together, these results reveal that cytoplasmic Rbfox family members regulate the translation of specific target mRNAs. In the Drosophila ovary, this activity provides a genetic barrier that prevents germ cells from reverting back to an earlier developmental state. The finding that Rbfox proteins regulate mRNA translation has implications for Rbfox-related diseases (Carreira-Rosario, 2016).
F-BAR proteins are prime candidates to regulate membrane curvature and dynamics during different developmental processes. This study analyzed nostrin (nost), a novel Drosophila F-BAR protein related to Cip4. Genetic analyses revealed a strong synergism between nost and cip4 functions. While single mutant flies are viable and fertile, combined loss of nost and cip4 results in reduced viability and fertility. Double mutant escaper flies show enhanced wing polarization defects and females exhibit strong egg chamber encapsulation defects. Live-imaging analysis suggests that the observed phenotypes are caused by an impaired E-cadherin membrane turnover. Simultaneous knock-down of Cip4 and Nostrin strongly increases the formation of tubular E-cadherin vesicles at adherens junctions. Cip4 and Nostrin localize at distinct membrane subdomains. Both proteins prefer similar membrane curvatures but seem to form different membrane coats and do not heterooligomerize. These data suggest an important synergistic function of both F-BAR proteins in membrane dynamics. A cooperative recruitment model is proposed in which first Cip4 promotes membrane invagination and early actin-based endosomal motility while Nostrin makes contact with microtubules through the kinesin Khc-73 for trafficking of recycling endosomes (Zobel, 2015).
Loss of mitochondrial function often leads to neurodegeneration and is thought to be one of the underlying causes of neurodegenerative diseases such as Parkinson's disease. However, the precise events linking mitochondrial dysfunction to neuronal death remain elusive. PTEN-induced putative kinase 1 (PINK1) and Parkin (Park), either of which, when mutated, are responsible for early-onset PD, mark individual mitochondria for destruction at the mitochondrial outer membrane. The specific molecular pathways that regulate signaling between the nucleus and mitochondria to sense mitochondrial dysfunction under normal physiological conditions are not well understood. This study shows that Drosophila Clueless (Clu), a highly conserved protein required for normal mitochondrial function, can associate with Translocase of the outer membrane (TOM) 20, Porin and PINK1, and is thus located at the mitochondrial outer membrane. Previous studies have found that clu genetically interacts with park in Drosophila female germ cells. This study shows that clu also genetically interacts with PINK1, and epistasis analysis places clu downstream of PINK1 and upstream of park. In addition, Clu forms a complex with PINK1 and Park, further supporting that Clu links mitochondrial function with the PINK1-Park pathway. Lack of Clu causes PINK1 and Park to interact with each other, and clu mutants have decreased mitochondrial protein levels, suggesting that Clu can act as a negative regulator of the PINK1-Park pathway. Taken together, these results suggest that Clu directly modulates mitochondrial function, and that Clu's function contributes to the PINK1-Park pathway of mitochondrial quality control (Sen, 2015).
Polarized cell shape changes during tissue morphogenesis arise by controlling the subcellular distribution of myosin II. For instance, during Drosophila gastrulation, apical constriction and cell intercalation are mediated by medial-apical myosin II pulses that power deformations, and polarized accumulation of myosin II that stabilizes these deformations. It remains unclear how tissue-specific factors control different patterns of myosin II activation and the ratchet-like myosin II dynamics. This study reports the function of a common pathway comprising the heterotrimeric G proteins Gα12/13 (Concertina), Gβ13F and Gγ1 in activating and polarizing myosin II during Drosophila gastrulation. Gα12/13 and the Gβ13F/γ1 complex constitute distinct signalling modules, which regulate myosin II dynamics medial-apically and/or junctionally in a tissue-dependent manner. A ubiquitously expressed GPCR called Smog (Poor gastrulation, Pog & CG31660) was identified as being required for cell intercalation and apical constriction. Smog functions with other GPCRs to quantitatively control G proteins, resulting in stepwise activation of myosin II and irreversible cell shape changes. It is proposed that GPCR and G proteins constitute a general pathway for controlling actomyosin contractility in epithelia and that the activity of this pathway is polarized by tissue-specific regulators (Kerridge, 2016).
EcR-dependent transcription, and thus, developmental timing in Drosophila, is regulated by CDK8 and its regulatory partner Cyclin C (CycC), and the level of CDK8 is affected by nutrient availability. cdk8 and cycC mutants resemble EcR mutants and EcR-target genes are systematically down-regulated in both mutants. Indeed, the ability of the EcR-Ultraspiracle (USP) heterodimer to bind to polytene chromosomes and the promoters of EcR target genes is also diminished. Mass spectrometry analysis of proteins that co-immunoprecipitate with EcR and USP identified multiple Mediator subunits, including CDK8 and CycC. Consistently, CDK8-CycC interacts with EcR-USP in vivo; in particular, CDK8 and Med14 can directly interact with the AF1 domain of EcR. These results suggest that CDK8-CycC may serve as transcriptional cofactors for EcR-dependent transcription. During the larval-pupal transition, the levels of CDK8 protein positively correlate with EcR and USP levels, but inversely correlate with the activity of sterol regulatory element binding protein (SREBP), the master regulator of intracellular lipid homeostasis. Likewise, starvation of early third instar larvae precociously increases the levels of CDK8, EcR and USP, yet down-regulates SREBP activity. Conversely, refeeding the starved larvae strongly reduces CDK8 levels but increases SREBP activity. Importantly, these changes correlate with the timing for the larval-pupal transition. Taken together, these results suggest that CDK8-CycC links nutrient intake to developmental transitions (EcR activity) and fat metabolism (SREBP activity) during the larval-pupal transition (Xie, 2015).
Primary piRNAs in Drosophila ovarian somatic cells arise from piRNA cluster transcripts and the 3' UTRs of a subset of mRNAs, including Traffic jam (Tj) mRNA. However, it is unclear how these RNAs are determined as primary piRNA sources. This study identified a cis-acting 100-nt fragment in the Tj 3' UTR that is sufficient for producing artificial piRNAs from unintegrated DNA. These artificial piRNAs were effective in endogenous gene transcriptional silencing. The Tudor domain RNA helicase Yb, a core component of primary piRNA biogenesis center Yb bodies, directly binds the Tj-cis element. Disruption of this interaction markedly reduces piRNA production. Thus, Yb is the trans-acting partner of the Tj-cis element. Yb-CLIP revealed that Yb binding correlates with somatic piRNA production but Tj-cis element downstream sequences produced few artificial piRNAs. It is thus proposed that Yb determines primary piRNA sources through two modes of action: primary binding to cis elements to specify substrates and secondary binding to downstream regions to increase diversity in piRNA populations (Ishizu, 2015).
The synaptic cleft is the space through which neurotransmitters convey neural information between two synaptic terminals. This space is presumably filled with extracellular matrix molecules involved in synaptic function or differentiation. However, little is known about the identities of the matrix components, and it remains unclear how these molecules organize the matrix in synaptic clefts. This study identified Hasp, a Drosophila secretory protein containing CCP and WAP domains. Molecular genetic analysis revealed that Hasp diffuses extracellularly and is predominantly captured at synaptic clefts of cholinergic synapses. Furthermore, Hasp regulates levels of DLG and the nAChR subunits Dα6 and Dα7 at postsynaptic terminals. Hasp is required for trapping of another matrix protein, Hig, which is also secreted and diffused in the brain, at synaptic clefts of cholinergic synapses; however, Hig is dispensable for localization of Hasp at synaptic clefts. In addition, in the brains of triple mutants for the nAChR subunits Dα5, Dα6, and Dα7, the level of Hig, but not Hasp, was markedly reduced in synaptic regions, indicating that these nAChR subunits are required to anchor Hig to synaptic clefts. High-resolution microscopy revealed that Hasp and Hig exhibit segregated distribution within individual synaptic clefts, reflecting their differing roles in synaptogenesis. These data provide insight into how Hasp and Hig construct the synaptic cleft matrix and regulate the differentiation of cholinergic synapses, and also illuminate a previously unidentified architecture within synaptic clefts (Nakayama, 2016).
The Drosophila Indy (I'm not dead yet) gene encodes a plasma membrane transporter of Krebs cycle intermediates, with robust expression in tissues associated with metabolism. Reduced INDY alters metabolism and extends longevity in a manner similar to caloric restriction (CR); however, little is known about the tissue specific physiological effects of INDY reduction. This study focused on the effects of INDY reduction in the Drosophila midgut due to the importance of intestinal tissue homeostasis in healthy aging and longevity. The expression of Indy mRNA in the midgut changes in response to aging and nutrition. Genetic reduction of Indy expression increases midgut expression of the mitochondrial regulator spargel/dPGC-1, which is accompanied by increased mitochondrial biogenesis and reduced reactive oxygen species (ROS). These physiological changes in the Indy mutant midgut preserve intestinal stem cell (ISC) homeostasis and are associated with healthy aging. Genetic studies confirm that dPGC-1 mediates the regulatory effects of INDY, as illustrated by lack of longevity extension and ISC homeostasis in flies with mutations in both Indy and dPGC1. These data suggest INDY may be a physiological regulator that modulates intermediary metabolism in response to changes in nutrient availability and organismal needs by modulating dPGC-1 (Rogers, 2014).
Body size constancy and symmetry are signs of developmental stability. Yet, it is unclear exactly how developing animals buffer size variation. Insulin-like peptide 8 (Dilp8) is responsive to growth perturbations and controls homeostatic mechanisms that co-ordinately adjust growth and maturation to maintain size within the normal range. This study shows that Leucine-rich repeat-containing G protein-coupled receptor 3 (Lgr3) is a Dilp8 receptor. By functional and cAMP assays, a pair of Lgr3 neurons were found to mediate the homeostatic regulation. These neurons have extensive axonal arborizations, and genetic and GFP reconstitution across synaptic partners (GRASP) show these neurons connect with the insulin-producing cells and PTTH-producing neurons to attenuate growth and maturation. This previously unrecognized circuit suggests how growth and maturation rate are matched and co-regulated according to Dilp8 signals to stabilize organismal size (Vallejo, 2015).
Septate junctions (SJs) are membrane specializations that restrict the free diffusion of solutes via the paracellular pathway in invertebrate epithelia. In arthropods, two morphologically different types of SJs are observed: pleated SJs (pSJs) and smooth SJs (sSJs), which are present in ectodermally- and endodermally-derived epithelia, respectively. Recent identification of sSJ-specific proteins, Mesh and Snakeskin (Ssk), in Drosophila indicates that the molecular compositions of sSJs and pSJs differ. A deficiency screen based on immunolocalization of Mesh, identified a tetraspanin family protein, Tetraspanin 2A (Tsp2A), as a novel protein involved in sSJ formation in Drosophila. Tsp2A specifically localizes at sSJs in the midgut and Malpighian tubules. Compromised (Tsp2A) expression caused by RNAi or the CRISPR/Cas9 system is associated with defects in the ultrastructure of sSJs, changes localization of other sSJ proteins, and impairs barrier function of the midgut. In most Tsp2A-mutant cells, Mesh fails to localize to sSJs and is distributed through the cytoplasm. Tsp2A forms a complex with Mesh and Ssk and these proteins are mutually interdependent for their localization. These observations suggest that Tsp2A cooperates with Mesh and Ssk to organize sSJs (Izumi, 2016).
Mitochondrial fusion and fission affect the distribution and quality control of mitochondria. This study shows that Marf (Mitochondrial associated regulatory factor, also known as Drosophila Mitofusin), is required for mitochondrial fusion and transport in long axons. Moreover, loss of Marf leads to a severe depletion of mitochondria in neuromuscular junctions (NMJs). Marf mutants also fail to maintain proper synaptic transmission at NMJs upon repetitive stimulation, similar to Drp1 fission mutants. However, unlike Drp1, loss of Marf leads to NMJ morphology defects and extended larval lifespan. Marf is required to form contacts between the endoplasmic reticulum and/or lipid droplets (LDs) and for proper storage of cholesterol and ecdysone synthesis in ring glands. Interestingly, human Mitofusin-2 rescues the loss of LD but both Mitofusin-1 and Mitofusin-2 are required for steroid-hormone synthesis. These data show that Marf and Mitofusins share an evolutionarily conserved role in mitochondrial transport, cholesterol ester storage and steroid-hormone synthesis (Sandoval, 2014).
Proper cell growth is a prerequisite for maintaining repeated cell divisions. Cells need to translate information about intracellular nutrient availability and growth cues from energy sensing organs into growth promoting processes such as the sufficient supply with ribosomes for protein synthesis. Mutations in the mushroom body miniature (mbm) gene impair proliferation of neural progenitor cells (neuroblasts) in the central brain of Drosophila. Yet, the molecular function of Mbm has been unknown so far. This study shows that mbm does not affect the molecular machinery controlling asymmetric cell division of neuroblasts but instead decreases their cell size. Mbm is a nucleolar protein required for small ribosomal subunit biogenesis in neuroblasts. Accordingly, levels of protein synthesis are reduced in mbm neuroblasts. Mbm expression is transcriptionally regulated by Myc, which among other functions relays information from nutrient dependent signaling pathways to ribosomal gene expression. At the posttranslational level, Mbm becomes phosphorylated by protein kinase CK2, which has an impact on localization of the protein. It is concluded that Mbm is a new part of the Myc target network involved in ribosome biogenesis, which together with CK2-mediated signals enables neuroblasts to synthesize sufficient amounts of proteins required for proper cell growth (Hovhanyan, 2014).
Cilia are essential for cell signaling and sensory perception. In many cell types, a cytoskeletal structure called the ciliary rootlet links the cilium to the cell body. Previous studies indicated that rootlets support the long-term stability of some cilia. This study reports that Drosophila melanogaster Rootletin (Root), the sole orthologue of the mammalian paralogs Rootletin and C-Nap1, assembles into rootlets of diverse lengths among sensory neuron subtypes. Root mutant neurons lack rootlets and have dramatically impaired sensory function, resulting in behavior defects associated with mechanosensation and chemosensation. Root is required for cohesion of basal bodies, but the cilium structure appears normal in Root mutant neurons. Normal rootlet assembly requires centrioles. The N terminus of Root contains a conserved domain and is essential for Root function in vivo. Ectopically expressed Root resides at the base of mother centrioles in spermatocytes and localizes asymmetrically to mother centrosomes in neuroblasts, both requiring Bld10, a basal body protein with varied functions (Chen, 2015).
Stable localization of the signaling complex is essential for the robust morphogenesis of polarized cells. Cell elongation involves molecular signaling centers that coordinately regulate intracellular transport and cytoskeletal structures. In Drosophila bristle elongation, the protein kinase IKKε is activated at the distal tip of the growing bristle and regulates the shuttling movement of recycling endosomes and cytoskeletal organization. However, how the distal tip localization of IKKε is established and maintained during bristle elongation is unknown. This study demonstrates that IKKε distal tip localization is regulated by Spindle-F (Spn-F), which is stably retained at the distal tip and functions as an adaptor linking IKKε to cytoplasmic dynein. Javelin-like (Jvl) is a key regulator of Spn-F retention. In jvl mutant bristles, IKKε and Spn-F initially localize to the distal tip but fail to be retained there. In S2 cells, particles that stain positively for Jvl or Spn-F move in a microtubule-dependent manner, whereas Jvl and Spn-F double-positive particles are immobile, indicating that Jvl and Spn-F are transported separately and, upon forming a complex, immobilize each other. These results suggest that polarized transport and selective retention regulate the distal tip localization of the Spn-F-IKKε complex during bristle cell elongation (Otani, 2015).
Socs36E, which encodes a negative feedback inhibitor of the JAK/STAT pathway, is the first identified regulator of niche competition in the Drosophila testis. The competitive behavior of Socs36E mutant cyst stem cells (CySCs) has been attributed to increased JAK/STAT signaling. This study shows that competitive behavior of Socs36E mutant CySCs is due in large part to unbridled Mitogen-Activated Protein Kinase (MAPK) signaling. In Socs36E mutant clones, MAPK activity is elevated. Furthermore, it was found that clonal upregulation of MAPK in CySCs leads to their outcompetition of wild type CySCs and of germ line stem cells, recapitulating the Socs36E mutant phenotype. Indeed, when MAPK activity is removed from Socs36E mutant clones, they lose their competitiveness but maintain self-renewal, presumably due to increased JAK/STAT signaling in these cells. Consistently, loss of JAK/STAT activity in Socs36E mutant clones severely impairs their self-renewal. Thus, these results enable the genetic separation of two essential processes that occur in stem cells. While some niche signals specify the intrinsic property of self-renewal, which is absolutely required in all stem cells for niche residence, additional signals control the ability of stem cells to compete with their neighbors. Socs36E is the node through which these processes are linked, demonstrating that negative feedback inhibition integrates multiple aspects of stem cell behavior (Amoyel, 2016).
Sleep is an essential and conserved behavior whose regulation at the molecular and anatomical level remains to be elucidated. This study identifies Taranis (Tara), a Drosophila homolog of the Trip-Br (SERTAD) family of transcriptional coregulators, as a molecule that is required for normal sleep patterns. Through a forward-genetic screen, tara was isolated as a novel sleep gene associated with a marked reduction in sleep amount. Targeted knockdown of tara suggests that it functions in cholinergic neurons to promote sleep. tara encodes a conserved cell-cycle protein that contains a Cyclin A (CycA)-binding homology domain. Tara regulates CycA protein levels and genetically and physically interacts with CycA to promote sleep. Furthermore, decreased levels of Cyclin-dependent kinase 1 (Cdk1), a kinase partner of CycA, rescue the short-sleeping phenotype of tara and CycA mutants, while increased Cdk1 activity mimics the tara and CycA phenotypes, suggesting that Cdk1 mediates the role of Tare and CycA in sleep regulation. Finally, a novel wake-promoting role was described for a cluster of ∼14 CycA-expressing neurons in the pars lateralis (PL), previously proposed to be analogous to the mammalian hypothalamus. The study proposes that Taranis controls sleep amount by regulating CycA protein levels and inhibiting Cdk1 activity in a novel arousal center (Alfonso, 2015).
The conserved THO/TREX (transcription/export) complex is critical for pre-mRNA processing and mRNA nuclear export. In metazoa, TREX is loaded on nascent RNA transcribed by RNA polymerase II in a splicing-dependent fashion; however, how TREX functions is poorly understood. This study shows that Thoc5 and other TREX components are essential for the biogenesis of piRNA, a distinct class of small noncoding RNAs that control expression of transposable elements (TEs) in the Drosophila germline. Mutations in TREX lead to defects in piRNA biogenesis, resulting in derepression of multiple TE families, gametogenesis defects, and sterility. TREX components are enriched on piRNA precursors transcribed from dual-strand piRNA clusters and colocalize in distinct nuclear foci that overlap with sites of piRNA transcription. The localization of TREX in nuclear foci and its loading on piRNA precursor transcripts depend on Cutoff, a protein associated with chromatin of piRNA clusters. Finally, it was shown that TREX is required for accumulation of nascent piRNA precursors. These data reveal a novel splicing-independent mechanism for TREX loading on nascent RNA and its importance in piRNA biogenesis (Hur, 2016).

Motor coordination is broadly divided into gross and fine motor control, both of which depend on proprioceptive organs. However, the channels that function specifically in fine motor control are unknown. This study shows that mutations in trpγ disrupt fine motor control while leaving gross motor proficiency intact. The mutants are unable to coordinate precise leg movements during walking, and are ineffective in traversing large gaps due to an inability in making subtle postural adaptations that are requisite for this task. TRPγ is expressed in proprioceptive organs, and is required in both neurons and glia for gap crossing. TRPγ was expressed in vitro, and its activity was found to be promoted by membrane stretch. A mutation eliminating the Na+/Ca+ exchanger suppresses the gap-crossing phenotype of trpγ flies. These findings indicate that TRPγ contributes to fine motor control through mechanical activation in proprioceptive organs, thereby promoting Ca+ influx, which is required for function (Akitake, 2015).

Changes in UBE3A expression levels in neurons can cause neurogenetic disorders ranging from Angelman syndrome (AS) (decreased levels) to autism (increased levels). This study investigated the effects on neuronal function of varying UBE3A levels using the Drosophila neuromuscular junction as a model for both of these neurogenetic disorders. Stimulations that evoked excitatory junction potentials (EJPs) at 1 Hz intermittently failed to evoke EJPs at 15 Hz in a significantly higher proportion of Dube3a over-expressors using the pan neuronal GAL4 driver C155-GAL4 (C155-GAL4>UAS-Dube3a) relative to controls (C155>+ alone). However, in the Dube3a over-expressing larval neurons with no failures, there was no difference in EJP amplitude at the beginning of the train, or the rate of decrease in EJP amplitude over the course of the train compared to controls. In the absence of tetrodotoxin (TTX), spontaneous EJPs were observed in significantly more C155-GAL4>UAS-Dube3a larva compared to controls. In the presence of TTX, spontaneous and evoked EJPs were completely blocked and mEJP amplitude and frequency did not differ among genotypes. These data suggest that over-expression of wild type Dube3a, but not a ubiquitination defective Dube3a-C/A protein, compromises the ability of motor neuron axons to support closely spaced trains of action potentials, while at the same time increasing excitability. EJPs evoked at 15 Hz in the absence of Dube3a (Dube3a15b homozygous mutant larvae) decay more rapidly over the course of 30 stimulations compared to w1118 controls, and Dube3a15b larval muscles have significantly more negative resting membrane potentials (RMP). However, these results could not be recapitulated using RNAi knockdown of Dube3a in muscle or neurons alone, suggesting more global developmental defects contribute to this phenotype. These data suggest that reduced UBE3A expression levels may cause global changes that affect RMP and neurotransmitter release from motorneurons at the neuromuscular junction. Similar affects of under- and over-expression of UBE3A on membrane potential and synaptic transmission may underlie the synaptic plasticity defects observed in both AS and autism (Valdez, 2015).
Wiskott-Aldrich syndrome proteins (WASP) are nucleation promoting factors (NPF) that differentially control the Arp2/3 complex. In Drosophila, three different family members, SCAR/WAVE, WASP and WASH, have been analyzed so far. This study characterizes WHAMY, the fourth Drosophila WASP family member. whamy originated from a wasp gene duplication and underwent a sub-neofunctionalization. Unlike WASP, WHAMY specifically interacts with activated Rac1 through its two CRIB domains that are sufficient for targeting WHAMY to lamellipodial and filopodial tips. Biochemical analyses showed that WHAMY promotes exceptionally fast actin filament elongation, while it does not activate the Arp2/3 complex. Loss- and gain-of function studies revealed an important function of WHAMY in membrane protrusions and cell migration in macrophages. Genetic data further imply synergistic functions between WHAMY and WASP during morphogenesis. Double mutants are late-embryonic lethal and show severe defects in myoblast fusion. Trans-heterozygous mutant animals show strongly increased defects in sensory cell fate specification. Thus, WHAMY is a novel actin polymerase with an initial partitioning of ancestral WASP functions in development and subsequent acquisition of a new function in cell motility during evolution (Brinkmann, 2015).
Eukaryotic cells respond to stress caused by the accumulation of unfolded/misfolded proteins in the endoplasmic reticulum by activating the intracellular signaling pathways referred to as the unfolded protein response (UPR). In metazoans, UPR consists of three parallel branches, each characterized by its stress sensor protein, IRE1, ATF6, and PERK, respectively. In Drosophila, IRE1/XBP1 pathway is considered to function as a major branch of UPR; however, its physiological roles during the normal development and homeostasis remain poorly understood. To visualize IRE1/XBP1 activity in fly tissues under normal physiological conditions, previously reported XBP1 stress sensing systems (Souid, 2007; Ryoo, 2007b), were modified based on the recent reports regarding the unconventional splicing of XBP1/HAC1 mRNA (Aragon, 2009; Yanagitani, 2009; Yanagitani, 2013). The improved XBP1 stress sensing system allowed detection of new IRE1/XBP1 activities in the brain, gut, Malpighian tubules, and trachea of third instar larvae and in the adult male reproductive organ. Specifically, in the larval brain, IRE1/XBP1 activity was detected exclusively in glia, although previous reports have largely focused on IRE1/XBP1 activity in neurons. Unexpected glial IRE1/XBP1 activity may provide novel insights into the brain homeostasis regulated by the UPR (Sone, 2013).
Fragile-X syndrome is the most commonly inherited cause of autism and mental disabilities. The Fmr1 (Fragile-X Mental Retardation 1) gene is essential in humans and Drosophila for the maintenance of neural stem cells, and Fmr1 loss results in neurological and reproductive developmental defects in humans and flies. FMRP (Fragile-X Mental Retardation Protein) is a nucleo-cytoplasmic shuttling protein, involved in mRNA silencing and translational repression. Both Zfrp8 and Fmr1 have essential functions in the Drosophila ovary. This study identifies FMRP, Nufip (Nuclear Fragile-X Mental Retardation Protein-interacting Protein) and Tral (Trailer Hitch) as components of a Zfrp8 protein complex. Zfrp8 is required in the nucleus, and controls localization of FMRP in the cytoplasm. In addition, Zfrp8 genetically interacts with Fmr1 and tral in an antagonistic manner. Zfrp8 and FMRP both control heterochromatin packaging, also in opposite ways. It is proposed that Zfrp8 functions as a chaperone, controlling protein complexes involved in RNA processing in the nucleus (Tan, 2016).


---
date revised: 8 May 2016

Home page: The Interactive Fly © 2016 Thomas B. Brody, Ph.D.

The Interactive Fly resides on the
Society for Developmental Biology's Web server.