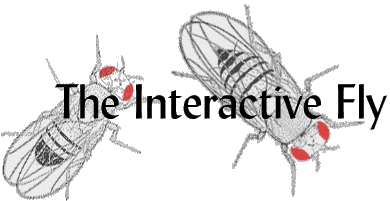 What's new in edition 77
September 2016
Gene sites new with this edition
---
The Interactive Fly was first released July/August 1996, with updates provided at approximately one month intervals, through September 1997 (edition 13). Updating quarterly started with edition 14. With edition 40, the Interactive Fly began to schedule updates three times a year: fall, winter and spring.
---
Apical-basal polarity plays critical roles in the functions of epithelial tissues. However, the mechanisms of epithelial polarity establishment and maintenance remain to be fully elucidated. This study shows that the membrane-associated guanylate kinase (MAGUK) family protein Dlg5 is required for the maintenance of apical polarity of follicle epithelium during Drosophila oogenesis. Dlg5 localizes at the apical membrane and adherens junction (AJ) of follicle epithelium in early stage egg chambers. Specifically, the major function of Dlg5 is to promote apical membrane localization of Crumbs, since overexpression of Crumbs but not other major apical or AJ components can rescue epithelial polarity defects resulting from loss of Dlg5. Furthermore, by performing a structure-function analysis of Dlg5, it was found that the C-terminal PDZ3 and PDZ4 domains are required for all Dlg5's functions as well as its ability to localize to apical membrane. The N-terminal coiled-coil motif can be individually targeted to the apical membrane, while the central linker region can be targeted to AJ. Lastly, the MAGUK core domains of PDZ4-SH3-GUK can be individually targeted to apical, AJ and basolateral membranes (Luo, 2016).
Cilia are highly conserved microtubule-based structures that perform a variety of sensory and motility functions during development and adult homeostasis. In humans, defects specifically affecting motile cilia lead to chronic airway infections, infertility and laterality defects in the genetically heterogeneous disorder Primary Ciliary Dyskinesia (PCD). Using the comparatively simple Drosophila system, in which mechanosensory neurons possess modified motile cilia, a recently elucidated cilia transcriptional RFX-FOX code was used to identify novel PCD candidate genes. This study reports characterization of CG31320/HEATR2, which plays a conserved critical role in forming the axonemal dynein arms required for ciliary motility in both flies and humans. Inner and outer arm dyneins are absent from axonemes of CG31320 mutant flies and from PCD individuals with a novel splice-acceptor HEATR2 mutation. Functional conservation of closely arranged RFX-FOX binding sites upstream of HEATR2 orthologues may drive higher cytoplasmic expression of HEATR2 during early motile ciliogenesis. Immunoprecipitation reveals HEATR2 interacts with outer arm dynein intermediate chain (DNAI2; see dynein, axonemal, intermediate chain 2), but not HSP70 or HSP90, distinguishing it from the client/chaperone functions described for other cytoplasmic proteins required for dynein arm assembly such as DNAAF1-4. These data implicate CG31320/HEATR2 in a growing intracellular pre-assembly and transport network that is necessary to deliver functional dynein machinery to the ciliary compartment for integration into the motile axoneme (Diggle, 2014).
Voltage-gated potassium (Kv) channels selectively catalyze the transport of K+ across the plasma membrane. The channels are multisubunit complexes, being composed of membrane-integrated Kvα-subunits and of accessory subunits. Kvα-subunits form a tetrameric protein complex that assembles the core of a Kv channel consisting of a pore domain with activation (and inactivation) gate(s) and selectivity filter linked to peripheral voltage-sensor domains. In in vitro expression systems, most Kvα-subunits form functional Kv channels, reproducing basic Kv channel properties such as opening and closing (gating) of the pore in response to a change in the membrane electric field. The activation process is well described by a sequential gating model, in which voltage-sensor movements in each Kvα-subunit are usually followed by a concerted pore opening step to permit passage of K+. The details of conformational changes associated with the electromechanical coupling-mechanism between voltage sensor and activation gate are presently under intense investigation (Pongs, 2010 and references therein).
Circadian clocks are endogenous timers adjusting behaviour and physiology with the solar day. Visual and non-visual photoreceptors are responsible for synchronizing circadian clocks to light, but clock-resetting is also achieved by alternating day and night temperatures with only 2°-4°C difference. This study shows that Drosophila Ionotropic Receptor 25a (IR25a) is required for behavioural synchronization to low-amplitude temperature cycles. This channel is expressed in sensory neurons of internal stretch receptors previously implicated in temperature synchronization of the circadian clock. IR25a is required for temperature-synchronized clock protein oscillations in subsets of central clock neurons. Extracellular leg nerve recordings reveal temperature- and IR25a-dependent sensory responses, and IR25a misexpression confers temperature-dependent firing of heterologous neurons. It is proposed that IR25a is part of an input pathway to the circadian clock that detects small temperature differences. This pathway operates in the absence of known 'hot' and 'cold' sensors in the Drosophila antenna, revealing the existence of novel periphery-to-brain temperature signalling channels (Chen, 2015).
Mechanotransduction has an important role in physiology. Biological processes including sensing touch and sound waves require as-yet-unidentified cation channels that detect pressure. Mouse Piezo1 (MmPiezo1) and MmPiezo2 (also called Fam38a and Fam38b, respectively) induce mechanically activated cationic currents in cells; however, it is unknown whether Piezo proteins are pore-forming ion channels or modulate ion channels. This study shows that Drosophila melanogaster Piezo (DmPiezo, also called CG8486) also induces mechanically activated currents in cells, but through channels with remarkably distinct pore properties including sensitivity to the pore blocker ruthenium red and single channel conductances. MmPiezo1 assembles as a approximately 1.2-million-dalton homo-oligomer, with no evidence of other proteins in this complex. Purified MmPiezo1 reconstituted into asymmetric lipid bilayers and liposomes forms ruthenium-red-sensitive ion channels. These data demonstrate that Piezo proteins are an evolutionarily conserved ion channel family involved in mechanotransduction (Coste, 2012).
Neurons develop highly stereotyped receptive fields by coordinated growth of their dendrites. Although cell surface cues play a major role in this process, few dendrite specific signals have been identified to date. An in vivo RNAi screen in Drosophila class IV dendritic arborization (C4da) neurons identified the conserved Ret receptor, known to play a role in axon guidance, as an important regulator of dendrite development. The loss of Ret results in severe dendrite defects due to loss of extracellular matrix adhesion, thus impairing growth within a 2D plane. Evidence is provided that Ret interacts with integrins (see Myospheroid) to regulate dendrite adhesion via rac1. In addition, Ret is required for dendrite stability and normal F-actin distribution suggesting it has an essential role in dendrite maintenance. Novel functions are proposed for Ret as a regulator in dendrite patterning and adhesion distinct from its role in axon guidance (Soba, 2015).
Prosap/Shank scaffolding proteins regulate the formation, organization, and plasticity of excitatory synapses. Mutations in SHANK family genes are implicated in autism spectrum disorder and other neuropsychiatric conditions. However, the molecular mechanisms underlying Shank function are not fully understood, and no study to date has examined the consequences of complete loss of all Shank proteins in vivo. This study characterized the single Drosophila Prosap/Shank family homolog. Shank is enriched at the postsynaptic membrane of glutamatergic neuromuscular junctions and controls multiple parameters of synapse biology in a dose-dependent manner. Both loss and overexpression of Shank result in defects in synaptic bouton number and maturation. It was found that Shank regulates a noncanonical Wnt signaling pathway in the postsynaptic cell by modulating the internalization of the Wnt receptor Fz2. This study identifies Shank as a key component of synaptic Wnt signaling, defining a novel mechanism for how Shank contributes to synapse maturation during neuronal development (Harris, 2016).
The nucleolus is a subnuclear factory, the activity of which is required beyond ribosome biogenesis for the regulation of cell growth, death and proliferation. In both Drosophila and mammalian cells, the activity of the nucleolus is regulated by the proto-oncogene Myc. Myc induces the transcription of genes required for ribosome biogenesis and the synthesis of rRNA by RNA polymerase I, a nucleolar event that is rate limiting for cell growth. This study shows that the fruit fly Nol12 homologue Viriato is a key determinant of nucleolar architecture that is required for tissue growth and cell survival during Drosophila development. It is further shown that viriato expression is controlled by Drosophila Myc (dMyc), and that the ability of dMyc to stimulate nucleolar and cellular growth depends on viriato expression. Therefore, viriato acts downstream of dMyc to ensure a coordinated nucleolar response to dMyc-induced growth and, thereby, normal organ development (Marinho, 2011).


---
date revised: 6 September 2016

Home page: The Interactive Fly © 2016 Thomas B. Brody, Ph.D.

The Interactive Fly resides on the
Society for Developmental Biology's Web server.