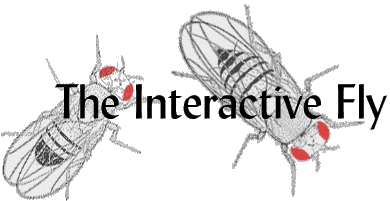 What's new in edition 81
January 2018
Gene sites new with this edition
---
The Interactive Fly was first released July/August 1996, with updates provided at approximately one month intervals, through September 1997 (edition 13). Updating quarterly started with edition 14. With edition 40, the Interactive Fly began to schedule updates three times a year: fall, winter and spring.
---
Claspin and TopBP1 are checkpoint mediators that are required for the phosphorylation of Chk1 by ATR to maintain genomic stability. This study investigated the functions of Drosophila Claspin and mus101 (TopBP1 ortholog) during chorion (eggshell component) gene amplification, which occurs in follicle cells in the absence of global genomic DNA replication. Unlike Drosophila mei-41 (ATR ortholog) mutant embryos, Claspin and mus101 mutant embryos showed severe eggshell defects resulting from defects in chorion gene amplification. EdU incorporation assay during initiation and elongation stages revealed that Claspin and mus101 were required for initiation, while only Claspin had a major role in the efficient progression of the replication forks. Claspin proteins were enriched in the amplification foci both in the initiation and elongation stage-follicle cell nuclei in a mei-41-independent manner. The focal localization of ORC2, a component of the origin recognition complex, was not significantly affected in the Claspin mutant, whereas it was reduced in the mus101 mutant. It is concluded that Drosophila Claspin plays a major role in the initiation and elongation stages of chorion gene amplification by localizing to the amplification foci in a mei-41-independent manner. Drosophila mus101 is also involved in chorion gene amplification, mostly functioning in initiation, rather than elongation (Choi, 2017).
Much of the Hippo and planar cell polarity (PCP) signaling mediated by the Drosophila protocadherin Fat depends on its ability to change the subcellular localization, levels and activity of the unconventional myosin Dachs. To better understand this process, a structure-function analysis of Dachs was performed, and this was used to identify a novel and important mediator of Fat and Dachs activities, a Dachs-binding SH3 protein that has been named Dlish. Dlish was found to be regulated by Fat and Dachs. Dlish also binds Fat and the Dachs regulator Approximated, and Dlish is required for Dachs localization, levels and activity in both wild type and fat mutant tissue. The evidence supports dual roles for Dlish. Dlish tethers Dachs to the subapical cell cortex, an effect partly mediated by the palmitoyltransferase Approximated under the control of Fat. Conversely, Dlish promotes the Fat-mediated degradation of Dachs (Zhang, 2016).
Parkinsonian Perry syndrome, involving mutations in the dynein motor component dynactin or p150Glued, is characterized by TDP-43 pathology in affected brain regions, including the substantia nigra. However, the molecular relationship between p150Glued and TDP-43 is largely unknown. This study reports that a reduction in TDP-43 protein levels alleviates the synaptic defects of neurons expressing the Perry mutant p150G50R in Drosophila. Dopaminergic expression of p150G50R, which decreases dopamine release, disrupts motor ability and reduces the lifespan of Drosophila. p150G50R expression also causes aggregation of dense core vesicles (DCVs), which contain monoamines and neuropeptides, and disrupts the axonal flow of DCVs, thus decreasing synaptic strength. The above phenotypes associated with Perry syndrome are improved by the removal of a copy of Drosophila TDP-43, TBPH, thus suggesting that the stagnation of axonal transport by dynactin mutations promotes TDP-43 aggregation and interferes with the dynamics of DCVs and synaptic activities (Hosaka, 2017)
Precise coordination of synaptic connections ensures proper information flow within circuits. The activity of presynaptic organizing molecules signaling to downstream pathways is essential for such coordination, though such entities remain incompletely known. This study shows that LRP4 (CG8909), a conserved transmembrane protein known for its postsynaptic roles, functions presynaptically as an organizing molecule. In the Drosophila brain, LRP4 localizes to the nerve terminals at or near active zones. Loss of presynaptic LRP4 reduces excitatory (not inhibitory) synapse number, impairs active zone architecture, and abolishes olfactory attraction. The latter of which can be suppressed by reducing presynaptic GABAB receptors. LRP4 overexpression increases synapse number in excitatory and inhibitory neurons, suggesting an instructive role and a common downstream synapse addition pathway. Mechanistically, LRP4 functions via the conserved kinase SRPK79D to ensure normal synapse number and behavior. This highlights a presynaptic function for LRP4, enabling deeper understanding of how synapse organization is coordinated (Mosca, 2017).
The mammalian MAGI proteins play important roles in the maintenance of adherens and tight junctions. The MAGI family of proteins contains modular domains such as WW and PDZ domains necessary for scaffolding of membrane receptors and intracellular signaling components. Loss of MAGI leads to reduced junction stability while overexpression of MAGI can lead to increased adhesion and stabilization of epithelial morphology. However, how Magi regulates junction assembly in epithelia is largely unknown. This study investigated the single Drosophila homologue of Magi to study the in vivo role of Magi in epithelial development. Magi is localized at the adherens junction and forms a complex with the polarity proteins, Par3/Bazooka and aPKC. A Magi null mutant was generated and found to be viable with no detectable morphological defects even though the Magi protein is highly conserved with vertebrate Magi homologues. However, overexpression of Magi results in the displacement of Baz/Par3 and aPKC and leads to an increase in the level of PIP3. Interestingly, it was found that Magi and Baz function in an antagonistic manner to regulate the localization of the apical polarity complex. Maintaining the balance between the level of Magi and Baz is an important determinant of the levels and localization of apical polarity complex (Padash Barmchi, 2016a)
Polarity is a shared feature of most cells. In epithelia, apical-basal polarity often coexists, and sometimes intersects with planar cell polarity (PCP), which orients cells in the epithelial plane. From a limited set of core building blocks (e.g. the Par complexes for apical-basal polarity and the Frizzled/Dishevelled complex for PCP), a diverse array of polarized cells and tissues are generated. This suggests the existence of little-studied tissue-specific factors that rewire the core polarity modules to the appropriate conformation. In Drosophila sensory organ precursors (SOPs), the core PCP components initiate the planar polarization of apical-basal determinants, ensuring asymmetric division into daughter cells of different fates. This study shows that Meru, a RASSF9/RASSF10 homologue, is expressed specifically in SOPs, recruited to the posterior cortex by Frizzled/Dishevelled, and in turn polarizes the apical-basal polarity factor Bazooka (Par3). Thus, Meru belongs to a class of proteins that act cell/tissue-specifically to remodel the core polarity machinery (Banerjee, 2017).
The 40,000 neurons of the medulla, the largest visual processing center of the Drosophila brain, derive from a sheet of neuroepithelial cells. During larval development, a wave of differentiation sweeps across the neuroepithelium, converting neuroepithelial cells into neuroblasts that sequentially express transcription factors specifying different neuronal cell fates. The switch from neuroepithelial cells to neuroblasts is controlled by a complex gene regulatory network and is marked by the expression of the proneural gene l'sc. This study discovered that microRNA miR-7 is expressed at the transition between neuroepithelial cells and neuroblasts. miR-7 promotes neuroepithelial cell-to-neuroblast transition by targeting downstream Notch effectors to limit Notch signaling. miR-7 acts as a buffer to ensure that a precise and stereotypical pattern of transition is maintained, even under conditions of environmental stress, echoing the role that miR-7 plays in the eye imaginal disc. This common mechanism reflects the importance of robust visual system development (Caygill, 2017).
The v-ATPase is a fundamental eukaryotic enzyme that is central to cellular homeostasis. Although its impact on key metabolic regulators such as TORC1 is well documented, knowledge of mechanisms that regulate v-ATPase activity is limited. This study reports that the Drosophila transcription factor Mitf is a master regulator of the v-ATPase holoenzyme. Mitf directly controls transcription of all 15 v-ATPase components through M-box cis-sites and this coordinated regulation affects holoenzyme activity in vivo. In addition, through the v-ATPase, Mitf promotes the activity of TORC1, which in turn negatively regulates Mitf. Evidence is provided that Mitf, v-ATPase and TORC1 form a negative regulatory loop that maintains each of these important metabolic regulators in relative balance. Interestingly, direct regulation of v-ATPase genes by human MITF also occurs in cells of the melanocytic lineage, showing mechanistic conservation in the regulation of the v-ATPase by MITF family proteins in fly and mammals. Collectively, this evidence points to an ancient module comprising Mitf, v-ATPase and TORC1 that serves as a dynamic modulator of metabolism for cellular homeostasis (Zhang, 2015).
Drosophila Nedd4 (dNedd4) is a HECT ubiquitin ligase with two main splice isoforms: dNedd4 short (dNedd4S) and long (dNedd4Lo). DNedd4Lo has a unique N-terminus containing a Pro-rich region. While dNedd4S promotes neuromuscular synaptogenesis, dNedd4Lo inhibits it and impairs larval locomotion. To delineate the cause of the impaired locomotion, binding partners to the N-terminal unique region of dNedd4Lo were sought in larval lysates. Mass-spectrometry identified Amphiphysin (dAmph). dAmph is a postsynaptic protein containing SH3-BAR domains, which regulates muscle transverse tubule (T-tubule) formation in flies. The interaction was validated by coimmunoprecipitation, and direct binding between dAmph-SH3 domain and dNedd4Lo-N-terminus was demonstrated. Accordingly, dNedd4Lo was colocalized with dAmph postsynaptically and at muscle T-tubules. Moreover, expression of dNedd4Lo in muscle during embryonic development led to disappearance of dAmph and to impaired T-tubule formation, phenocopying amph null mutants. This effect was not seen in muscles expressing dNedd4S or a catalytically-inactive dNedd4Lo(C->A). It is proposed that dNedd4Lo destabilizes dAmph in muscles, leading to impaired T-tubule formation and muscle function (Safi, 2016).
The neuroligin (Nlg) family of neural cell adhesion molecules is thought to be required for synapse formation and development, and has been linked to the development of autism spectrum disorders in humans. In Drosophila melanogaster, mutations in the neuroligin 1-3 genes have been reported to induce synapse developmental defects at neuromuscular junctions (NMJs), but the role of neuroligin 4 (dnlg4) in synapse development has not been determined. This study reports that the Drosophila Neuroligin 4 (DNlg4) is different from DNlg1-3 in that it presynaptically regulates NMJ synapse development. Loss of dnlg4 results in reduced growth of NMJs with fewer synaptic boutons. The morphological defects caused by dnlg4 mutant are associated with a corresponding decrease in synaptic transmission efficacy. All of these defects could only be rescued when DNlg4 was expressed in the presynapse of NMJs. To understand the basis of DNlg4 function, genetic interactions were sought, and connections were found with the components of the bone morphogenetic protein (BMP) signaling pathway. Immunostaining and western blot analyses demonstrated that the regulation of NMJ growth by DNlg4 was due to the positive modulation of BMP signaling by DNlg4. Specifically, BMP type I receptor Tkv abundance was reduced in dnlg4 mutants, and immunoprecipitation assays showed that DNlg4 and Tkv physically interacted in vivo. This study demonstrates that DNlg4 presynaptically regulates neuromuscular synaptic growth via the BMP signaling pathway by modulating Tkv (Zhang, 2017).
The coordination between membrane trafficking and actomyosin networks is essential to the regulation of cell and tissue shape. This study examined Rab protein distributions during Drosophila epithelial tissue remodeling and shows that Rab35 is dynamically planar polarized. Rab35 compartments are enriched at contractile interfaces of intercalating cells and provide the first evidence of interfacial monopolarity. When Rab35 function is disrupted, apical area oscillations still occur and contractile steps are observed. However, contractions are followed by reversals and interfaces fail to shorten, demonstrating that Rab35 functions as a ratchet ensuring unidirectional movement. Although actomyosin forces have been thought to drive interface contraction, initiation of Rab35 compartments does not require Myosin II function. However, Rab35 compartments do not terminate and continue to grow into large elongated structures following actomyosin disruption. Finally, Rab35 represents a common contractile cell-shaping mechanism, as mesoderm invagination fails in Rab35 compromised embryos and Rab35 localizes to constricting surfaces. Various stages of tissue morphogenesis involve the contraction of epithelial surfaces. This study identified the Rab GTPase Rab35 as an essential component of this contractile process, which functions as a membrane ratchet to ensure unidirectional movement of intercalating cells (Jewett, 2017).
The physiology and behavior of many organisms are subject to daily cycles. In Drosophila melanogaster the daily locomotion patterns of single flies are characterized by bursts of activity at dawn and dusk. Two distinct clusters of clock neurons-morning oscillators (M cells) and evening oscillators (E cells)-are largely responsible for these activity bursts. In contrast, male-female pairs of flies follow a distinct pattern, most notably characterized by an activity trough at dusk followed by a high level of male courtship during the night. This male sex drive rhythm (MSDR) is mediated by the M cells along with DN1 neurons, a cluster of clock neurons located in the dorsal posterior region of the brain. This study reports that males lacking Salt-inducible kinase 3 (SIK3) expression in M cells exhibit a short period of MSDR but a long period of single-fly locomotor rhythm (SLR). Moreover, lack of Sik3 in M cells decreases the amplitude of Period (Per) cycling in DN1 neurons, suggesting that SIK3 non-cell-autonomously regulates DN1 neurons' molecular clock. This study also shows that Sik3 reduction interferes with circadian nucleocytoplasmic shuttling of Histone deacetylase 4 (HDAC4), a SIK3 phosphorylation target, in clock neurons and that constitutive HDAC4 localization in the nucleus shortens the period of MSDR. Taking these findings together, it is concluded that SIK3-HDAC4 signaling in M cells regulates MSDR by regulating the molecular oscillation in DN1 neurons (Fujii, 2017).
Most cellular stresses induce protein translation inhibition and stress granule formation. Stress granules are well-studied, cytoplasmic reversible, pro-survival stress assemblies where untranslated free RNAs (resulting from protein translation inhibition) are stored and protected together with RNA-binding proteins, translation initiation factors, and the 40S ribosomal subunits. This study used Drosophila S2 cells to investigate the role of G3BP/Rasputin in this process. In contrast to arsenite treatment, where dephosphorylated Ser142 Rasputin is recruited to stress granules, this study found that, upon amino acid starvation, only the phosphorylated Ser142 form is recruited. Furthermore, Sec16, a component of the endoplasmic reticulum exit site (Tang, 2017; Sprangers, 2016), was identified as a Rasputin interactor and stabilizer. Sec16 depletion results in Rasputin degradation and inhibition of stress granule formation. However, in the absence of Sec16, pharmacological stabilization of Rasputin is not enough to rescue the assembly of stress granules. This is because Sec16 specifically interacts with phosphorylated Ser142 Rasputin, the form required for stress granule formation upon amino acid starvation. Taken together, these results demonstrate that stress granule formation is fine-tuned by specific signaling cues that are unique to each stress. These results also expand the role of Sec16 as a stress response protein (Aguilera-Gomez, 2017).
This study used the peristaltic crawling of Drosophila larvae as a model to study how motor patterns are regulated by central circuits. An experimental system was constructed that allows simultaneous application of optogenetics and calcium imaging to the isolated ventral nerve cord (VNC). Next, the effects of manipulating local activity of motor neurons (MNs) on fictive locomotion were observed as waves of MN activity propagating along neuromeres. Optical inhibition of MNs with halorhodopsin3 (NpHR3) in a middle segment (A4, A5 or A6), but not other segments, dramatically decreases the frequency of the motor waves. Conversely, local activation of MNs with channelrhodopsin2 (ChR2) in a posterior segment (A6 or A7) increases the frequency of the motor waves. Since peripheral nerves mediating sensory feedback are severed in the VNC preparation, these results indicate that MNs send signals to the central circuits to regulate motor pattern generation. These results also indicate segmental specificity in the roles of MNs in motor control. The effects of the local MN activity manipulation are lost in shakB2 or ogre2, gap-junction mutations in Drosophila, or upon acute application of the gap junction blocker CBX, implicating electrical synapses in the signaling from MNs. Cell-type specific RNAi suggests shakB and ogre function in MNs and interneurons, respectively, during the signaling. These results not only reveal an unexpected role for MNs in motor pattern regulation but also introduce a powerful experimental system that enables examination of the input-output relationship among the component neurons in this system (Matsunaga, 2017).
Animal behavior is, on the one hand, controlled by neuronal circuits that integrate external sensory stimuli and induce appropriate motor responses. On the other hand, stimulus-evoked or internally generated behavior can be influenced by motivational conditions, e.g., the metabolic state. Motivational states are determined by physiological parameters whose homeostatic imbalances are signaled to and processed within the brain, often mediated by modulatory peptides. This study investigate the regulation of appetitive and feeding behavior in the fruit fly, Drosophila melanogaster. Four neurons in the fly brain that release SIFamide were found to be integral elements of a complex neuropeptide network that regulates feeding. SIFamidergic cells integrate feeding stimulating (orexigenic) and feeding suppressant (anorexigenic) signals to appropriately sensitize sensory circuits, promote appetitive behavior, and enhance food intake. This study advances the cellular dissection of evolutionarily conserved signaling pathways that convert peripheral metabolic signals into feeding-related behavior (Martelli, 2017).
Synaptogenesis is coordinated by trans-synaptic signals that traverse the specialized synaptomatrix between pre- and postsynaptic cells. Matrix metalloproteinase (Mmp) activity sculpts this environment, balanced by secreted Tissue inhibitors of Mmp (Timp). This study used the reductionist Drosophila matrix metalloproteome to test consequences of eliminating all Timp regulatory control of Mmp activity at the neuromuscular junction (NMJ). Using in situ zymography, Timp was found to limit Mmp activity at the NMJ terminal and shape extracellular proteolytic dynamics surrounding individual synaptic boutons. In newly-generated timp null mutants, NMJs exhibit architectural overelaboration with supernumerary synaptic boutons. With cell-targeted RNAi and rescue studies, postsynaptic Timp was found to limit presynaptic architecture. Functionally, timp nulls exhibit compromised synaptic vesicle cycling, with reduced, lower fidelity activity. NMJ defects manifest in impaired locomotor function. Mechanistically, Timp was found to limit BMP trans-synaptic signaling and the downstream synapse-to-nucleus signal transduction. Pharmacologically restoring Mmp inhibition in timp nulls corrects BMP signaling and synaptic properties. Genetically restoring BMP signaling in timp nulls corrects NMJ structure and motor function. Thus, Timp inhibition of Mmp proteolytic activity restricts BMP trans-synaptic signaling to coordinate synaptogenesis (Shilts, 2017).


---
date revised: 2 January 2018

Home page: The Interactive Fly © 2016 Thomas B. Brody, Ph.D.

The Interactive Fly resides on the
Society for Developmental Biology's Web server.