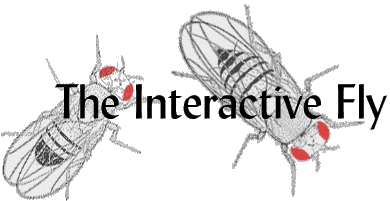 What's new in edition 78
January 2017
Gene sites new with this edition
---
The Interactive Fly was first released July/August 1996, with updates provided at approximately one month intervals, through September 1997 (edition 13). Updating quarterly started with edition 14. With edition 40, the Interactive Fly began to schedule updates three times a year: fall, winter and spring.
---
Coordinating metabolism and feeding is important to avoid obesity and metabolic diseases, yet the underlying mechanisms, balancing nutrient intake and metabolic expenditure, are poorly understood. Several mechanisms controlling these processes are conserved in Drosophila, where homeostasis and energy mobilization are regulated by the glucagon-related adipokinetic hormone (AKH) and the Drosophila insulin-like peptides (DILPs). This study provides evidence that the Drosophila neuropeptide Allatostatin A (AstA) regulates AKH and DILP signaling. The AstA receptor gene, Dar-2, is expressed in both the insulin and AKH producing cells. Silencing of Dar-2 in these cells results in changes in gene expression and physiology associated with reduced DILP and AKH signaling and animals lacking AstA accumulate high lipid levels. This suggests that AstA is regulating the balance between DILP and AKH, believed to be important for the maintenance of nutrient homeostasis in response to changing ratios of dietary sugar and protein. Furthermore, AstA and Dar-2 are regulated differentially by dietary carbohydrates and protein and AstA-neuronal activity modulates feeding choices between these types of nutrients. These results suggest that AstA is involved in assigning value to these nutrients to coordinate metabolic and feeding decisions, responses that are important to balance food intake according to metabolic needs (Hentze, 2015).
Filamin is a scaffolding protein that functions in many cells as an actin-crosslinker. FLN90, an isoform of the Drosophila ortholog Filamin/cheerio that lacks the actin-binding domain, is shown in this study to govern the growth of postsynaptic membrane folds and the composition of glutamate receptor clusters at the larval neuromuscular junction. Genetic and biochemical analyses reveal that FLN90 is present surrounding synaptic boutons. FLN90 is required in the muscle for localization of the kinase dPak and, downstream of dPak, for localization of the GTPase Ral and the exocyst complex to this region. Consequently, Filamin is needed for growth of the subsynaptic reticulum. In addition, in the absence of filamin, type-A glutamate receptor subunits are lacking at the postsynapse, while type-B subunits cluster correctly. Receptor composition is dependent on dPak, but independent of the Ral pathway. Thus two major aspects of synapse formation, morphological plasticity and subtype-specific receptor clustering, require postsynaptic Filamin (Lee, 2016).
The ecdysis behavioral sequence in insects is a classic fixed action pattern (FAP) initiated by hormonal signaling. Ecdysis triggering hormones (ETHs) release the FAP through direct actions on the CNS. This study presents evidence implicating two groups of central ETH receptor (ETHR) neurons in scheduling the first two steps of the FAP: kinin (aka drosokinin, leucokinin) neurons regulate pre-ecdysis behavior and CAMB neurons (CCAP, AstCC, MIP, and Bursicon) initiate the switch to ecdysis behavior. Ablation of kinin neurons or altering levels of ETH receptor (ETHR) expression in these neurons modifies timing and intensity of pre-ecdysis behavior. Cell ablation or ETHR knockdown in CAMB neurons delays the switch to ecdysis, whereas overexpression of ETHR or expression of pertussis toxin in these neurons accelerates timing of the switch. Calcium dynamics in kinin neurons are temporally aligned with pre-ecdysis behavior, whereas activity of CAMB neurons coincides with the switch from pre-ecdysis to ecdysis behavior. Activation of CCAP or CAMB neurons through temperature-sensitive TRPM8 gating is sufficient to trigger ecdysis behavior. These findings demonstrate that kinin and CAMB neurons are direct targets of ETH and play critical roles in scheduling successive behavioral steps in the ecdysis FAP (Kim, 2015).
Regulation of the positive transcription elongation factor, P-TEFb (see Cdk9), plays a major role in controlling mammalian transcription and this is accomplished in part by controlled release of P-TEFb from the 7SK snRNP that sequesters the kinase in an inactive state. This study demonstrates that a similar P-TEFb control system exists in Drosophila. An RNA previously suggested to be a 7SK homolog is, in fact, associated with P-TEFb, through the action of a homolog of the human HEXIM1/2 proteins (dHEXIM). In addition, a Drosophila La related protein (now called dLARP7) is shown to be the functional homolog of human LARP7. The Drosophila 7SK snRNP (d7SK snRNP) responded to treatment of cells with P-TEFb inhibitors and to nuclease treatment of cell lysates by releasing P-TEFb. Supporting a critical role for the d7SK snRNP in Drosophila development, dLARP7 and dHEXIM were found to be ubiquitously expressed throughout embryos and tissues at all stages. Importantly, knockdown of dHEXIM was embryonic lethal, and reduction of dHEXIM in specific tissues led to serious developmental defects. These results suggest that regulation of P-TEFb by the d7SK snRNP is essential for the growth and differentiation of tissues required during Drosophila development (Nguyen, 2012).
A female's reproductive state influences her perception of odors and tastes along with her changed behavioral state and physiological needs. The mechanism that modulates chemosensory processing, however, remains largely elusive. Using Drosophila, this study has identified a behavioral, neuronal, and genetic mechanism that adapts the senses of smell and taste, the major modalities for food quality perception, to the physiological needs of a gravid female. Pungent smelling polyamines, such as putrescine and spermidine, are essential for cell proliferation, reproduction, and embryonic development in all animals. A polyamine-rich diet increases reproductive success in many species, including flies. Using a combination of behavioral analysis and in vivo physiology, this study shows that polyamine attraction is modulated in gravid females through a G-protein coupled receptor, the sex peptide receptor (SPR), and its neuropeptide ligands, MIPs (myoinhibitory peptides), which act directly in the polyamine-detecting olfactory and taste neurons. This modulation is triggered by an increase of SPR expression in chemosensory neurons, which is sufficient to convert virgin to mated female olfactory choice behavior. Together, these data show that neuropeptide-mediated modulation of peripheral chemosensory neurons increases a gravid female's preference for important nutrients, thereby ensuring optimal conditions for her growing progeny (Hussain, 2016b).
Assembly and maturation of synapses at the Drosophila neuromuscular junction (NMJ) depend on trans-synaptic Neurexin/Neuroligin signalling, which is promoted by the scaffolding protein Syd-1 binding to Neurexin. This study reports that the scaffold protein Spinophilin binds to the C-terminal portion of Neurexin and is needed to limit Neurexin/Neuroligin signalling by acting antagonistic to Syd-1 (RhoGAP100F). Loss of presynaptic spinophilin results in the formation of excess, but atypically small active zones. Neuroligin-1/Neurexin-1/Syd-1 levels are increased at spinophilin mutant NMJs, and removal of single copies of the neurexin-1, Syd-1 or neuroligin-1 genes suppresses the spinophilin-active zone phenotype. Evoked transmission is strongly reduced at spinophilin terminals, owing to a severely reduced release probability at individual active zones. It is concluded that presynaptic Spinophilin fine-tunes Neurexin/Neuroligin signalling to control active zone number and functionality, thereby optimizing them for action potential-induced exocytosis (Muhammad, 2015).
This study defines activities of RIM-binding protein (RBP) that are essential for baseline neurotransmission and presynaptic homeostatic plasticity. At baseline, rbp mutants have a approximately 10-fold decrease in the apparent Ca2+ sensitivity of release that this study attributes to (1) impaired presynaptic Ca2+ influx, (2) looser coupling of vesicles to Ca2+ influx, and (3) limited access to the readily releasable vesicle pool (RRP). During homeostatic plasticity, RBP is necessary for the potentiation of Ca2+ influx and the expansion of the RRP. Remarkably, rbp mutants also reveal a rate-limiting stage required for the replenishment of high release probability (p) vesicles following vesicle depletion. This rate slows approximately 4-fold at baseline and nearly 7-fold during homeostatic signaling in rbp. These effects are independent of altered Ca2+ influx and RRP size. It is proposed that RBP stabilizes synaptic efficacy and homeostatic plasticity through coordinated control of presynaptic Ca2+ influx and the dynamics of a high-p vesicle pool (Müller, 2015).
The appendages of arthropods and vertebrates are not homologous structures, although the underlying genetic mechanisms that pattern them are highly conserved. Members of the Sp family of transcription factors are expressed in the developing limbs and their function is required for limb growth in both insects and chordates. Despite the fundamental and conserved role that these transcription factors play during appendage development, their target genes and the mechanisms in which they participate to control limb growth are mostly unknown. This study analyzed the individual contributions of two Drosophila Sp members, buttonhead (btd) and Sp1, during leg development. Sp1 plays a more prominent role controlling leg growth than btd. A regulatory function of Sp1 in Notch signaling was identified, and a genome wide transcriptome analysis was performed to identify other potential Sp1 target genes contributing to leg growth. The data suggest a mechanism by which the Sp factors control appendage growth through the Notch signaling (Cordoba, 2016).
Synapse formation requires the precise coordination of axon elongation, cytoskeletal stability, and diverse modes of cell signaling. The underlying mechanisms of this interplay, however, remain unclear. This study demonstrates that Strip, a component of the striatin-interacting phosphatase and kinase (STRIPAK) complex that regulates these processes, is required to ensure the proper development of synaptic boutons at the Drosophila neuromuscular junction. In doing so, Strip negatively regulates the activity of the Hippo (Hpo) pathway, an evolutionarily conserved regulator of organ size whose role in synapse formation is currently unappreciated. Strip functions genetically with Enabled, an actin assembly/elongation factor and the presumptive downstream target of Hpo signaling, to modulate local actin organization at synaptic termini. This regulation occurs independently of the transcriptional co-activator Yorkie, the canonical downstream target of the Hpo pathway. This study identifies a previously unanticipated role of the Strip-Hippo pathway in synaptic development, linking cell signaling to actin organization (Sakuma, 2016).
Animals adapt their growth rate and body size to available nutrients by a general modulation of insulin-insulin-like growth factor signaling. In Drosophila, dietary amino acids promote the release in the hemolymph of brain insulin-like peptides (Dilps), which in turn activate systemic organ growth. Dilp secretion by insulin-producing cells involves a relay through unknown cytokines produced by fat cells. This study identified Methuselah (Mth) as a secretin-incretin receptor subfamily member required in the insulin-producing cells for proper nutrient coupling. Using genetic and ex vivo organ culture experiments, it was shown that the Mth ligand Stunted is a circulating insulinotropic peptide produced by fat cells. Therefore, Sun and Mth define a new cross-organ circuitry that modulates physiological insulin levels in response to nutrients (Delanoue, 2016).
Phenotypic plasticity is the ability of a given genotype to produce different phenotypes in response to distinct environmental conditions. Phenotypic plasticity can be adaptive. Furthermore, it is thought to facilitate evolution. Although phenotypic plasticity is a widespread phenomenon, its molecular mechanisms are only beginning to be unravelled. Environmental conditions can affect gene expression through modification of chromatin structure, mainly via histone modifications, nucleosome remodelling or DNA methylation, suggesting that phenotypic plasticity might partly be due to chromatin plasticity. As a model of phenotypic plasticity, abdominal pigmentation was studied of Drosophila melanogaster females, which is temperature sensitive. Abdominal pigmentation is indeed darker in females grown at 18 °C than at 29 °C. This phenomenon is thought to be adaptive as the dark pigmentation produced at lower temperature increases body temperature. This study showed that temperature modulates the expression of tan (t) , a pigmentation gene involved in melanin production. t is expressed 7 times more at 18 °C than at 29 °C in female abdominal epidermis. Genetic experiments show that modulation of t expression by temperature is essential for female abdominal pigmentation plasticity. Temperature modulates the activity of an enhancer of t without modifying compaction of its chromatin or level of the active histone mark H3K27ac. By contrast, the active mark H3K4me3 on the t promoter is strongly modulated by temperature. The H3K4 methyl-transferase involved in this process is likely Trithorax, since it regulates t expression and the H3K4me3 level on the t promoter and also participates in female pigmentation and its plasticity. Interestingly, t was previously shown to be involved in inter-individual variation of female abdominal pigmentation in Drosophila melanogaster, and in abdominal pigmentation divergence between Drosophila species. Sensitivity of t expression to environmental conditions might therefore give more substrate for selection, explaining why this gene has frequently been involved in evolution of pigmentation (Gilbert, 2016).
Neuromodulators influence the activities of collections of neurons and have profound impacts on animal behavior. Male courtship drive is complex and subject to neuromodulatory control. Using the fruit fly Drosophila melanogaster, this study identified neurons in the brain (inferior posterior slope; IPS) that impact courtship drive and are controlled by tyramine-a biogenic amine related to dopamine, whose roles in most animals are enigmatic. A tyramine-specific receptor, TyrR, which is expressed in IPS neurons, was knocked out. Loss of TyrR leads to a striking elevation in courtship activity between males. This effect occurs only in the absence of females, as TyrRGal4 mutant males exhibit a wild-type preference for females. Artificial hyperactivation of IPS neurons causes a large increase in male-male courtship, whereas suppression of IPS activity decreases male-female courtship. The study concludes that TyrR is a receptor for tyramine, and suggests that it serves to curb high levels of courtship activity through functioning as an inhibitory neuromodulator (Huang, 2016).
Developmental axon pruning is essential for wiring the mature nervous system, but its regulation remains poorly understood. This study shows that the endosomal-lysosomal pathway regulates developmental pruning of Drosophila mushroom body γ neurons. The UV radiation resistance-associated gene (Uvrag) functions together with all core components of the phosphatidylinositol 3-kinase class III (PI3K-cIII) complex to promote pruning via the endocytic pathway. By studying several PI3P binding proteins, this study found that Hrs, a subunit of the ESCRT-0 complex, required for multivesicular body (MVB) maturation, is essential for normal pruning progression. Thus, the existence of an inhibitory signal that needs to be downregulated is hypothesized. Finally, the data suggest that the Hedgehog receptor, Patched, is the source of this inhibitory signal likely functioning in a Smo-independent manner. Taken together, this in vivo study demonstrates that the PI3K-cIII complex is essential for downregulating Patched via the endosomal-lysosomal pathway to execute axon pruning (Issman-Zecharya, 2014).


---
date revised: 2 January 2017

Home page: The Interactive Fly © 2016 Thomas B. Brody, Ph.D.

The Interactive Fly resides on the
Society for Developmental Biology's Web server.