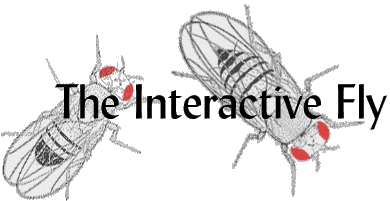 What's new in edition 79
May 2017
Gene sites new with this edition
---
The Interactive Fly was first released July/August 1996, with updates provided at approximately one month intervals, through September 1997 (edition 13). Updating quarterly started with edition 14. With edition 40, the Interactive Fly began to schedule updates three times a year: fall, winter and spring.
---
Nervous system development and function are tightly regulated by metabolic processes, including the metabolism of lipids such as fatty acids (FAs). Mutations in long-chain acyl-CoA synthetase 4 (ACSL4) are associated with non-syndromic intellectual disabilities. A previous study reported that Acsl, the Drosophila ortholog of mammalian ACSL3 and ACSL4, inhibits neuromuscular synapse growth by suppressing transforming growth factor-beta/bone morphogenetic protein (BMP) signaling. This study reports that Acsl regulates the composition of FAs and membrane lipid, which in turn affect neuromuscular junction (NMJ) synapse development. Acsl mutant brains had decreased abundance of C16:1 fatty acyls; restoration of Acsl expression abrogated NMJ overgrowth and the increase in BMP signaling. A lipidomic analysis revealed that Acsl suppressed the levels of three lipid raft components in the brain, including mannosyl glucosylceramide (MacCer), phosphoethanolamine ceramide, and ergosterol. MacCer level was elevated in Acsl mutant NMJs and along with sterol promoted NMJ overgrowth but was not associated with the increase in BMP signaling in the mutants. These findings suggest that Acsl inhibits NMJ growth by stimulating C16:1 and concomitantly suppressing raft-associated lipid levels (Huang, 2016).
Belle (Bel), the Drosophila homolog of the yeast DEAD-box RNA helicase DED1 and human DDX3, has been shown to be required for oogenesis and female fertility. This study reports a novel role of Bel in regulating the expression of transgenes. Abrogation of Bel by mutations or RNAi induces silencing of a variety of P-element-derived transgenes. This silencing effect depends on downregulation of their RNA levels. Genetic studies have revealed that the RNA helicase Spindle-E (Spn-E), a nuage RNA helicase that plays a crucial role in regulating RNA processing and PIWI-interacting RNA (piRNA) biogenesis in germline cells, is required for loss-of-bel-induced transgene silencing. Conversely, Bel abrogation alleviates the nuage-protein mislocalization phenotype in spn-E mutants, suggesting a competitive relationship between these two RNA helicases. Additionally, disruption of the chromatin remodeling factor Mod(mdg4) or the microRNA biogenesis enzyme Dicer-1 (Dcr-1) also alleviates the transgene-silencing phenotypes in bel mutants, suggesting the involvement of chromatin remodeling and microRNA biogenesis in loss-of-bel-induced transgene silencing. Finally genetic inhibition of Bel function was shown to lead to de novo generation of piRNAs from the transgene region inserted in the genome, suggesting a potential piRNA-dependent mechanism that may mediate transgene silencing as Bel function is inhibited (Lo, 2016).
In most sexually reproducing organisms, crossover formation between homologous chromosomes is necessary for proper chromosome disjunction during meiosis I. During meiotic recombination, a subset of programmed DNA double-strand breaks (DSBs) are repaired as crossovers, with the remainder becoming noncrossovers. Whether a repair intermediate is designated to become a crossover is a highly regulated decision that integrates several crossover patterning processes, both along chromosome arms (interference and the centromere effect) and between chromosomes (crossover assurance). Because the mechanisms that generate crossover patterning have remained elusive for over a century, it has been difficult to assess the relationship between crossover patterning and meiotic chromosome behavior. This study shows that meiotic crossover patterning is lost in Drosophila melanogaster mutants that lack the Bloom syndrome helicase. In the absence of interference and the centromere effect, crossovers are distributed more uniformly along chromosomes. Crossovers even occur on the small chromosome 4, which normally never has meiotic crossovers. Regulated distribution of crossovers between chromosome pairs is also lost, resulting in an elevated frequency of homologs that do not receive a crossover, which in turn leads to elevated nondisjunction (Hatkevich, 2017).
Stress triggers cellular and systemic reactions in organisms to restore homeostasis. Mammalian gonadotropin-releasing hormone (GnRH) and its insect orthologue, adipokinetic hormone (AKH), are known for their roles in modulating stress-related behaviour. This study shows that corazonin (Crz), a peptide homologous to AKH/GnRH, also alters stress physiology in Drosophila. The Crz receptor (CrzR) is expressed in salivary glands and adipocytes of the liver-like fat body, and CrzR knockdown targeted simultaneously to both these tissues increases the fly's resistance to starvation, desiccation and oxidative stress, reduces feeding, alters expression of transcripts of Drosophila insulin-like peptides (DILPs), and affects gene expression in the fat body. Furthermore, in starved flies, CrzR-knockdown increases circulating and stored carbohydrates. Thus, these findings indicate that elevated systemic Crz signalling during stress coordinates increased food intake and diminished energy stores to regain metabolic homeostasis. This study suggests that an ancient stress-peptide in Urbilateria evolved to give rise to present-day GnRH, AKH and Crz signalling systems (Kubrak, 2016).
Endocytosis of G-protein-coupled receptors (GPCRs) and associated channels contributes to desensitization and adaptation of a variety of signaling cascades. In Drosophila melanogaster, the main light-sensing rhodopsin (Rh1; encoded by ninaE) and the downstream ion channel, transient receptor potential like (TRPL), are endocytosed in response to light, but the mechanism is unclear. By using an RNA-Sequencing (RNA-Seq) approach, a protein was discovered that was named CULD, a photoreceptor-cell enriched CUB- and LDLa-domain transmembrane protein, that is required for endocytic trafficking of Rh1 and TRPL. CULD localized to endocytic Rh1-positive or TRPL-positive vesicles. Mutations in culd resulted in the accumulation of Rh1 and TRPL within endocytic vesicles, and disrupted the regular turnover of endocytic Rh1 and TRPL. In addition, loss of CULD induced light- and age-dependent retinal degeneration, and reduced levels of Rh1, but not of TRPL, suppressed retinal degeneration in culd-null mutant flies. These data demonstrate that CULD plays an important role in the endocytic turnover of Rh1 and TRPL, and suggest that CULD-dependent rhodopsin endocytic trafficking is required for maintaining photoreceptor integrity (Xu, 2016).
Body temperature exhibits rhythmic fluctuations over a 24 h period and decreases during the night, which is associated with sleep initiation. However, the underlying mechanism of this temperature decrease is largely unknown. Previous work has shown that Drosophila exhibit a daily temperature preference rhythm (TPR), in which their preferred temperatures increase during the daytime and then decrease at the transition from day to night (night-onset). Because Drosophila are small ectotherms, their body temperature is very close to that of the ambient temperature, suggesting that their TPR generates their body temperature rhythm. This study demonstrates that the neuropeptide diuretic hormone 31 (DH31) and pigment-dispersing factor receptor (PDFR) contribute to regulate the preferred temperature decrease at night-onset. PDFR and tethered-DH31 expression in dorsal neurons 2 (DN2s) restore the preferred temperature decrease at night-onset, suggesting that DH31 acts on PDFR in DN2s. Notably, it was previously shown that the molecular clock in DN2s is important for TPR. Although PDF (another ligand of PDFR) is a critical factor for locomotor activity rhythms, Pdf mutants exhibit normal preferred temperature decreases at night-onset. This suggests that DH31-PDFR signaling specifically regulates a preferred temperature decrease at night-onset. Thus, it is proposed that night-onset TPR and locomotor activity rhythms are differentially controlled not only by clock neurons but also by neuropeptide signaling in the brain (Goda, 2016).
The strength of synaptic connections varies significantly and is a key determinant of communication within neural circuits. Mechanistic insight into presynaptic factors that establish and modulate neurotransmitter release properties is crucial to understanding synapse strength, circuit function, and neural plasticity. Drosophila Fife, a Piccolo-RIM homolog. has been shown to regulate neurotransmission and motor behavior through an unknown mechanism. This study demonstrates that Fife localizes and interacts with RIM (Rab3 interacting molecule) at the active zone cytomatrix to promote neurotransmitter release. Loss of Fife results in the severe disruption of active zone cytomatrix architecture and molecular organization. Through electron tomographic and electrophysiological studies, a decrease was found in the accumulation of release-ready synaptic vesicles and their release probability caused by impaired coupling to Ca2+ channels. Finally, Fife was found to be essential for the homeostatic modulation of neurotransmission. It is proposed that Fife organizes active zones to create synaptic vesicle release sites within nanometer distance of Ca2+ channel clusters for reliable and modifiable neurotransmitter release (Bruckner, 2016).
The hangover gene defines a cellular stress pathway that is required for rapid ethanol tolerance in Drosophila melanogaster. To understand how cellular stress changes neuronal function, Hangover function was analyzed on a cellular and neuronal level. Evidence is provided that Hangover acts as a nuclear RNA binding protein and the phosphodiesterase 4d ortholog dunce as a target RNA. A transcript-specific dunce mutant was generated that is impaired not only in ethanol tolerance but also in the cellular stress response. At the neuronal level, Dunce and Hangover are required in the same neuron pair to regulate experience-dependent motor output. Within these neurons, two cyclic AMP (cAMP)-dependent mechanisms balance the degree of tolerance. The balance is achieved by feedback regulation of Hangover and dunce transcript levels. This study provides insight into how nuclear Hangover/RNA signaling is linked to the cytoplasmic regulation of cAMP levels and results in neuronal adaptation and behavioral changes (Ruppert, 2017).
N6-methyladenosine (m6A) is the most common internal modification of eukaryotic messenger RNA (mRNA) and is decoded by YTH domain proteins. The mammalian mRNA m6A methylosome is a complex of nuclear proteins that includes a stable heterodimer [METTL3 (methyltransferase-like 3) and METTL14], WTAP (Wilms tumour 1-associated protein) and KIAA1429. Drosophila has corresponding homologues named Ime4 (Inducer of meiosis 4) , Mettl14 (Methyltransferase-like 14 ), the Wilms tumour 1-associated protein Female-lethal (2)d (Fl(2)d) and Virilizer (Vir). In Drosophila, fl(2)d and vir are required for sex-dependent regulation of alternative splicing of the sex determination factor Sex lethal (Sxl). However, the functions of m6A in introns in the regulation of alternative splicing remain uncertain. This study shows that m6A is absent in the mRNA of Drosophila lacking Ime4. In contrast to mouse and plant knockout model, Drosophila Ime4-null mutants remain viable, though flightless, and show a sex bias towards maleness. This is because m6A is required for female-specific alternative splicing of Sxl, which determines female physiognomy, but also translationally represses male-specific lethal 2 (msl-2) to prevent dosage compensation in females. The m6A reader protein YT521-B decodes m6A in the sex-specifically spliced intron of Sxl, as its absence phenocopies Ime4 mutants. Loss of m6A also affects alternative splicing of additional genes, predominantly in the 5' untranslated region, and has global effects on the expression of metabolic genes. The requirement of m6A and its reader YT521-B for female-specific Sxl alternative splicing reveals that this hitherto enigmatic mRNA modification constitutes an ancient and specific mechanism to adjust levels of gene expression (Haussmann, 2016).
Amino acid taste is expected to be a universal property among animals. Although sweet, bitter, salt, and water tastes have been well characterized in insects, the mechanisms underlying amino acid taste remain elusive. From a Drosophila RNAi screen, this study identified an ionotropic receptor, Ir76b, as necessary for yeast preference. Using calcium imaging, the Ir76b+ amino acid taste neurons in legs were identified and were found to be overlapping partially with sweet neurons but not those that sense other tastants. Ir76b mutants have reduced responses to amino acids, which are rescued by transgenic expression of Ir76b and a mosquito ortholog AgIr76b. Co-expression of Ir20a with Ir76b is sufficient for conferring amino acid responses in sweet-taste neurons. Notably, Ir20a also serves to block salt response of Ir76b. Overall, this study establishes the role of a highly conserved receptor in amino acid taste and suggests a mechanism for mutually exclusive roles of Ir76b in salt- and amino-acid-sensing neurons (Ganguly, 2017).
Regenerative therapies are limited by unfavorable environments in aging and diseased tissues. A promising strategy to improve success is to balance inflammatory and anti-inflammatory signals and enhance endogenous tissue repair mechanisms. This study identified a conserved immune modulatory mechanism that governs the interaction between damaged retinal cells and immune cells to promote tissue repair. In damaged retina of flies and mice, platelet-derived growth factor (PDGF)-like signaling induced mesencephalic astrocyte-derived neurotrophic factor (MANF) in innate immune cells. MANF promoted alternative activation of innate immune cells, enhanced neuroprotection and tissue repair, and improved the success of photoreceptor replacement therapies. Thus, immune modulation is required during tissue repair and regeneration. This approach may improve the efficacy of stem-cell-based regenerative therapies (Neves, 2016).
The voltage-gated sodium channel (Nav) plays a key role in regulation of neuronal excitability. Aberrant regulation of Nav expression and/or function can result in an imbalance in neuronal activity which can progress to epilepsy. Regulation of Nav activity is achieved by coordination of a multitude of mechanisms including RNA alternative splicing and translational repression. Understanding of these regulatory mechanisms is complicated by extensive genetic redundancy: the mammalian genome encodes ten Navs. By contrast, the genome of the fruitfly, Drosophila melanogaster, contains just one Nav homologue, encoded by paralytic (DmNav). Analysis of splicing in DmNav shows variants exhibit distinct gating properties including varying magnitudes of persistent sodium current (INaP) (see Schematic of the predicted topology of the voltage-gated sodium channel showing approximate locations of Drosophila spliced exons). Splicing by Pasilla, an identified RNA splicing factor, alters INaP magnitude as part of an activity-dependent mechanism. Enhanced INaP promotes membrane hyperexcitability that is associated with seizure-like behaviour in Drosophila. Nova-2, a mammalian Pasilla homologue, has also been linked to splicing of Navs and, moreover, mouse gene knockouts display seizure-like behaviour. Expression level of Navs is also regulated through a mechanism of translational repression in both flies and mammals. The translational repressor Pumilio (Pum) can bind to Nav transcripts and repress the normal process of translation, thus regulating sodium current (INa) density in neurons. Pum2-deficient mice exhibit spontaneous EEG abnormalities. Taken together, aberrant regulation of Nav function and/or expression is often epileptogenic. As such, a better understanding of regulation of membrane excitability through RNA alternative splicing and translational repression of Navs should provide new leads to treat epilepsy (Lin, 2014).
Sleep disconnects animals from the external world, at considerable risks and costs that must be offset by a vital benefit. Insight into this mysterious benefit will come from understanding sleep homeostasis: to monitor sleep need, an internal bookkeeper must track physiological changes that are linked to the core function of sleep. In Drosophila, a crucial component of the machinery for sleep homeostasis is a cluster of neurons innervating the dorsal fan-shaped body (dFB) of the central complex. Artificial activation of these cells induces sleep, whereas reductions in excitability cause insomnia. dFB neurons in sleep-deprived flies tend to be electrically active, with high input resistances and long membrane time constants, while neurons in rested flies tend to be electrically silent. Correlative evidence thus supports the simple view that homeostatic sleep control works by switching sleep-promoting neurons between active and quiescent states. This study demonstrates state switching by dFB neurons, identify dopamine as a neuromodulator that operates the switch, and delineate the switching mechanism. Arousing dopamine caused transient hyperpolarization of dFB neurons within tens of milliseconds and lasting excitability suppression within minutes. Both effects were transduced by Shab, and the upregulation of voltage-independent leak currents through a two-pore-domain potassium channel that is termed Sandman. Sandman is encoded by the CG8713 gene and translocates to the plasma membrane in response to dopamine. dFB-restricted interference with the expression of Shaker or Sandman decreased or increased sleep, respectively, by slowing the repetitive discharge of dFB neurons in the ON state or blocking their entry into the OFF state. Biophysical changes in a small population of neurons are thus linked to the control of sleep-wake state (Pimentel, 2016).


---
date revised: 2 May 2017

Home page: The Interactive Fly © 2016 Thomas B. Brody, Ph.D.

The Interactive Fly resides on the
Society for Developmental Biology's Web server.