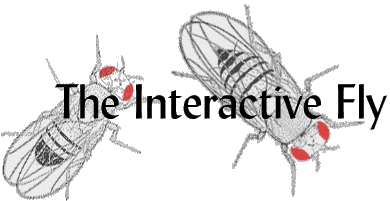 What's new in edition 86
September 2019
Gene sites new with this edition
---
The Interactive Fly was first released July/August 1996, with updates provided at approximately one month intervals, through September 1997 (edition 13). Updating quarterly started with edition 14. With edition 40, the Interactive Fly began to schedule updates three times a year: fall, winter and spring.
---
The abnormal wing discs (awd) gene encodes the Drosophila homolog of NME1/NME2 metastasis suppressor genes. Awd acts in multiple tissues where its function is critical in establishing and maintaining epithelial integrity. This study analysed awd gene function in Drosophila epithelial cells using transgene-mediated RNA interference and genetic mosaic analysis. awd knockdown in larval wing disc epithelium leads to chromosomal instability (CIN) and induces apoptosis mediated by activation of c-Jun N-terminal kinase. Forced maintenance of Awd depleted cells, by expressing the cell death inhibitor p35, downregulates atypical protein kinase C and DE-Cadherin. Consistent with their loss of cell polarity and enhanced level of matrix metalloproteinase 1, cells delaminate from wing disc epithelium. Furthermore, the DNA content profile of these cells indicates that they are aneuploid. Overall, these data demonstrate a novel function for awd in maintenance of genomic stability. These results are consistent with other studies reporting that NME1 down-regulation induces CIN in human cell lines and suggest that Drosophila model could be successfully used to study in vivo the impact of NME/Awd induced genomic instability on tumour development and metastasis formation (Romani, 2017).
A decline in protein homeostasis (proteostasis) has been proposed as a hallmark of aging. Somatic stem cells (SCs) uniquely maintain their proteostatic capacity through mechanisms that remain incompletely understood. This study describes and characterizes a 'proteostatic checkpoint' in Drosophila intestinal SCs (ISCs). Following a breakdown of proteostasis, ISCs coordinate cell cycle arrest with protein aggregate clearance by Atg8-mediated activation of the Nrf2-like transcription factor cap-n-collar C (CncC). CncC induces the cell cycle inhibitor Dacapo and proteolytic genes. The capacity to engage this checkpoint is lost in ISCs from aging flies, and it can be restored by treating flies with an Nrf2 activator, or by over-expression of CncC or Atg8a. This limits age-related intestinal barrier dysfunction and can result in lifespan extension. These findings identify a new mechanism by which somatic SCs preserve proteostasis, and highlight potential intervention strategies to maintain regenerative homeostasis (Rodriguez-Fernandez, 2019).
Cholinergic activity is essential for cognitive functions and neuronal homeostasis. Choline Acetyltransferase (ChAT), a soluble protein that synthesizes acetylcholine at the presynaptic compartment, is transported in bulk in the axons by the heterotrimeric Kinesin-2 motor. Axonal transport of soluble proteins is described as a constitutive process assisted by occasional, non-specific interactions with moving vesicles and motor proteins. This study reports that an increase in the influx of Kinesin-2 motor and association between ChAT and the motor during a specific developmental period enhances the axonal entry, as well as the anterograde flow of the protein, in the sensory neurons of intact Drosophila nervous system. Loss of cholinergic activity due to Hemicholinium and Bungarotoxin treatments, respectively, disrupts the interaction between ChAT and Kinesin-2 in the axon, and the episodic enhancement of axonal influx of the protein. Altogether, these observations highlight a phenomenon of synaptic activity-dependent, feedback regulation of a soluble protein transport in vivo, which could potentially define the quantum of its pre-synaptic influx (Dey, 2018).
Drosophila Ether-a-go-go (Eag) is the founding member of a large family of voltage-gated K(+) channels, the KCNH family, which includes Kv10, 11 and 12. Concurrent binding of calcium/calmodulin (Ca(2+)/CaM) to N- and C-terminal sites inhibits mammalian EAG1 channels at sub-micromolar Ca(2+) concentrations, likely by causing pore constriction. Although the Drosophila EAG channel was believed to be Ca(2+)-insensitive, both the N- and C-terminal sites are conserved. This study shows that Drosophila EAG is inhibited by high Ca(2+) concentrations that are only present at plasma membrane Ca(2+) channel microdomains. To test the role of this regulation in vivo, mutations were engineered that block CaM-binding to the major C-terminal site of the endogenous eag locus, disrupting Ca(2+)-dependent inhibition. eag CaMBD mutants have reduced evoked release from larval motor neuron presynaptic terminals and show decreased Ca(2+) influx in stimulated adult projection neuron presynaptic terminals, consistent with an increase in K(+) conductance. These results are predicted by a conductance-based multi-compartment model of the presynaptic terminal in which some fraction of EAG is localized to the Ca(2+) channel microdomains that control neurotransmitter release. The reduction of release in the larval neuromuscular junction drives a compensatory increase in motor neuron somatic excitability. This misregulation of synaptic and somatic excitability has consequences for systems-level processes and leads to defects in associative memory formation in adults (Bronk, 2018).
Homeostatic renewal and stress-related tissue regeneration rely on stem cell activity, which drives the replacement of damaged cells to maintain tissue integrity and function. The Jun N-terminal kinase (JNK) signaling pathway has been established as a critical regulator of tissue homeostasis both in intestinal stem cells (ISCs) and mature enterocytes (ECs), while its chronic activation has been linked to tissue degeneration and aging. This study shows that JNK signaling requires the stress-inducible transcription factor Ets21c to promote tissue renewal in Drosophila. Ets21c controls ISC proliferation as well as EC apoptosis through distinct sets of target genes that orchestrate cellular behaviors via intrinsic and non-autonomous signaling mechanisms. While its loss appears dispensable for development and prevents epithelial aging, ISCs and ECs demand Ets21c function to mount cellular responses to oxidative stress. Ets21c thus emerges as a vital regulator of proliferative homeostasis in the midgut and a determinant of the adult healthspan (Mundorf, 2019).
Ovarian reactive oxygen species (ROS) are believed to regulate ovulation in mammals, but the details of ROS production in follicles and the role of ROS in ovulation in other species remain underexplored. In Drosophila ovulation, matrix metalloproteinase 2 (MMP2) is required for follicle rupture by degradation of posterior follicle cells surrounding a mature oocyte. MMP2 activation and follicle rupture are regulated by the neuronal hormone octopamine (OA) and the octopamine receptor in mushroom body (OAMB). This study investigated the role of the superoxide-generating enzyme NADPH oxidase (NOX) in Drosophila ovulation. Nox is highly enriched in mature follicle cells, and Nox knockdown in these cells leads to a reduction in superoxide and to defective ovulation. Similar to MMP2 activation, NOX enzymatic activity is also controlled by the OA/OAMB-Ca(2+) signaling pathway. In addition, this study reports that extracellular superoxide dismutase 3 (SOD3) is required to convert superoxide to hydrogen peroxide, which acts as the key signaling molecule for follicle rupture, independent of MMP2 activation. Given that Nox homologs are expressed in mammalian follicles, the NOX-dependent hydrogen peroxide signaling pathway that is described in this study could play a conserved role in regulating ovulation in other species (Li, 2018).
Repression of somatic gene expression in germline progenitors is one of the critical mechanisms involved in establishing the germ/soma dichotomy. In Drosophila, the maternal Nanos (Nos) and Polar granule component (Pgc) proteins are required for repression of somatic gene expression in the primordial germ cells, or pole cells. Pgc suppresses RNA polymerase II-dependent global transcription in pole cells, but it remains unclear how Nos represses somatic gene expression. This study shows that Nos represses somatic gene expression by inhibiting translation of maternal importin-alpha2 (impalpha2) mRNA. Mis-expression of Impalpha2 caused aberrant nuclear import of a transcriptional activator, Ftz-F1, which in turn activated a somatic gene, fushi tarazu (ftz), in pole cells when Pgc-dependent transcriptional repression was impaired. Because ftz expression was not fully activated in pole cells in the absence of either Nos or Pgc, it is proposed that Nos-dependent repression of nuclear import of transcriptional activator(s) and Pgc-dependent suppression of global transcription act as a 'double-lock' mechanism to inhibit somatic gene expression in germline progenitors (Asaoka, 2019).
Local endosomal recycling at synapses is essential to maintain neurotransmission. Rab4 GTPase, found on sorting endosomes, is proposed to balance the flow of vesicles among endocytic, recycling, and degradative pathways in the presynaptic compartment. This study reports that Rab4-associated vesicles move bidirectionally in Drosophila axons but with an anterograde bias, resulting in their moderate enrichment at the synaptic region of the larval ventral ganglion. Results from FK506 binding protein (FKBP) and FKBP-Rapamycin binding domain (FRB) conjugation assays in rat embryonic fibroblasts together with genetic analyses in Drosophila indicate that an association with Kinesin-2 (mediated by the tail domain of Kinesin-2α/KIF3A/KLP64D subunit) moves Rab4-associated vesicles toward the synapse. Reduction in the anterograde traffic of Rab4 causes an expansion of the volume of the synapse-bearing region in the ventral ganglion and increases the motility of Drosophila larvae. These results suggest that Rab4-dependent vesicular traffic toward the synapse plays a vital role in maintaining synaptic balance in this neuronal network (Dey, 2017).
The serotonin transporter (SERT) regulates serotonergic neurotransmission by retrieving released serotonin and replenishing vesicular stores. SERT is not only delivered to axons but it is also present on the neuronal soma and on dendrites. It has not been possible to restrict the distribution of SERT without affecting transporter function. Hence, the physiological role of somatodendritic SERT remains enigmatic. The SERT C-terminus harbors a conserved RI-motif, which recruits SEC24C, a cargo receptor in the coatomer protein-II coat. Failure to engage SEC24C precludes axonal enrichment of SERT. This study introduced a point mutation into the RI-motif of human SERT causing confinement of the resulting (otherwise fully functional) hSERT-R607A on the somatodendritic membrane of primary rat dorsal raphe neurons. Transgenic expression of the corresponding Drosophila mutant dSERT-R599A led to its enrichment in the somatodendritic compartment of serotonergic neurons in the fly brain. The possible physiological role of somatodendritic SERT was explored by comparing flies harboring wild type SERT and dSERT-R599A in a behavioral paradigm for serotonin-modulated odor perception. When globally re-expressed in serotonergic neurons, wild type SERT but not dSERT-R599A restored ethanol preference after targeted expression in contralaterally projecting, serotonin-immunoreactive deuterocerebral (CSD) interneurons, while expression of wild type SERT caused ethanol aversion. It is concluded that in CSD neurons, (1) somatodendritic SERT supports ethanol attraction; (2) axonal SERT specifies ethanol aversion, and (3) the effect of axonal SERT can override that of somatodendritic SERT. These observations demonstrate a distinct biological role of somatodendritic and axonal serotonin transport (Kasture, 2019).
Tissue morphogenesis arises from controlled cell deformations in response to cellular contractility. During Drosophila gastrulation, apical activation of the actomyosin networks drives apical constriction in the invaginating mesoderm and cell-cell intercalation in the extending ectoderm. Myosin II (MyoII; Zipper) is activated by cell-surface G protein-coupled receptors (GPCRs), such as Smog and Mist, that activate G proteins, the small GTPase Rho1, and the kinase Rok. Quantitative control over GPCR and Rho1 activation underlies differences in deformation of mesoderm and ectoderm cells. The GPCR Smog activity is concentrated on two different apical plasma membrane compartments, i.e., the surface and plasma membrane invaginations. Using fluorescence correlation spectroscopy, the surface of the plasma membrane was probed, and it was shown that Smog homo-clusters in response to its activating ligand Fog. Endocytosis of Smog is regulated by the kinase Gprk2 and beta-arrestin-2 that clears active Smog from the plasma membrane. When Fog concentration is high or endocytosis is low, Smog rearranges in homo-clusters and accumulates in plasma membrane invaginations that are hubs for Rho1 activation. Lastly, this study found higher Smog homo-cluster concentration and numerous apical plasma membrane invaginations in the mesoderm compared to the ectoderm, indicative of reduced endocytosis. Dynamic partitioning of active Smog at the surface of the plasma membrane or plasma membrane invaginations has a direct impact on Rho1 signaling. Plasma membrane invaginations accumulate high Rho1-guanosine triphosphate (GTP) suggesting they form signaling centers. Thus, Fog concentration and Smog endocytosis form coupled regulatory processes that regulate differential Rho1 and MyoII activation in the Drosophila embryo (Jha, 2018).
Stromalin, a cohesin complex protein, was recently identified as a novel memory suppressor gene, but its mechanism remained unknown. This study shows that Stromalin functions as a negative regulator of synaptic vesicle (SV) pool size in Drosophila neurons. Stromalin knockdown in dopamine neurons during a critical developmental period enhances learning and increases SV pool size without altering the number of dopamine neurons, their axons, or synapses. The developmental effect of Stromalin knockdown persists into adulthood, leading to strengthened synaptic connections and enhanced olfactory memory acquisition in adult flies. Correcting the SV content in dopamine neuron axon terminals by impairing anterograde SV trafficking motor protein Unc104/KIF1A rescues the enhanced-learning phenotype in Stromalin knockdown flies. These results identify a new mechanism for memory suppression and reveal that the size of the SV pool is controlled genetically and independent from other aspects of neuron structure and function through Stromalin (Phan, 2018).
Postsynaptic cells can induce synaptic plasticity through the release of activity-dependent retrograde signals. A Ca(2+)-dependent retrograde signaling pathway mediated by postsynaptic Synaptotagmin 4 (Syt4) has been previously described in this context. To identify proteins involved in postsynaptic exocytosis, this study conducted a screen for candidates that disrupt trafficking of a pHluorin-tagged Syt4 at Drosophila neuromuscular junctions (NMJs). The study further characterized one candidate, the postsynaptic t-SNARE Syntaxin 4 (Syx4). Analysis of Syx4 mutants reveals that Syx4 mediates retrograde signaling, modulating the membrane levels of Syt4 and the transsynaptic adhesion protein Neuroligin 1 (Nlg1). Syx4-dependent trafficking regulates synaptic development, including controlling synaptic bouton number and the ability to bud new varicosities in response to acute neuronal stimulation. Genetic interaction experiments demonstrate Syx4, Syt4, and Nlg1 regulate synaptic growth and plasticity through both shared and parallel signaling pathways. These findings suggest a conserved postsynaptic SNARE machinery controls multiple aspects of retrograde signaling and cargo trafficking within the postsynaptic compartment (Harris, 2016).
While the primary role of vesicular transporters is to load neurotransmitters into synaptic vesicles (SVs), accumulating evidence suggests that these proteins also contribute to additional aspects of synaptic function, including vesicle release. This study extend the role of the VAChT, which is nested within the first intron of the choline acetyltransferase gene (ChaT), to include regulating the transmitter content of SVs. Manipulation of a C-terminal poly-glutamine (polyQ) region in the Drosophila VAChT is sufficient to influence transmitter content, and release frequency, of cholinergic vesicles from the terminals of premotor interneurons. Specifically, it was found that reduction of the polyQ region, by one glutamine residue (13Q to 12Q), results in a significant increase in both amplitude and frequency of spontaneous cholinergic miniature EPSCs (mEPSCs) recorded in the aCC and RP2 motoneurons. Moreover, this truncation also results in evoked synaptic currents that show increased duration: consistent with increased ACh release. By contrast, extension of the polyQ region by one glutamine (13Q to 14Q) is sufficient to reduce mEPSC amplitude and frequency and, moreover, prevents evoked SV release. Finally, a complete deletion of the polyQ region (13Q to 0Q) has no obvious effects to mEPSCs, but again evoked synaptic currents show increased duration. The mechanisms that ensure SVs are filled to physiologically-appropriate levels remain unknown. This study identifies the polyQ region of the insect VAChT to be required for correct vesicle transmitter loading and, thus, provides opportunity to increase understanding of this critical aspect of neurotransmission (Vernon, 2019).


---
date revised: 1 September 2019

Home page: The Interactive Fly © 2019 Thomas B. Brody, Ph.D.

The Interactive Fly resides on the
Society for Developmental Biology's Web server.