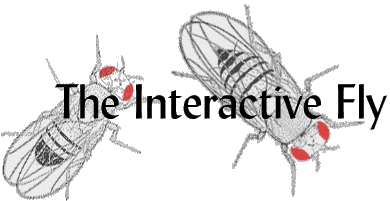 What's new in edition 89
September 2020
Gene sites new with this edition
---
The Interactive Fly was first released July/August 1996, with updates provided at approximately one month intervals, through September 1997 (edition 13). Updating quarterly started with edition 14. With edition 40, the Interactive Fly began to schedule updates three times a year: fall, winter and spring.
---
The apical Par complex, which contains atypical protein kinase C (aPKC), Bazooka (Par-3), and Par-6, is required for establishing polarity during asymmetric division of neuroblasts in Drosophila, and its activity depends on L(2)gl. This study shows that loss of Ankle2, a protein associated with microcephaly in humans and known to interact with Zika protein NS4A, reduces brain volume in flies and impacts the function of the Par complex. Reducing Ankle2 levels disrupts endoplasmic reticulum (ER) and nuclear envelope morphology, releasing the kinase Ballchen-VRK1 into the cytosol. These defects are associated with reduced phosphorylation of aPKC, disruption of Par-complex localization, and spindle alignment defects. Importantly, removal of one copy of ballchen or l(2)gl suppresses Ankle2 mutant phenotypes and restores viability and brain size. Human mutational studies implicate the above-mentioned genes in microcephaly and motor neuron disease. It is suggested that NS4A, ANKLE2, VRK1, and LLGL1 define a pathway impinging on asymmetric determinants of neural stem cell division (Link, 2019).
The specification of tissue identity during embryonic development requires precise spatio-temporal coordination of gene expression. Many transcription factors required for the development of organs have been identified and their expression patterns are known; however, the mechanisms through which they coordinate gene expression in time remain poorly understood. This study shows that hormone-induced transcription factor Blimp-1 participates in the temporal coordination of tubulogenesis in Drosophila melanogaster by regulating the expression of many genes involved in tube maturation. In particular, it was demonstrated that Blimp-1 regulates the expression of genes involved in chitin deposition and F-actin organization. Blimp-1 is involved in the temporal control of lumen maturation by regulating the beginning of chitin deposition. Blimp-1 also represses a variety of genes involved in tracheal maturation. Finally, the kinase Btk29A serves as a link between Blimp-1 transcriptional repression and apical extra-cellular matrix organization (Ozturk-Colak, 2018).
Cortical collapse factors affect microtubule (MT) dynamics at the plasma membrane. They play important roles in neurons, as suggested by inhibition of axon growth and regeneration through the Arf activator Efa6 in C. elegans, and by neurodevelopmental disorders linked to the mammalian kinesin Kif21A. How cortical collapse factors influence axon growth is little understood. This study focussed on the function of Drosophila Efa6 in experimentally and genetically amenable fly neurons. First, it was shown that Drosophila Efa6 can inhibit MTs directly without interacting molecules via an N-terminal 18 amino acid motif (MT elimination domain/MTED) that binds tubulin and inhibits microtubule growth in vitro and cells. If N-terminal MTED-containing fragments are in the cytoplasm they abolish entire microtubule networks of mouse fibroblasts and whole axons of fly neurons. Full-length Efa6 is membrane-attached, hence primarily blocks MTs in the periphery of fibroblasts, and explorative MTs that have left axonal bundles in neurons. Accordingly, loss of Efa6 causes an increase of explorative MTs: in growth cones they enhance axon growth, in axon shafts they cause excessive branching, as well as atrophy through perturbations of MT bundles. Efa6 over-expression causes the opposite phenotypes. Taken together, this work conceptually links molecular and sub-cellular functions of cortical collapse factors to axon growth regulation and reveals new roles in axon branching and in the prevention of axonal atrophy. Furthermore, the MTED delivers a promising tool that can be used to inhibit MTs in a compartmentalised fashion when fusing it to specifically localising protein domains (Qu, 2019).
Heterotrimeric G proteins mediate a variety of signaling processes by coupling G protein-coupled receptors to intracellular effector molecules. In Drosophila, the Gαq gene encodes several Gαq splice variants, with the Gαq1 isoform protein playing a major role in fly phototransduction. However, Gαq1 null mutant flies still exhibit a residual light response, indicating that other Gαq splice variants or additional Gq α subunits are involved in phototransduction. This study isolated a mutant fly with no detectable light responses, decreased rhodopsin (Rh) levels, and rapid retinal degeneration. Using electrophysiological and genetic studies, biochemical assays, immunoblotting, real-time RT-PCR, and EM analysis, it was found that mutations in the Gαq gene disrupt light responses, and the Gαq3 isoform protein was demonstrated to be responsible for the residual light response in Gαq1 null mutants. Moreover, this study reports that Gαq3 mediates rhodopsin synthesis. Depletion of all Gαq splice variants led to rapid light-dependent retinal degeneration, due to the formation of stable Rh1-arrestin 2 (Arr2) complexes. These findings clarify essential roles for several different Gαq splice variants in phototransduction and retinal integrity in Drosophila and reveal that Gαq3 functions in rhodopsin synthesis (Gu, 2020).
Linker histones H1 are principal chromatin components, whose contribution to the epigenetic regulation of chromatin structure and function is not fully understood. In metazoa, specific linker histones are expressed in the germline, with female-specific H1s being normally retained in the early-embryo. Embryonic H1s are present while the zygotic genome is transcriptionally silent and they are replaced by somatic variants upon activation, suggesting a contribution to transcriptional silencing. This study directly address this question by ectopically expressing dBigH1 in Drosophila S2 cells, which lack dBigH1. dBigH1 was shown to bind across chromatin, replaces somatic histone H1 and reduces nucleosome repeat length (NRL). Concomitantly, dBigH1 expression down-regulates gene expression by impairing RNApol II binding and histone acetylation. These effects depend on the acidic N-terminal ED-domain of dBigH1 since a truncated form lacking this domain binds across chromatin and replaces dH1 like full-length dBigH1, but it does not affect NRL either transcription. In vitro reconstitution experiments using Drosophila preblastodermic embryo extracts corroborate these results. Altogether these results suggest that the negatively charged N-terminal tail of dBigH1 alters the functional state of active chromatin compromising transcription (Climent-Canto, 2020).
Mitochondrial cristae contain electron transport chain complexes and are distinct from the inner boundary membrane (IBM). While many details regarding the regulation of mitochondrial structure are known, the relationship between cristae structure and function during organelle development is not fully described. This study used serial-section tomography to characterize the formation of lamellar cristae in immature mitochondria during a period of dramatic mitochondrial development that occurs after Drosophila emergence as an adult. The formation of lamellar cristae was associated with the gain of cytochrome c oxidase (COX) function, and the COX subunit, COX4, was localized predominantly to organized lamellar cristae. Interestingly, 3D tomography showed some COX-positive lamellar cristae were not connected to IBM. It is hypothesized that some lamellar cristae may be organized by a vesicle germination process in the matrix, in addition to invagination of IBM. OXA1 protein, which mediates membrane insertion of COX proteins, was also localized to cristae and reticular structures isolated in the matrix in addition to the IBM, suggesting that it may participate in the formation of vesicle germination-derived cristae. Overall, this study elaborates on how cristae morphogenesis and functional maturation are intricately associated. These data support the vesicle germination and membrane invagination models of cristae formation (Jiang, 2020).
Under stress conditions, the coactivator Multiprotein bridging factor 1 (Mbf1) translocates from the cytoplasm into the nucleus to induce stress-response genes. However, its role in the cytoplasm, where it is mainly located, has remained elusive. This study shows that Drosophila Mbf1 associates with E(z) mRNA and protects it from degradation by the exoribonuclease Pacman (Pcm), thereby ensuring Polycomb silencing. In genetic studies, loss of mbf1 function enhanced a Polycomb phenotype in Polycomb group mutants, and was accompanied by a significant reduction in E(z) mRNA expression. Furthermore, a pcm mutation suppressed the Polycomb phenotype and restored the expression level of E(z) mRNA, while pcm overexpression exhibited the Polycomb phenotype in the mbf1 mutant but not in the wild-type background. In vitro, Mbf1 protected E(z) RNA from Pcm activity. These results suggest that Mbf1 buffers fluctuations in Pcm activity to maintain an E(z) mRNA expression level sufficient for Polycomb silencing (Nishioka, 2018).
Enteroendocrine cells (EEs) in the intestinal epithelium have important endocrine functions, yet this cell lineage exhibits great local and regional variations that have hampered detailed characterization of EE subtypes. Through single-cell RNA-sequencing analysis, combined with a collection of peptide hormone and receptor knockin strains, this study provides a comprehensive analysis of cellular diversity, spatial distribution, and transcription factor (TF) code of EEs in adult Drosophila midgut. Ten major EE subtypes were identified that totally produced approximately 14 different classes of hormone peptides. Each EE on average co-produces approximately 2-5 different classes of hormone peptides. Functional screen with subtype-enriched TFs suggests a combinatorial TF code that controls EE cell diversity; class-specific TFs Mirr and Ptx1 respectively define two major classes of EEs, and regional TFs such as Esg, Drm, Exex, and Fer1 further define regional EE identity. These single-cell data should greatly facilitate Drosophila modeling of EE differentiation and function (Guo, 2019).
In eukaryotes, a large amount of histones must be synthesized during the S phase of the cell cycle to package newly synthesized DNA into chromatin. The transcription and 3' end processing of histone pre-mRNA are controlled by the histone locus body (HLB), which is assembled in the H3/H4 promoter. This study identified the Drosophila Prp40 pre-mRNA processing factor (dPrp40) as a novel HLB component. dPrp40 is essential for Drosophila development, with functionally conserved activity in vertebrates and invertebrates. It was observed that dPrp40 is fundamental in endocycling cells, highlighting a role for this factor in mediating replication efficiency in vivo. The depletion of dPrp40 from fly cells inhibited the transcription but not the 3' end processing of histone mRNA. These results establish that dPrp40 is an essential gene for Drosophila development that can localize to the HLB and may participate in histone mRNA biosynthesis (Prieto-Sanchez, 2019).
Nutrient restriction (NR) decreases the incidence and growth of many types of tumors, yet the underlying mechanisms are not fully understood. This study identified Headcase (Hdc) and Unkempt (Unk) as two NR-specific tumor suppressor proteins that form a complex to restrict cell cycle progression and tissue growth in response to NR in Drosophila. Loss of Hdc or Unk does not confer apparent growth advantage under normal nutrient conditions but leads to accelerated cell cycle progression and tissue overgrowth under NR. Hdc and Unk bind to the TORC1 component Raptor and preferentially regulate S6 phosphorylation in a TORC1-dependent manner. It was further shown that HECA and UNK, the human counterparts of Drosophila Hdc and Unk, respectively, have a conserved function in regulating S6 phosphorylation and tissue growth. The identification of Hdc and Unk as two NR-specific tumor suppressors provides insight into molecular mechanisms underlying the anti-tumorigenic effects of NR (Li, 2019).
G3BP RNA-binding proteins are important components of stress granules (SGs). This study analyze the role of the Drosophila G3BP Rasputin (RIN) in unstressed cells, where RIN is not SG associated. Immunoprecipitation followed by microarray analysis identifies over 550 mRNAs that copurify with RIN. The mRNAs found in SGs are long and translationally silent. In contrast, it was found that RIN-bound mRNAs, which encode core components of the transcription, splicing, and translation machinery, are short, stable, and highly translated. RIN was shown to be associated with polysomes and evidence was provided for a direct role for RIN and its human homologs in stabilizing and upregulating the translation of their target mRNAs. It is proposed that when cells are stressed, the resulting incorporation of RIN/G3BPs into SGs sequesters them away from their short target mRNAs. This would downregulate the expression of these transcripts, even though they are not incorporated into stress granules (Laver, 2020).
TORC1, in Drosophila consisting of Target of rapamycin, Raptor and Lst8) regulates growth and metabolism, in part, by influencing transcriptional programs. This study has identified REPTOR and REPTOR-BP, both leucine zipper DNA-binding proteins, as transcription factors downstream of TORC1 that are required for approximately 90% of the transcriptional induction that occurs upon TORC1 inhibition in Drosophila. Thus, REPTOR and REPTOR-BP are major effectors of the transcriptional stress response induced upon TORC1 inhibition, analogous to the role of FOXO downstream of Akt. When TORC1 is active, it phosphorylates REPTOR on Ser527 and Ser530, leading to REPTOR cytoplasmic retention. Upon TORC1 inhibition, REPTOR becomes dephosphorylated in a PP2A-dependent manner, shuttles into the nucleus, joins its partner REPTOR-BP to bind target genes, and activates their transcription. In vivo functional analysis using knockout flies reveals that REPTOR and REPTOR-BP play critical roles in maintaining energy homeostasis and promoting animal survival upon nutrient restriction (Tiebe, 2015).
scarecrow (scro) gene encodes a Drosophila homolog of mammalian Nkx2.1 that belongs to an evolutionally conserved NK2 family. Nkx2.1 has been well known for its role in the development of hypothalamus, lung, thyroid gland, and brain. However, little is known about biological roles of scro. To understand scro functions, this study generated two types of knock-in mutant alleles, substituting part of either exon-2 or exon-3 for EGFP (or Gal4) by employing the CRISPR/Cas9 genome editing tool. Using these mutations, spatio-temporal expression patterns of the scro gene and its mutant phenotypes were characterized. Homozygous knock-in mutants are lethal during embryonic and early larval development. In developing embryos, scro is exclusively expressed in the pharyngeal primordia and numerous neural clusters in the central nervous system (CNS). In postembryonic stages, the most prominent scro expression is detected in the larval and adult optic lobes, suggesting that scro plays a role for the development and/or function of this tissue type. Notch signaling is the earliest factor known to act for the development of the optic lobe. scro mutants lacked mitotic cells and Delta expression in the optic anlagen, and showed altered expression of several proneural and neurogenic genes including Delta and Notch. Furthermore, scro mutants showed grossly deformed neuroepithelial (NE) cells in the developing optic lobe and severely malformed adult optic lobes, the phenotypes of which are shown in Notch or Delta mutants, suggesting scro acting epistatic to the Notch signaling. From these data it is proposed that scro plays an essential role for the development of the optic lobe, possibly acting as a regional specification factor (Yoo, 2020).


---
date revised: 8 May 2020

Home page: The Interactive Fly © 2020 Thomas B. Brody, Ph.D.

The Interactive Fly resides on the
Society for Developmental Biology's Web server.