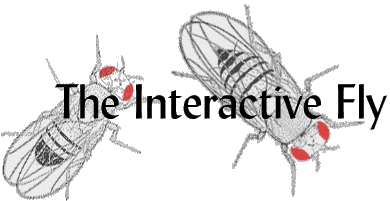 What's new in edition 90
January 2021
Gene sites new with this edition
---
The Interactive Fly was first released July/August 1996, with updates provided at approximately one month intervals, through September 1997 (edition 13). Updating quarterly started with edition 14. With edition 40, the Interactive Fly began to schedule updates three times a year: fall, winter and spring.
---
Aggressive behavior is regulated by various neuromodulators such as neuropeptides and biogenic amines. This study found that the neuropeptide Drosulfakinin (Dsk) modulates aggression in Drosophila melanogaster. Knock-out of Dsk or Dsk receptor CCKLR-17D1 reduced aggression. Activation and inactivation of Dsk-expressing neurons increased and decreased male aggressive behavior, respectively. Moreover, data from transsynaptic tracing, electrophysiology and behavioral epistasis reveal that Dsk-expressing neurons function downstream of a subset of P1 neurons (P1(a)-splitGAL4) to control fighting behavior. In addition, winners show increased calcium activity in Dsk-expressing neurons. Conditional overexpression of Dsk promotes social dominance, suggesting a positive correlation between Dsk signaling and winning effects. The mammalian ortholog CCK has been implicated in mammal aggression, thus this work suggests a conserved neuromodulatory system for the modulation of aggressive behavior (Wu, 2020).
The remarkable diversity of neurons in the nervous system is generated during development, when properties such as cell morphology, receptor profiles and neurotransmitter identities are specified. In order to gain a greater understanding of neurotransmitter specification this study profiled the transcription state of cholinergic, GABAergic and glutamatergic neurons in vivo at three developmental time points. 86 differentially expressed transcription factors were identified that are uniquely enriched, or uniquely depleted, in a specific neurotransmitter type. Some transcription factors show a similar profile across development, others only show enrichment or depletion at specific developmental stages. Profiling of Acj6 (cholinergic enriched) and Ets65A (cholinergic depleted) binding sites in vivo reveals that they both directly bind the ChAT locus, in addition to a wide spectrum of other key neuronal differentiation genes. It was also shown that cholinergic enriched transcription factors are expressed in mostly non-overlapping populations in the adult brain, implying the absence of combinatorial regulation of neurotransmitter fate in this context. Furthermore, the data underlines that, similar to Caenorhabditis elegans, there are no simple transcription factor codes for neurotransmitter type specification (Estacio-Gómez, 2020).
Epithelial cell polarity defects support cancer progression. It is thus crucial to decipher the functional interactions within the polarity protein network. This study shows that Drosophila Girdin (girders of actin filaments) and its human ortholog GIRDIN or GIV (Galpha-interacting vesicle associated protein) sustain the function of crucial lateral polarity proteins by inhibiting the apical kinase aPKC. Loss of GIRDIN expression is also associated with overgrowth of disorganized cell cysts. Moreover, cell dissemination was observed from GIRDIN knockdown cysts and tumorspheres, thereby showing that GIRDIN supports the cohesion of multicellular epithelial structures. Consistent with these observations, alteration of GIRDIN expression is associated with poor overall survival in subtypes of breast and lung cancers. Overall, this study discovered a core mechanism contributing to epithelial cell polarization from flies to humans. These data also indicate that GIRDIN has the potential to impair the progression of epithelial cancers by preserving cell polarity and restricting cell dissemination (Biehler, 2020).
Haspin, a highly conserved kinase in eukaryotes, has been shown to be responsible for phosphorylation of histone H3 at threonine 3 (H3T3ph) during mitosis, in mammals and yeast. This study reports that Haspin is the kinase that phosphorylates H3T3 in Drosophila melanogaster and it is involved in sister chromatid cohesion during mitosis. The data reveal that Haspin also phosphorylates H3T3 in interphase. H3T3ph localizes in broad silenced domains at heterochromatin and lamin-enriched euchromatic regions. Loss of haspin compromises insulator activity in enhancer-blocking assays and triggers a decrease in nuclear size that is accompanied by changes in nuclear envelope morphology. Haspin is a suppressor of position-effect variegation involved in heterochromatin organization. These results also demonstrate that haspin is necessary for pairing-sensitive silencing and it is required for robust Polycomb-dependent homeotic gene silencing. Haspin associates with the cohesin complex in interphase, mediates Pds5 binding to chromatin and cooperates with Pds5-cohesin to modify Polycomb-dependent homeotic transformations. Therefore, this study uncovers an unanticipated role for Haspin kinase in genome organization of interphase cells and demonstrates that haspin is required for homeotic gene regulation (Fresan, 2020).
The insulin/IGF-signaling pathway is central in control of nutrient-dependent growth during development, and in adult physiology and longevity. Eight insulin-like peptides (DILP1-8) have been identified in Drosophila, and several of these are known to regulate growth, metabolism, reproduction, stress responses, and lifespan. However, the functional role of DILP1 is far from understood. Previous work has shown that dilp1/DILP1 is transiently expressed mainly during the pupal stage and the first days of adult life. The role of dilp1 in the pupa, as well as in the first week of adult life, was studied, and some comparisons were made to dilp6 that displays a similar pupal expression profile, but is expressed in fat body rather than brain neurosecretory cells. Mutation of dilp1 diminishes organismal weight during pupal development, whereas overexpression increases it, similar to dilp6 manipulations. No growth effects of dilp1 or dilp6 manipulations were detected during larval development. It was next show that dilp1 and dilp6 increase metabolic rate in the late pupa and promote lipids as the primary source of catabolic energy. Effects of dilp1 manipulations can also be seen in the adult fly. In newly eclosed female flies, survival during starvation is strongly diminished in dilp1 mutants, but not in dilp2 and dilp1/dilp2 mutants, whereas in older flies, only the double mutants display reduced starvation resistance. Starvation resistance is not affected in male dilp1 mutant flies, suggesting a sex dimorphism in dilp1 function. Overexpression of dilp1 also decreases survival during starvation in female flies and increases egg laying and decreases egg to pupal viability. In conclusion, dilp1 and dilp6 overexpression promotes metabolism and growth of adult tissues during the pupal stage, likely by utilization of stored lipids. Some of the effects of the dilp1 manipulations may carry over from the pupa to affect physiology in young adults, but the data also suggest that dilp1 signaling is important in metabolism and stress resistance in the adult stage (Liao, 2020).
Post-transcriptional regulation of gene expression plays an essential role during oocyte maturation. This study reports that Drosophila MARF1 (Meiosis Regulator And mRNA Stability Factor 1), which consists of one RNA-recognition motif and six tandem LOTUS domains with unknown molecular function, is essential for oocyte maturation. When tethered to a reporter mRNA, MARF1 post-transcriptionally silences reporter expression by shortening reporter mRNA poly-A tail length and thereby reducing reporter protein level. This activity is mediated by the MARF1 LOTUS domain, which binds the CCR4-NOT deadenylase complex. MARF1 binds cyclin A mRNA and shortens its poly-A tail to reduce Cyclin A protein level during oocyte maturation. This study identifies MARF1 as a regulator in oocyte maturation and defines the conserved LOTUS domain as a post-transcriptional effector domain that recruits CCR4-NOT deadenylase complex to shorten target mRNA poly-A tails and suppress their translation (Zhu, 2018).
DNA-bound transcription factors (TFs) governing developmental gene regulation have been proposed to recruit Polymerase II machinery at gene promoters through specific interactions with dedicated subunits of the evolutionarily-conserved Mediator complex (MED). However, whether such MED subunit specific functions and partnerships have been conserved during evolution has been poorly investigated. To address this issue, the first Drosophila loss-of-function mutants were generated for Med1, known as a specific cofactor for GATA TFs and hormone nuclear receptors in mammals. Med1 was shown to be required for cell proliferation and hematopoietic differentiation dependent on the GATA TF Serpent (Srp). Med1 binds Srp in cultured cells and in vitro through its conserved GATA Zinc Finger DNA-binding domain and the divergent Med1 C-terminal. Interestingly, GATA/Srp interaction occurs through the longest Med1 isoform, suggesting a functional diversity of MED complex populations. Furthermore, it was shown that Med1 acts as a coactivator for the GATA factor Pannier during thoracic development. In conclusion, the Med1 requirement for GATA-dependent regulatory processes is a common feature in insects and mammals, although binding interfaces have diverged. Further work in Drosophila should bring valuable insights to fully understand GATA-MED functional partnerships, which probably involve other MED subunits depending on the cellular context (Immarigeon, 2019).
The inability to remove protein aggregates in post-mitotic cells such as muscles or neurons is a cellular hallmark of aging cells and is a key factor in the initiation and progression of protein misfolding diseases. While protein aggregate disorders share common features, the molecular level events that culminate in abnormal protein accumulation cannot be explained by a single mechanism. This study shows that loss of the serine/threonine kinase NUAK causes cellular degeneration resulting from the incomplete clearance of protein aggregates in Drosophila larval muscles. In NUAK mutant muscles, regions that lack the myofibrillar proteins F-actin and Myosin heavy chain (MHC) instead contain damaged organelles and the accumulation of select proteins, including Filamin (Fil) (Cheerio) and CryAB. NUAK biochemically and genetically interacts with the cochaperone Starvin (Stv), the ortholog of mammalian Bcl-2-associated athanogene 3 (BAG3). Consistent with a known role for the co-chaperone BAG3 and the Heat shock cognate 71 kDa (HSC70)/HSPA8 ATPase in the autophagic clearance of proteins, RNA interference (RNAi) of Drosophila Stv, Hsc70-4, or autophagy-related 8a (Atg8a) all exhibit muscle degeneration and muscle contraction defects that phenocopy NUAK mutants. It was further demonstrated that Fil/Cheerio is a target of NUAK kinase activity and abnormally accumulates upon loss of the BAG3-Hsc70-4 complex. In addition, Ubiquitin (Ub), ref(2)p/p62, and Atg8a are increased in regions of protein aggregation, consistent with a block in autophagy upon loss of NUAK. Collectively, these results establish a novel role for NUAK with the Stv-Hsc70-4 complex in the autophagic clearance of proteins that may eventually lead to treatment options for protein aggregate diseases (Brooks, 2020).
Drosophila neuroblasts (NBs) are neural stem cells whose maintenance relies on Notch activity. NBs proliferate throughout larval stages to generate a large number of adult neurons. Their proliferation is protected under conditions of nutrition restriction. As amino acid transporters (Solute Carrier transporters, SLCs), such as SLC36, have important roles in coupling nutrition inputs to growth pathways, they may have a role in this process. For example, an SLC36 family transporter Pathetic (Path) that supports body size and neural dendrite growth in Drosophila, was identified as a putative Notch target in genome-wide studies. This study examined expression and regulation of Path in the Drosophila larval brain. Path function in NB proliferation and overall brain growth was investigated under different nutrition conditions by depleting it from specific cell types in the CNS, using mitotic recombination to generate mutant clones or by directed RNA-interference. Path is expressed in both NBs and glial cells in the Drosophila CNS. In NBs, path is directly targeted by Notch signalling via Su(H) binding at an intronic enhancer, PathNRE. This enhancer is responsive to Notch regulation both in cell lines and in vivo. Loss of path in neural stem cells delayed proliferation, consistent with it having a role in NB maintenance. Expression from pathNRE (Notch responsive element) was compromised in conditions of amino acid deprivation although other Notch regulated enhancers are unaffected. However, NB-expressed Path was not required for brain sparing under amino acid deprivation. Instead, it appears that Path is important in glial cells to help protect brain growth under conditions of nutrient restriction. This study has identified a novel Notch target gene path that is required in NBs for neural stem cell proliferation, while in glia it protects brain growth under nutrition restriction (Feng, 2020).
The Drosophila circadian pacemaker consists of transcriptional feedback loops subjected to post-transcriptional and post-translational regulation. While post-translational regulatory mechanisms have been studied in detail, much less is known about circadian post-transcriptional control. Thus, this study targeted 364 RNA binding and RNA associated proteins with RNA interference. Among the 43 hits that were identified was the alternative splicing regulator P-element somatic inhibitor (PSI). PSI regulates the thermosensitive alternative splicing of timeless (tim), promoting splicing events favored at warm temperature over those increased at cold temperature. Psi downregulation shortens the period of circadian rhythms and advances the phase of circadian behavior under temperature cycle. Interestingly, both phenotypes were suppressed in flies that could produce TIM proteins only from a transgene that cannot form the thermosensitive splicing isoforms. Therefore, it is concluded that PSI regulates the period of Drosophila circadian rhythms and circadian behavior phase during temperature cycling through its modulation of the tim splicing pattern (Foley, 2019).
The mechanistic (or mammalian) target of rapamycin complex 1 (mTORC1) controls cell growth, proliferation, and metabolism in response to diverse stimuli. Two major parallel pathways are implicated in mTORC1 regulation including a growth factor-responsive pathway mediated via TSC2/Rheb and an amino acid-responsive pathway mediated via the Rag GTPases. This study identified and characterize three highly conserved growth factor-responsive phosphorylation sites on RagC, a component of the Rag heterodimer, implicating cross talk between amino acid and growth factor-mediated regulation of mTORC1. RagC phosphorylation is associated with destabilization of mTORC1 and is essential for both growth factor and amino acid-induced mTORC1 activation. Functionally, RagC phosphorylation suppresses starvation-induced autophagy, and genetic studies in Drosophila reveal that RagC phosphorylation plays an essential role in regulation of cell growth. Finally, mTORC1 was identified as the upstream kinase of RagC on S21. These data highlight the importance of RagC phosphorylation in its function and identify a previously unappreciated auto-regulatory mechanism of mTORC1 activity (Yang, 2018).
Homeostatic renewal of many adult tissues requires balanced self-renewal and differentiation of local stem cells, but the underlying mechanisms are poorly understood. This study identified a novel feedback mechanism in controlling intestinal regeneration and tumorigenesis in Drosophila. Sox21a, a group B Sox protein, is preferentially expressed in the committed progenitor named enteroblast (EB) to promote enterocyte differentiation. In Sox21a mutants, EBs do not divide, but cannot differentiate properly and have increased expression of mitogens, which then act as paracrine signals to promote intestinal stem cell (ISC) proliferation. This leads to a feedback amplification loop for rapid production of differentiation-defective EBs and tumorigenesis. Notably, in normal intestine following damage, Sox21a is temporally downregulated in EBs to allow the activation of the ISC-EB amplification loop for epithelial repair. It is proposed that executing a feedback amplification loop between stem cells and their progeny could be a common mechanism underlying tissue regeneration and tumorigenesis (Chen, 2016).
Robust production of terminally differentiated cells from self-renewing resident stem cells is essential to maintain proper tissue architecture and physiological functions, especially in high-turnover tissues. However, the transcriptional networks that precisely regulate cell transition and differentiation are poorly understood in most tissues. This study identified Sox100B, a Drosophila Sox E family transcription factor, as a critical regulator of adult intestinal stem cell differentiation. Sox100B is expressed in stem and progenitor cells and required for differentiation of enteroblast progenitors into absorptive enterocytes. Mechanistically, Sox100B regulates the expression of another critical stem cell differentiation factor, Sox21a. Supporting a direct control of Sox21a by Sox100B, a Sox21a intronic enhancer was identified that is active in all intestinal progenitors and directly regulated by Sox100B. Taken together, these results demonstrate that the activity and regulation of two Sox transcription factors are essential to coordinate stem cell differentiation and proliferation and maintain intestinal tissue homeostasis (Meng, 2020).
The early embryos of many animals including flies, fish, and frogs have unusually rapid cell cycles and delayed onset of transcription. These divisions are dependent on maternally supplied RNAs and proteins including histones. Previous work suggests that the pool size of maternally provided histones can alter the timing of zygotic genome activation (ZGA) in frogs and fish. This study examine the effects of under and overexpression of maternal histones in Drosophila embryogenesis. To understand the effects of histone concentration on the MBT maternally supplied histones were reduced by downregulating the gene encoding a crucial histone regulator, Stem-Loop Binding Protein (Slbp) via maternally driven RNAi. Decreasing histone concentration advances zygotic transcription, cell cycle elongation, Chk1 activation, and gastrulation. Conversely, increasing histone concentration delays transcription and results in an additional nuclear cycle before gastrulation. Numerous zygotic transcripts are sensitive to histone concentration, and the promoters of histone sensitive genes are associated with specific chromatin features linked to increased histone turnover. These include enrichment of the pioneer transcription factor Zelda and lack of SIN3A and associated histone deacetylases. These findings uncover a critical regulatory role for histone concentrations in ZGA of Drosophila (Wilky, 2019).
During meiosis, each chromosome must selectively pair and synapse with its own unique homolog to enable crossover formation and subsequent segregation. How homolog pairing is maintained in early meiosis to ensure synapsis occurs exclusively between homologs is unknown. This study aimed to further understand this process by examining the meiotic defects of a unique Drosophila mutant, Mcm5A7. Mcm5A7 mutants are proficient in homolog pairing at meiotic onset yet fail to maintain pairing as meiotic synapsis ensues, causing seemingly normal synapsis between non-homologous loci. This pairing defect corresponds with a reduction of SMC1-dependent centromere clustering at meiotic onset. Overexpressing SMC1 in this mutant significantly restores centromere clustering, homolog pairing, and crossover formation. These data indicate that the initial meiotic pairing of homologs is not sufficient to yield synapsis exclusively between homologs and provide a model in which meiotic homolog pairing must be stabilized by centromeric SMC1 to ensure proper synapsis (Hatkevich, 2019).
Transmembrane protein (TMEM16) family members play numerous important physiological roles, ranging from controlling membrane excitability and secretion to mediating blood coagulation and viral infection. These diverse functions are largely due to their distinct biophysical properties. Mammalian TMEM16A and TMEM16B are Ca(2+)-activated Cl(-) channels (CaCCs), whereas mammalian TMEM16F, fungal afTMEM16, and nhTMEM are moonlighting (multifunctional) proteins with both Ca(2+)-activated phospholipid scramblase (CaPLSase; a protein responsible for the translocation of phospholipids between the two monolayers of a lipid bilayer of a cell membrane) and Ca(2+)-activated, nonselective ion channel (CAN) activities. To further understand the biological functions of the enigmatic TMEM proteins in different organisms, this study combined an improved annexin V-based CaPLSase-imaging assay with inside-out patch clamp technique to thoroughly characterized Subdued, a Drosophila TMEM ortholog. Subdued is also a moonlighting transport protein with both CAN and CaPLSase activities. Using a TMEM16F-deficient HEK293T cell line to avoid strong interference from endogenous CaPLSases, this functional characterization and mutagenesis studies revealed that Subdued is a bona fide CaPLSase. The finding that Subdued is a moonlighting TMEM expands understanding of the molecular mechanisms of TMEM proteins and their evolution and physiology in both Drosophila and humans (Le, 2019).
The cellular machinery required for the fusion of constitutive secretory vesicles with the plasma membrane in metazoans remains poorly defined. To address this problem a powerful, quantitative assay was developed for measuring secretion, and it was used in combination with combinatorial gene depletion studies in Drosophila cells. This has allowed identification of at least three SNARE complexes mediating Golgi to PM transport (STX1, SNAP24/SNAP29 and Syb; STX1, SNAP24/29 and YKT6; STX4, SNAP24 and Syb). RNAi mediated depletion of YKT6 and VAMP3 in mammalian cells also blocks constitutive secretion suggesting that YKT6 has an evolutionarily conserved role in this process. The unexpected role of YKT6 in plasma membrane fusion may in part explain why RNAi and gene disruption studies have failed to produce the expected phenotypes in higher eukaryotes (Gordon, 2017).
The Drosophila ventral nerve cord (VNC) is composed of thousands of neurons born from a set of individually identifiable stem cells. The VNC harbors neuronal circuits required to execute key behaviors, such as flying and walking. Leveraging the lineage-based functional organization of the VNC, this study investigated the developmental and molecular basis of behavior by focusing on lineage-specific functions of the homeodomain transcription factor, Unc-4. Unc-4 was found to function in lineage 11A to promote cholinergic neurotransmitter identity and suppress the GABA fate. In lineage 7B, Unc-4 promotes proper neuronal projections to the leg neuropil and a specific flight-related take-off behavior. It was also uncovered that Unc-4 acts peripherally to promote proprioceptive sensory organ development and the execution of specific leg-related behaviors. Through time-dependent conditional knock-out of Unc-4, it was found that its function is required during development, but not in the adult, to regulate the above events (Lacin, 2020).
The second most commonly mutated gene in primary (MCPH) patients is wd40-repeat protein 62 (wdr62), but the relative contribution of WDR62 function to the growth of major brain lineages is unknown. This study used Drosophila models to dissect lineage-specific WDR62 function(s). Interestingly, although neural stem cell (neuroblast)-specific depletion of WDR62 significantly decreased neuroblast number, brain size was unchanged. In contrast, glial lineage-specific WDR62 depletion significantly decreased brain volume. Moreover, loss of function in glia not only decreased the glial population but also non-autonomously caused neuroblast loss. It was further demonstrated that WDR62 controls brain growth through lineage-specific interactions with master mitotic signaling kinase, AURKA (Aurora A). Depletion of AURKA in neuroblasts drives brain overgrowth, which was suppressed by WDR62 co-depletion. In contrast, glial-specific depletion of AURKA significantly decreased brain volume, which was further decreased by WDR62 co-depletion. Thus, dissecting relative contributions of MCPH factors to individual neural lineages will be critical for understanding complex diseases such as microcephaly (Lim, 2017).
A defining feature of centromeres is the presence of the histone H3 variant CENP-A that replaces H3 in a subset of centromeric nucleosomes. In Drosophila cultured cells CENP-A deposition at centromeres takes place during the metaphase stage of the cell cycle and strictly depends on the presence of its specific chaperone CAL1. How CENP-A loading is restricted to mitosis is unknown. Overexpression of CAL1 is associated with increased CENP-A levels at centromeres and uncouples CENP-A loading from mitosis. Moreover, CENP-A levels inversely correlate with mitosis duration suggesting crosstalk of CENP-A loading with the regulatory machinery of mitosis. Mitosis length is influenced by the spindle assembly checkpoint (SAC), and this study found that CAL1 interacts with the SAC protein and RZZ complex component Zw10 and thus constitutes the anchor for the recruitment of RZZ. Therefore, CAL1 controls CENP-A incorporation at centromeres both quantitatively and temporally, connecting it to the SAC to ensure mitotic fidelity (Pauleau, 2019).


---
date revised: 30 December 2020

Home page: The Interactive Fly © 2020 Thomas B. Brody, Ph.D.

The Interactive Fly resides on the
Society for Developmental Biology's Web server.