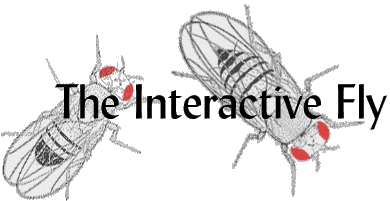 What's new in edition 93
January 2022
Gene sites new with this edition
---
The Interactive Fly was first released July/August 1996, with updates provided at approximately one month intervals, through September 1997 (edition 13). Updating quarterly started with edition 14. With edition 40, the Interactive Fly began to schedule updates three times a year: fall, winter and spring.
---
The link between the biological clock and reproduction is evident in most metazoans. The fruit fly Drosophila melanogaster, a key model organism in the field of chronobiology because of its well-defined networks of molecular clock genes and pacemaker neurons in the brain, shows a pronounced diurnal rhythmicity in oogenesis. Still, it is unclear how the circadian clock generates this reproductive rhythm. A subset of the group of neurons designated 'posterior dorsal neuron 1' (DN1p), which are among the ~150 pacemaker neurons in the fly brain, produces the neuropeptide allatostatin C (AstC-DN1p). This study reports that six pairs of AstC-DN1p neurons send inhibitory inputs to the brain's insulin-producing cells that express two AstC receptors: star1 and AICR2. Consistent with the roles of insulin/insulin-like signaling in oogenesis, activation of AstC-DN1p suppresses oogenesis through the insulin-producing cells. This study shows evidence that AstC-DN1p activity plays a role in generating an oogenesis rhythm by regulating juvenile hormone and vitellogenesis indirectly via insulin/insulin-like signaling. AstC is orthologous to the vertebrate neuropeptide somatostatin (SST). Like AstC, SST inhibits gonadotrophin secretion indirectly through gonadotropin-releasing hormone neurons in the hypothalamus. The functional and structural conservation linking the AstC and SST systems suggest an ancient origin for the neural substrates that generate reproductive rhythms (Zhang, 2021).
Polo kinase (PLK1 in mammals) is a master cell cycle regulator that is recruited to various subcellular structures, often by its polo-box domain (PBD), which binds to phosphorylated S-pS/pT motifs. Polo/PLK1 kinases have multiple functions at centrioles and centrosomes, and it has been shown that in Drosophila phosphorylated Sas-4 initiates Polo recruitment to newly formed centrioles, while phosphorylated Spd-2 recruits Polo to the pericentriolar material (PCM) that assembles around mother centrioles in mitosis. This study shows that Ana1 (Cep295 in humans) also helps to recruit Polo to mother centrioles in Drosophila. If Ana1-dependent Polo recruitment is impaired, mother centrioles can still duplicate, disengage from their daughters and form functional cilia, but they can no longer efficiently assemble mitotic PCM or elongate during G2. It is concluded that Ana1 helps recruit Polo to mother centrioles to specifically promote mitotic centrosome assembly and centriole elongation in G2, but not centriole duplication, centriole disengagement or cilia assembly (Alvarez-Rodrigo, 2021).
Ariadne-1 (Ari-1) is an E3 ubiquitin-ligase essential for neuronal development, but whose neuronal substrates are yet to be identified. To search for putative Ari-1 substrates, this study used an in vivo ubiquitin biotinylation strategy coupled to quantitative proteomics of Drosophila heads. Sixteen candidates were identified that met the established criteria: a significant change of at least two-fold increase on ubiquitination, with at least two unique peptides identified. Amongst those candidates, Comatose (Comt), the homologue of the N-ethylmaleimide sensitive factor (NSF), which is involved in neurotransmitter release, was identified. Using a pulldown approach that relies on the overexpression and stringent isolation of a GFP-fused construct, Comt/NSF was validated to be an ubiquitination substrate of Ari-1 in fly neurons, resulting in the preferential monoubiquitination of Comt/NSF. The possible functional relevance of this modification was tested using Ari-1 loss of function mutants that displayed a lower rate of spontaneous neurotransmitter release due to failures at the pre-synaptic side. By contrast, evoked release in Ari-1 mutants was enhanced compared to controls in a Ca(2+) dependent manner without modifications in the number of active zones, indicating that the probability of release per synapse is increased in these mutants. This phenotype distinction between spontaneous versus evoked release suggests that NSF activity may discriminate between these two types of vesicle fusion. These results thus provide a mechanism to regulate NSF activity in the synapse through Ari-1-dependent ubiquitination (Ramirez, 2021).
The piRNA pathway is a highly conserved mechanism to repress transposon activation in the germline in Drosophila and mammals. This pathway starts from transcribing piRNA clusters to generate long piRNA precursors. The majority of piRNA clusters lack conventional promoters, and utilize heterochromatin- and HP1D/Rhino-dependent noncanonical mechanisms for transcription. However, information regarding the transcriptional regulation of piRNA clusters is limited. This study reports that the Drosophila acetyltransferase Enok, which can activate transcription by acetylating H3K23, is critical for piRNA production from 54% of piRNA clusters including 42AB, the major piRNA source. Surprisingly, it was found that Enok not only promotes rhino expression by acetylating H3K23, but also directly enhances transcription of piRNA clusters by facilitating Rhino recruitment. Taken together, this study provides novel insights into the regulation of noncanonical transcription at piRNA clusters and transposon silencing (Tsai, 2021).
Abnormal protein aggregation within neurons is a key pathologic feature of Parkinson's disease (PD). The spread of brain protein aggregates is associated with clinical disease progression, but how this occurs remains unclear. Mutations in glucosidase, beta acid 1 (GBA), which encodes glucocerebrosidase (GCase), are the most penetrant common genetic risk factor for PD and dementia with Lewy bodies and associate with faster disease progression. To explore how GBA mutations influence pathogenesis, Drosophila model of GBA deficiency (Gba1b) was created that manifests neurodegeneration and accelerated protein aggregation. Proteomic analysis of Gba1b mutants revealed dysregulation of proteins involved in extracellular vesicle (EV) biology, and altered protein composition of EVs was found in Gba1b mutants. Accordingly, it was hypothesized that GBA may influence pathogenic protein aggregate spread via EVs. It was found that accumulation of ubiquitinated proteins and Ref(2)P, Drosophila homologue of mammalian p62, were reduced in muscle and brain tissue of Gba1b flies by ectopic expression of wildtype GCase in muscle. Neuronal GCase expression also rescued protein aggregation both cell-autonomously in brain and non-cell-autonomously in muscle. Muscle-specific GBA expression reduced the elevated levels of EV-intrinsic proteins and Ref(2)P found in EVs from Gba1b flies. Perturbing EV biogenesis through neutral sphingomyelinase (nSMase), an enzyme important for EV release and ceramide metabolism, enhanced protein aggregation when knocked down in muscle, but did not modify Gba1b mutant protein aggregation when knocked down in neurons. Lipidomic analysis of nSMase knockdown on ceramide and glucosylceramide levels suggested that Gba1b mutant protein aggregation may depend on relative depletion of specific ceramide species often enriched in EVs. Finally, ectopically expressed GCase was identified within isolated EVs. Together, these findings suggest that GCase deficiency promotes accelerated protein aggregate spread between cells and tissues via dysregulated EVs, and EV-mediated trafficking of GCase may partially account for the reduction in aggregate spread (Jewett, 2021).
The duplication and 9-fold symmetry of the Drosophila centriole requires that the cartwheel molecule, Sas6, physically associates with Gorab, a trans-Golgi component. How Gorab achieves these disparate associations is unclear. This study used hydrogen-deuterium exchange mass spectrometry to define Gorab's interacting surfaces that mediate its sub-cellular localization. A core stabilization sequence within Gorab's C-terminal coiled-coil domain was identified that enables homodimerization, binding to Rab6, and thereby trans-Golgi localization. By contrast, part of the Gorab monomer's coiled-coil domain undergoes an anti-parallel interaction with a segment of the parallel coiled-coil dimer of Sas6. This stable hetero-trimeric complex can be visualized by electron microscopy. Mutation of a single leucine residue in Sas6's Gorab-binding domain generates a Sas6 variant with a 16-fold reduced binding affinity for Gorab that can not support centriole duplication. Thus Gorab dimers at the Golgi exist in equilibrium with Sas-6 associated monomers at the centriole to balance Gorab's dual role (Fatalska, 2021).
N6-methyladenosine (m6A), the most abundant internal modification in eukaryotic mRNA, is installed by a multi-component writer complex; however, the exact roles of each component remain poorly understood. This study shows that a potential E3 ubiquitin ligase Hakai colocalizes and interacts with other m6A writer components, and Hakai mutants exhibit typical m6A pathway defects in Drosophila, such as lowered m6A levels in mRNA, aberrant Sxl alternative splicing, wing and behavior defects. Hakai, Vir, Fl(2)d and Flacc form a stable complex, and disruption of either Hakai, Vir or Fl(2)d led to the degradation of the other three components. Furthermore, MeRIP-seq indicates that the effective m6A modification is mostly distributed in 5' UTRs in Drosophila, in contrast to the mammalian system. Interestingly, it was demonstrated that m6A modification is deposited onto the Sxl mRNA in a sex-specific fashion, which depends on the m6A writer. Together, this work not only advances the understanding of mechanism and regulation of the m6A writer complex, but also provides insights into how Sxl cooperate with the m6A pathway to control its own splicing (Wang, 2021).
PIWI proteins use guide piRNAs to repress selfish genomic elements, protecting the genomic integrity of gametes and ensuring the fertility of animal species. Efficient transposon repression depends on amplification of piRNA guides in the ping-pong cycle, which in Drosophila entails tight cooperation between two PIWI proteins, Aub and Ago3. This study shows that post-translational modification, symmetric dimethylarginine (sDMA), of Aub is essential for piRNA biogenesis, transposon silencing and fertility. Methylation is triggered by loading of a piRNA guide into Aub, which exposes its unstructured N-terminal region to the PRMT5 methylosome complex. Thus, sDMA modification is a signal that Aub is loaded with piRNA guide. Amplification of piRNA in the ping-pong cycle requires assembly of a tertiary complex scaffolded by Krimper, which simultaneously binds the N-terminal regions of Aub and Ago3. To promote generation of new piRNA, Krimper uses its two Tudor domains to bind Aub and Ago3 in opposite modification and piRNA-loading states. These results reveal that post-translational modifications in unstructured regions of PIWI proteins and their binding by Tudor domains that are capable of discriminating between modification states is essential for piRNA biogenesis and silencing (Huang, 2021)
Krotzkopf verkehrt (Kkv) is a key enzyme that catalyzes the synthesis of chitin, an important component of the Drosophila epidermis, trachea, and other tissues. This study reports the use of comprehensive RNA interference (RNAi) analyses to search for kkv transcriptional regulators. A cell-based RNAi screen identified 537 candidate kkv regulators on a genome-wide scale. Subsequent use of transgenic Drosophila lines expressing RNAi constructs enabled in vivo validation, and six genes were identified as potential kkv transcriptional regulators. Weakening of the kkvDsRed signal, an in vivo reporter indicating kkv promoter activity, was observed when the expression of Akirin, NFAT, 48 related 3 (Fer3), or Autophagy-related 101 (Atg101) was knocked down in Drosophila at the 3rd-instar larval stage; whereas disoriented taenidial folds were observed on larval tracheae when Lines (lin) or Autophagy-related 3 (Atg3) was knocked down in the tracheae. Fer3, in particular, has been shown to be an important factor in the activation of kkv transcription via specific binding with the kkv promoter. The genes involved in the chitin synthesis pathway were widely affected by the downregulation of Fer3. Furthermore, Atg101, Atg3, Akirin, Lin, NFAT, Pnr and Abd-A showed the potential complex mechanism of kkv transcription are regulated by an interaction network with bithorax complex components. This study revealed the hitherto unappreciated diversity of modulators impinging on kkv transcription and opens new avenues in the study of kkv regulation and chitin biosynthesis (Yue, 2021).
Lysosome-related organelles (LROs) are endosomal compartments carrying tissue-specific proteins, which become enlarged in Chediak-Higashi syndrome (CHS) due to mutations in LYST. This study showed that Drosophila Mauve, a counterpart of LYST, suppresses vesicle fusion events with lipid droplets (LDs) during the formation of yolk granules (YGs), the LROs of the syncytial embryo, and opposes Rab5, which promotes fusion. Mauve localizes on YGs and at spindle poles, and it co-immunoprecipitates with the LDs' component and microtubule-associated protein Minispindles/Ch-TOG. Minispindles levels are increased at the enlarged YGs and diminished around centrosomes in mauve-derived mutant embryos. This leads to decreased microtubule nucleation from centrosomes, a defect that can be rescued by dominant-negative Rab5. Together, this reveals an unanticipated link between endosomal vesicles and centrosomes. These findings establish Mauve/LYST's role in regulating LRO formation and centrosome behavior, a role that could account for the enlarged LROs and centrosome positioning defects at the immune synapse of CHS patients (Lattao, 2021).
Phototransduction in Drosophila is mediated by phospholipase C (PLC) and Ca2+-permeable TRP channels, but the function of endoplasmic reticulum (ER) Ca2+ stores in this important model for Ca2+ signaling remains obscure. A low affinity Ca2+ indicator (ER-GCaMP6-150) was expressed in the ER, and its fluorescence was measured both in dissociated ommatidia and in vivo from intact flies of both sexes. Blue excitation light induced a rapid (tau approximately 0.8 s), PLC-dependent decrease in fluorescence, representing depletion of ER Ca2+ stores, followed by a slower decay, typically reaching approximately 50% of initial dark-adapted levels, with significant depletion occurring under natural levels of illumination. The ER stores refilled in the dark within 100-200 s. Both rapid and slow store depletion were largely unaffected in InsP3 receptor mutants, but were much reduced in trp mutants. Strikingly, rapid (but not slow) depletion of ER stores was blocked by removing external Na+ and in mutants of the Na+/Ca2+ exchanger, CalX, which was immuno-localized to ER membranes in addition to its established localization in the plasma membrane. Conversely, overexpression of calx greatly enhanced rapid depletion. These results indicate that rapid store depletion is mediated by Na+/Ca2+ exchange across the ER membrane induced by Na+ influx via the light-sensitive channels. Although too slow to be involved in channel activation, this Na+/Ca2+ exchange-dependent release explains the decades-old observation of a light-induced rise in cytosolic Ca2+ in photoreceptors exposed to Ca2+-free solutions (Liu, 2020).
Loss of ESCRT function in Drosophila imaginal discs is known to cause neoplastic overgrowth fuelled by mis-regulation of signalling pathways. Its impact on junctional integrity, however, remains obscure. To dissect the events leading to neoplasia, transmission electron microscopy (TEM)was used on wing imaginal discs temporally depleted of the ESCRT-III core component Shrub. A specific requirement for Shrub was found in maintaining Septate Junction (SJ) integrity by transporting the Claudin Megatrachea (Mega: Flybase name Pickel) to the SJ. In absence of Shrub function, Mega is lost from the SJ and becomes trapped on endosomes coated with the endosomal retrieval machinery Retromer. ESCRT function is required for apical localization and mobility of Retromer positive carrier vesicles, which mediate the biosynthetic delivery of Mega to the SJ. Accordingly, loss of Retromer function impairs the anterograde transport of several SJ core components, revealing a novel physiological role for this ancient endosomal agent (Pannen, 2020).
The vertebrate protein STING, an intracellular sensor of cyclic dinucleotides, is critical to the innate immune response and the induction of type I interferon during pathogenic infection. This study showed that a STING ortholog (dmSTING) exists in Drosophila, which, similar to vertebrate STING, associates with cyclic dinucleotides to initiate an innate immune response. Following infection with Listeria monocytogenes, dmSTING activates an innate immune response via activation of the NF-kappaB transcription factor Relish, part of the immune deficiency (IMD) pathway. DmSTING-mediated activation of the immune response reduces the levels of Listeria-induced lethality and bacterial load in the host. Of significance, dmSTING triggers an innate immune response in the absence of a known functional cyclic guanosine monophosphate (GMP)-AMP synthase (cGAS) ortholog in the fly. Together, these results demonstrate that STING is an evolutionarily conserved antimicrobial effector between flies and mammals, and it comprises a key component of host defense against pathogenic infection in Drosophila (Martin, 2018).


---
date revised: 3 January 2022

Home page: The Interactive Fly © 2020 Thomas B. Brody, Ph.D.

The Interactive Fly resides on the
Society for Developmental Biology's Web server.