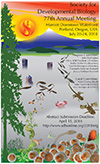 The Society for Developmental Biology 77th Annual Meeting will be held July 20 - 24, 2018 at the Marriott Downtown Waterfront in Portland, Oregon. Check out the meeting program for the latest speakers and sessions. The 7th Boot Camp for New Faculty will be held July 19-20 at Reed College. Renew your membership today for reduced registration rates and eligibility for short talk consideration, travel awards, and the Boot Camp! The abstract submission deadline is April 16. Applications for the Student/postdoc travel awards, Teaching/Junior faculty travel grants, International Student/Postdoc and Faculty Scholarships, and the Paul D. Henion Graduate Student Travel Award are due April 16. The early-discounted meeting registration and the SDB Boot Camp application deadlines are May 14.
---
In December, the Society for Developmental Biology membership voted on amendments to the SDB bylaws recommended by the Board of Directors. These updates included changes to membership categories, the composition of the Board of Directors, and legal language to accommodate current law.
---
SDB is now accepting nominations for President-elect, Secretary, Representatives for Canada, Northwest and Southeast regions, and two new representatives to the Board—PUI Representative and Trainee Representative. See nomination details for more information. Nomination deadline is April 9, 2018.
---
The SDB Professional Development and Education Committee reinvented the John Doctor Education Prize (formally a best education poster award) as a best education video award. We challenge SDB members to produce short videos on their approach to teaching a developmental biology topic of their choosing to an undergraduate, graduate, or lay public audience. Individuals or teams may participate. See guidelines here. Submission deadline is June 4, 2018.
---
The SDB Board of Directors elected the following recipients for the 2018 SDB Awards. The presentations and award lectures will take place at the 77th SDB Annual Meeting in Portland, OR.
Edwin G. Conklin Medal: Robb Krumlauf, Stowers Institute for Medical Research
Developmental Biology-SDB Lifetime Achievement Award: Eric F. Wieschaus, Princeton University
Elizabeth D. Hay New Investigator Award: Christian P. Petersen, Northwestern University
Viktor Hamburger Outstanding Educator Prize: Drew Noden, Cornell University College of Veterinary Medicine
---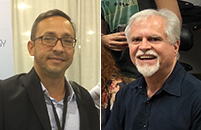 Hurricane Maria hit Puerto Rico on September 20, 2017 causing widespread devastation. The Category 5 storm knocked out power to the entire island, destroyed roads and bridges, and left many of the island's 3.4 million residents without safe drinking water and ninety-five percent of the island without cell phone service and thus a means of communication. On October 5, 2017 the Society for Developmental Biology announced the SDB Puerto Rico Research Relief Grant . . .
---
Six SDB regional meetings will be held throughout the US and Canada this year (five this spring and one in the fall). Regional meetings are an excellent opportunity for students and postdocs to present their research and give short talks. See upcoming events below for meeting dates and locations.
---
---