Recovery continues for developmental biology community in Puerto Rico
By Marsha E. Lucas
Hurricane Maria hit Puerto Rico on September 20, 2017 causing widespread devastation. The Category 5 storm knocked out power to the entire island, destroyed roads and bridges, and left many of the island's 3.4 million residents without safe drinking water and ninety-five percent of the island without cell phone service and thus a means of communication. On October 5, 2017 the Society for Developmental Biology announced the SDB Puerto Rico Research Relief Grant of up to $10,000 to help developmental biologists in Puerto Rico continue their research programs. Funds could be used to replace organisms, reagents, equipment, or travel to a host lab. Many SDB members and their friends donated money to the SDB Puerto Rico Relief Fund to increase the amount of assistance SDB could provide. SDB was able to fund all four scientists who applied for relief grants. In early January, two grant recipients—José Garcia-Arrarás of the University of Puerto Rico, Rio Piédras and Edwin Traverso of the University of Puerto Rico, Humacao—shared their stories with SDB.
Developmental Biology in Puerto Rico
José Garcia-Arrarás is a professor in the Department of Biology at the University of Puerto Rico, Rio Piédras where he studies organ regeneration in the sea cucumber, Holothuria glaberrima. Thirty years ago when he first started his lab at UPR, Garcia-Arrarás worked on sympathetic neuron development in the chick. His interest in sea cucumbers began as a side project that a few undergraduates worked on. In the 1990s, when knockout mice were coming out and interest in chick was going down, he decided to concentrate on developing this novel model of regeneration. As he likes to emphasize in his grants to the NIH, "These animals are closer to vertebrates—to us—than Drosophila or C. elegans." His work focuses on regeneration of the intestine after evisceration and the radial nerve cord following transection. "We're also looking at the relationship between dedifferentiation, cell death, and cell proliferation. Which comes first? Which has an effect on the other?" His lab consists of four PhD students, two Master's students, and about 22 undergraduates.
Edwin Traverso is an associate professor in the Department of Biology at the University of Puerto Rico, Humacao. He studies the ubiquitin ligase MUSA1 which has been shown to regulate muscle mass in adult mice. "We are currently studying the function and regulation of MUSA1 during Xenopus development," he said. "We have found that it's expressed in the somitic tissue and we're trying to define the role that this gene plays in muscle development." Traverso, who has been at UPR Humacao since 2007, runs a lab made up of five undergraduates and one research associate. He is funded through a Puerto Rico IDeA Network Biomedical Research Excellence (IMBRE) grant from the National Institutes of Health which sponsors research at primarily undergraduate institutions. Traverso is also director of the MARC U*STAR program at UPR Humacao which prepares undergraduate students from groups underrepresented in the biomedical sciences for high-caliber graduate training at the PhD level.
UPR, Rio Piédras—The Aftermath
The University of Puerto Rico, Rio Piédras located in the capital city of San Juan, is the largest (and oldest) UPR campus serving about 18,000 students. Garcia-Arrarás described the campus immediately following the hurricane. "The University of Puerto Rico has a lot of trees. It's like an oasis in the middle of the city. So, there was a lot of debris—lots of debris everywhere."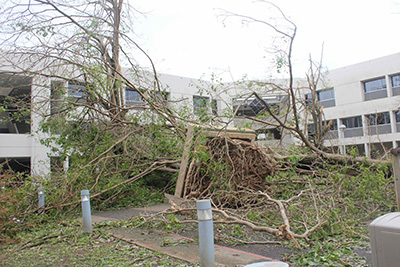 Inner patio of the Natural Sciences Building at UPR, Rio Piédras following Hurricane Maria. Credit: José Garcia-Arrarás
As for the labs—"It was sort of amazing that we didn't have major damage in the sense that the windows didn't break," he said. "Most of the damage came from water seeping through the ceiling and some labs were more damaged than others. We got a lot of water in my lab."
Prior to the storm, they took some precautions to protect research equipment. "I'm on the second floor of a two-floor building," Garcia-Arrarás said. "We had moved some of the stuff downstairs to the first floor thinking that it would be better. But, then water [was] seeping even to the first floor." Fortunately, most of the lab equipment appears to be working.
Perhaps more damaging than the water, was the lack of electricity. "The emergency generator didn't work. So, we lost electricity for four days. And everything that was in the freezer or in the minus eighty, we lost. I would say that was the main damage. We lost a lot of materials."
"The other problem was that after the hurricane, we didn't have electricity for a month and a half and mold grew." The day after the hurricane, Garcia-Arrarás returned to his lab to begin the cleanup. "We took everything that was damp or wet or soaked out." Three and a half months later, his cell culture lab was still out of commission. It needs to be refurbished and everything growing in it needs to be killed.
Fortunately, because of the type of work he does, no animals were lost. "We pick [sea cucumbers] from nature. We go to the beach and get them. So, we don't keep them. We only keep them for the experiment. . . . When the hurricane was coming, we stopped the experiments." He does maintain a mouse colony for generating monoclonal antibodies. "Luckily, the generator for the animal house worked. . . . We didn't lose any vertebrates." Keeping the electricity flowing though was a challenge. "At some point one of the main problems here was that we needed to get diesel for the generator. It was very hard to get diesel for about two weeks, but it worked out. We could keep the animals and we had no loss."
With his experiments on hold due to lack of electricity, Garcia-Arrarás focused on writing a chapter he was working on. "You learn to move to where the electricity is," he said. The Molecular Science building had both power and internet. "The other place that [had internet] access . . . Starbucks café. I never drank so much coffee in my life."
UPR, Humacao—The Aftermath
The University of Puerto Rico, Humacao is located in Humacao, a city on the eastern coast of the island about 35 miles southeast of San Juan. It is a primarily undergraduate institution with about 4,000 students. Traverso described the campus after the storm. "Immediately following the hurricane we didn't have water, we didn't have power from the Electric Power Authority of Puerto Rico, our power emergency generators failed, and there was no internet."
His lab is split between two buildings—a main lab where he does molecular and cell biology experiments, and the building that houses his frog room and embryology lab. "Neither one of them were structurally damaged like other buildings [on] our campus. For instance, we have a building that is a total loss. Our sports complex got severely damaged and we may not use it for a year or longer." Even though Traverso's lab suffered minor flood damage, just like the Rio Piédras campus, weeks of no electricity and moisture led to a severe mold problem.
His animals, unfortunately, did not fare well. "After a week without water or electricity of any kind either from the [Power] Authority or from our generator, I had to euthanize my frog colony," Traverso said. "It was a small frog colony compared to others in the States, probably, but still it was a significant amount of individuals that I had to euthanize because we just didn't have proper conditions for them. And our emergency protocol dictates that after a natural disaster, if you cannot guarantee proper conditions for the animals, after a certain amount of time you need to sacrifice them."
In addition to his animals, Traverso lost thousands of dollars in reagents that were stored in his fridge and freezers. "And the reagents that were at room temperature, because we had high humidity—no air conditioner and high humidity—those may have suffered a lot also," he said. As a result, all of his reagents will need to be replaced.
Lack of internet was a huge problem. "We didn't have any way to communicate for a while. And it was not until a week or so later that in San Juan there [were] some areas with cellular data and Wi-Fi. And anything that you needed to do using the internet, you just had to drive there." Traverso made the fifty minute drive to San Juan regularly. "I used to plan my day sometimes just to do everything I needed to with the internet, do it in San Juan."
As director of the MARC program, Traverso had to make arrangements for his students to attend the Annual Biomedical Research Conference for Minority Students (ABRCMS) held in Phoenix, Arizona in November. He registered all twelve of his MARC students for the conference on the side of a highway in Humacao where he was able to get cellular data. He later drove to San Juan to buy their plane tickets where there was stable internet.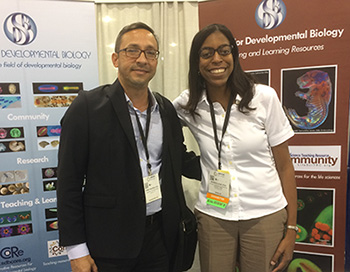 Edwin Traverso with Marsha Lucas at the 2017 Annual Biomedical Research Conference for Minority Students in Phoenix, AZ. Credit: Marsha Lucas
"Our administration was very, very [supportive] on this," Traverso said. "They did the impossible for us—to do the paperwork and for them to get the payments ready so that our students [could] go to ABRCMS. That was a success in the middle of the storm."
Academics
The University of Puerto Rico campuses were closed for about six weeks. When classes resumed on October 30, many were held outside in tents due to the lack of air conditioning and mold damage.
"Some parts of the university had electricity, and some parts didn't," Garcia-Arrarás said. "I was lucky. The building I teach [in] had electricity and had air conditioning. So, that worked out."
Even though the university had power, a high percentage of the students did not. This affected how Garcia-Arrarás taught his neurobiology course.
"The course I was teaching was a hybrid course where half of the lectures were on-site and half of the lectures were online. So, I had to move it to on-site," he said. "I mean it was crazy. Some people had no water, no electricity, no Wi-Fi, no cellular phone. And then some people had everything."
Despite all of this, Garcia-Arrarás has been impressed by how well the students have managed. "I've had like about 10 percent drop out. So, those are probably the students that either left for the mainland . . . or students who really cannot cope with the situation." Some of his students experienced dire circumstances and understandably could not return. But the vast majority of his students did.
At UPR Humacao, Traverso was teaching developmental biology. "Because of the exodus [to the mainland], we were expecting that our student population would decrease dramatically, but it is the impression of everybody [on] campus that that was not the case," Traverso said. "Somehow our student population did not reflect the island population and most students stayed. In my class of 31 students, only one student is missing. And all of the students in my lab stayed."
"I have to say their attitude has been phenomenal. They are very eager to finish the semester and continue with their classes and getting their degrees. They've been a source of motivation actually," Traverso said.
The students, faculty, and UPR administration are working hard to help students complete their courses and graduate on time.
"We were supposed to finish in the second week of December, but now I mean we've lost almost two months," Garcia-Arrarás said. To make up this time, the only winter break they had was Christmas Day and New Year's Day.
"There's no holiday now until February. . . . Final exams are the first week of March and then the next semester starts the second week of March. But the good thing—if it all works out—is that we'll probably end the second semester in the first week of June and then we're back to normal," Garcia-Arrarás said.
Finishing the spring semester in a timely manner is very important for UPR students who participate in summer research programs.
"We have many, many students that attend summer programs in the mainland," Traverso said. "As a MARC director I can tell you that that's one of the most important aspects of our program." Missing out on summer research opportunities would put their students, who are already underrepresented in the sciences, at an even greater disadvantage.
Recovery and the SDB Research Relief Grant
Traverso received a $10,000 SDB Puerto Rico Research Relief Grant. The grant covers travel and housing for his research associate, Brenda Cádiz, to spend several months in Carmen Domingo's lab at San Francisco State University. Cádiz will be able to continue their research while Traverso works to get his lab fully functional again.
Electricity is still not stable at UPR Humacao. Their emergency generators work, but they are not on an automatic transfer switch. "It's still difficult to operate under the conditions we're [in]," Traverso said. "We are starting to do experiments and we are becoming operational slowly."
In January he was excited about one prospect. "I'm getting our frog room ready for us to start receiving frogs."
The SDB grant will help Traverso replace his frog colony and many reagents he lost, for which he is deeply appreciative.
"I would like to express my most sincere gratitude to the Society for helping us—for remembering the members of the Society that work in Puerto Rico, and for their genuine gesture of trying to help us," he said. "I know the Society. I am very proud of being a member of it. And it was one of the happiest things that happened to us during this time to know that you belong to a society that immediately went to your rescue and offered some help."
Garcia-Arrarás received a $5,000 grant to replace several cell lines that produce antibodies he uses to label cells in the sea cucumber. He also purchased an Air Clean® Systems Combination PCR Workstation. This will provide a contamination free workstation free of mold and other biological contaminants that wreak havoc when working with mRNA.
Garcia-Arrarás expressed his appreciation for the SDB grant which allowed him to replace materials and reagents. Many individuals as well as organizations offered support for scientists to go elsewhere to conduct their research.
"For me, that doesn't work," he said. "It doesn't work because one, I'm teaching, and two, the things I do particularly with the sea cucumber . . . I cannot do [in] another place."
"I think the thing that we need the most are funds for equipment or for generators—things that have been lost or that will prevent things like this from happening again," Garcia-Arrarás said.
The storm only compounded the issues of an already financially strapped island and university system. For example, the College of Natural Sciences used to pay students to do research. That ended when university funding was cut.
"What we need is NIH and NSF to put money into the university," Garcia-Arrarás said.
He is currently trying to get outside grants to support students. He is also trying to procure funding to offer summer courses so students who lost a semester can get caught up.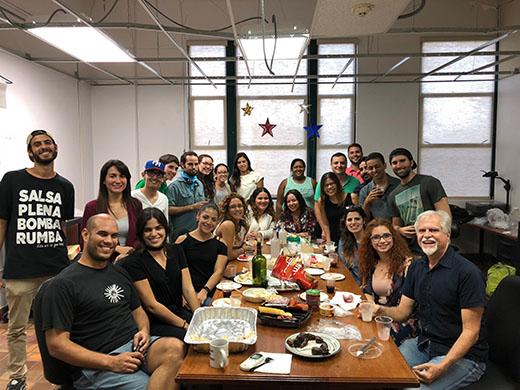 José Garcia-Arrarás (bottom right) with his lab in their conference room. The ceiling tells its own hurricane story. Credit: José Garcia-Arrarás
Resilience
"This was a very chaotic event," Traverso said. "I had never seen anything like this in my life. It was a really humbling experience and a life lesson."
The hardest part for Traverso has been "trying to get some work done and sometimes just being unable to do that because of the lack of power, lack of internet, lack of water."
José Garcia-Arrarás echoed this. "From the experimental point of view, you cannot do anything without electricity," he said.
"At some point you have to convince yourself that that's just . . . the way it's going to be for a certain amount of time," Traverso said. "But things will improve eventually like they are now."
Despite what Traverso and Garcia-Arrarás have endured for the past five months, they are hopeful and positive.
Garcia-Arrarás did not stress about losing his winter break. "I'm not complaining because I think we need to normalize. So, I'm happy," he said.
Traverso considers himself lucky. "At my house we didn't have water for a month and a half and we didn't have electricity for about ten weeks. And we still [in January] do not have internet or cable TV." But, he said, "There's still a significant amount of our population that [does] not have electric power yet. And I know of some places that don't have water."
The island has a long way to go toward complete recovery. The resilience of Garcia-Arrarás and Traverso bodes well though for the developmental biology community in Puerto Rico. One of Traverso's students, Swanny Lamboy Rodríguez, who won a travel award to last year's SDB Annual Meeting in Minneapolis based on her presentation at ABRCMS in 2016, will be graduating this semester. She has been interviewing at top graduate schools throughout the United Sates and was invited by the Massachusetts Institute of Technology to be a visiting student beginning in February. Garcia-Arrarás and Traverso are committed to creating many more academic and scientific successes like this one in Puerto Rico.