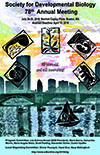 The Society for Developmental Biology 78th Annual Meeting will be held July 26 - 30, 2019 at the Marriott Copley Place in Boston, Massachusetts. Check out the meeting program for the latest speakers and sessions. Renew your membership today for reduced registration rates and eligibility for short talk consideration and travel awards! The abstract submission deadline is April 15. Applications for the Student/postdoc travel awards, Teaching/Junior faculty travel grants, International Student/Postdoc and Faculty Scholarships, and the Paul D. Henion Graduate Student Travel Award are due April 15. The early-discounted meeting registration deadline is May 13.
---
The SDB Board of Directors elected the following recipients for the 2019 SDB Awards. The presentations and award lectures will take place at the 78th SDB Annual Meeting in Boston, MA.
Edwin G. Conklin Medal: Eric N. Olson, University of Texas Southwestern Medical Center
Developmental Biology-SDB Lifetime Achievement Award: Christiane Nüsslein-Volhard, Max Planck Institute for Developmental Biology
Elizabeth D. Hay New Investigator Award: Otger Campàs, University of California, Santa Barbara
Viktor Hamburger Outstanding Educator Prize: Gary C. Schoenwolf, University of Utah School of Medicine
---
The SDB Professional Development and Education Committee reinvented the John Doctor Education Prize (formally a best education poster award) as a best education video award. We challenge SDB members to produce short videos on their approach to teaching one of the following developmental biology topics to an undergraduate, graduate, or lay public audience: (1) Differential Gene Expression, (2) Body Axes, or (3) Gastrulation. Individuals or teams may participate. See guidelines here. Submission deadline is July 5, 2019.
---

Jeff Rasmussen is a new faculty member at the University of Washington in Seattle. He won the best postdoctoral presentation at the Hilde Mangold Postdoctoral Symposium at the Society for Developmental Biology's 77th Annual Meeting in Portland, Oregon. His prize was a travel award to the meeting or course of his choice. Below is his report from the 8th Strategic Conference of Zebrafish Investigators.
---
SDB is accepting nominations for candidates for the following positions on the SDB Board of Directors (BOD): President-elect, Jr. Faculty Representative, Trainee Representative, and Representatives for Mid-Atlantic and West Coast regions. See nomination details for more information. Nomination deadline is April 10, 2019.
---
Registration is now open for the Southeast Regional SDB Meeting at the University of Alabama Birmingham, the Mid-Atlantic Regional SDB Meeting at The Penn State University, University Park Campus and the Midwest Regional SDB Meeting at Case Western Reserve University in Cleveland. See upcoming events below for more information.
---
The SDB Innovation Grant provides seed funds to develop innovative tools and methods with the potential for broad impact on the developmental biology community. The SDB Meeting Grant helps defray costs of meetings organized by SDB members. The submission deadline for both is Friday, May 31.
---
---