Oh, the places you'll go: Where the Hilde Mangold Postdoc Award took me
By Jeff Rasmussen
Jeff Rasmussen is a new faculty member at the University of Washington in Seattle. He won the best postdoctoral presentation at the Hilde Mangold Postdoctoral Symposium at the Society for Developmental Biology's 77th Annual Meeting in Portland, Oregon. His prize was a travel award to the meeting or course of his choice. Below is his report from the 8th Strategic Conference of Zebrafish Investigators.
In January 2019, the 8th Strategic Conference of Zebrafish Investigators was held at the Asilomar Conference Grounds in Pacific Grove, California. This meeting, held every other year, is a chance for researchers from around the world to discuss the latest scientific advances gained from using zebrafish as a model system. Asilomar is a fantastic venue for a conference as it provides easy access to a stretch of breathtaking California coastline.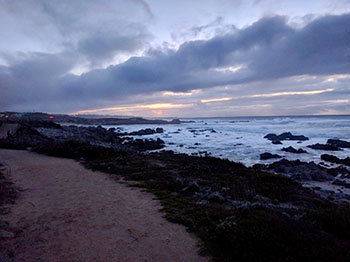 Asilomar State Beach. Credit: Jeff Rasmussen
My newly established lab uses the zebrafish skin as a model for organ development and repair. We are particularly interested in how the sensory axons that innervate the skin interact with the skin microenvironment. I have a long-standing interest in developmental biology and, although the Asilomar meeting is not limited to developmental biology, I had heard great things about it, so I decided to use the generous Hilde Mangold award to attend. It turns out I was not the only one traveling from Seattle to the meeting, as I had the good fortune of running into Dave Raible at the airport, and he gave me lots of valuable advice on getting off to a good start on the ride from San Jose to the conference grounds.
Talks at the meeting underscored the breadth of research possible using the zebrafish model. Some highlights included: Katie Drerup's use of a photoconvertible tag to follow mitochondrial dynamics and transport in lateral line axons; John Postlethwait's work on identifying sex determination factors in wild and laboratory strains of zebrafish; Cecilia Moens' study of the temporal and spatial control of neuronal topographical map formation in motor neurons of the vagus nerve; Graham Lieschke's use of lattice light-sheet microscopy to reveal previously unobserved changes in cellular morphology in migrating neutrophils. Lastly, Len Zon described induction of ectopic hematopoietic stem cell niches and wowed the audience with a video of him catching a home run ball on top of the Green Monster at Fenway Park.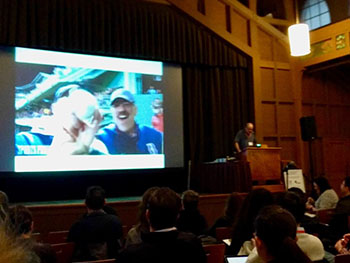 Len Zon catching a J.D. Martinez home run. Credit: Jeff Rasmussen
Workshops at the meeting focused on discussions of community topics and resources. I was fortunate to have been invited to speak in a workshop on Techniques to Study Adult Zebrafish organized by Matt Harris. My talk focused on tools and experimental manipulations that can be used to study scales, an emerging model for the study of bone-nerve interactions. Ron Kwon presented advanced methods for phenotypic analysis of skeletal morphogenesis using high throughput microCT imaging. In the discussion that followed, there was an emphasis on the need for improved methods for long-term anesthesia, standardized gene induction (e.g., heat-shock) methods and expanded genetic tools for adult zebrafish.
The evening poster sessions at the meeting were an excellent networking venue. A personal highlight of these sessions was getting the opportunity to meet other junior faculty members for the first time, including Chen-Hui Chen, Dae Sook Eom, Mayssa Mokalled and David Schoppik. These interactions gave me a chance to get practical advice on equipment, hiring and grant writing.
In summary, the meeting provided excellent science, thoughtful discussions and collegial interactions, all in a stellar location. I am very grateful that at this inflection point in my career the Hilde Mangold award allowed me to attend this meeting.