Freeman Hrabowski, III Awarded 2017 Viktor Hamburger Outstanding Educator Prize
By Marsha E. Lucas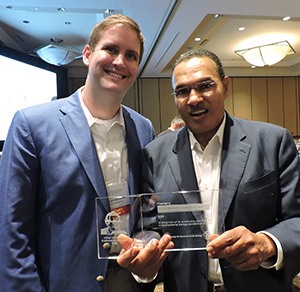 Freeman Hrabowski, III with SDB Professional Development and Education Committee Chair, William Anderson.
Freeman A. Hrabowski, III, President of the University of Maryland, Baltimore County (UMBC) was awarded the 2017 Viktor Hamburger Outstanding Educator Prize for his outstanding contributions to developmental biology education through his advocacy for science education and groundbreaking initiatives for increasing diversity within the sciences. Hrabowski co-founded the Meyerhoff Scholars Program which has increased the number of underrepresented minority students entering Science, Technology, Engineering and Mathematics (STEM) graduate programs through its emphasis on quality mentoring and high expectations. The program has been recognized by the National Science Foundation as a national model. As a result of his record, Hrabowski chaired the National Academies' committee that produced the report Expanding Underrepresented Minority Participation: America's Science and Technology Talent at the Crossroads. He was also named chair of the President's Advisory Commission on Educational Excellence for African Americans by President Obama.
Born and raised in Birmingham, Alabama, Hrabowski was acutely aware of the disparities in education between white and black students in the segregated South. He was an extraordinarily gifted child who loved school and excelled in math. In 1963, at the age of 12, he heard Martin Luther King, Jr. speak at a civil rights meeting at his church. King appealed for children to participate in peaceful demonstrations for equality. In his TED Talk, Hrabowski explained, "I wanted a better education. I did not want to have to have hand-me-down books. I wanted to know that the school I attended not only had good teachers, but the resources we needed." Hrabowski participated in the Children's March on May 2, 1963 and was arrested with hundreds of other children spending a terrifying week in jail (see PBS interview). Images seen around the world of children being assaulted by fire hoses turned the tide of public opinion and set the stage for the Civil Rights Act of 1964.
Having skipped two grades, Hrabowski graduated from high school at the age of 15. He earned a Bachelor's in Mathematics at the Hampton Institute (now Hampton University) in 1970. He then headed to the University of Illinois where he received a Master's in Mathematics in 1971 followed by a PhD in Higher Education and Statistics in 1975.
As a graduate student Hrabowski was usually the only person of color in the room. He struggled to find peers to study with and thus worked primarily with faculty. "The only woman faculty there in Math at Illinois was not tenure-track. She was wonderful and very helpful to me," he said in a July interview.
"I learned even in those years that the country had not solved the problem of being able to educate people of color and specifically African Americans and Hispanics in large numbers to come to [graduate] school in science. They just were not there."
To counter this, Hrabowski set up a tutorial center at the University of Illinois where he helped undergraduates from Chicago who were struggling in mathematics. He eventually began tutoring social science graduate students in statistics. "I enjoyed explaining concepts and helping them think through methodology. And that's how I got into the doctoral work," he said.
"I decided at that age and I was—actually I graduated with my Master's at 20—that I was going devote my life . . . to increasing substantially the number of students from different underrepresented groups who would succeed in STEM."
His focus on student achievement in higher education was noticed by the administration at the University of Illinois. In 1974, before completing his doctorate, Hrabowski was appointed Assistant Dean for Student Services at the University of Illinois. He served in that role until 1976 when he became Associate Professor of Statistics and Research at Alabama A&M University. In 1977, he became Professor of Mathematics and Dean of Arts and Sciences at Coppin State University in Baltimore, Maryland and then Vice President for Academic Affairs in 1981. Hrabowski joined the UMBC administration as Vice Provost in 1987. He went on to serve as Executive Vice President and Interim President before being appointed UMBC President in 1993.
Hrabowski acknowledged several mentors he's had throughout his life. "Dr. Geraldine Darden—wonderful math professor at Hampton—and Dr. Genevieve Knight are two wonderful math professors there at Hampton in those years. And then, interestingly enough, the president of my university at Hampton, Jerome Holland, who went on to be the ambassador to Sweden was just an amazing leader—college president. I always was inspired by him for sure."
He also considers philanthropist Robert Meyerhoff, whom he co-founded the Meyerhoff Scholars Program with, to be a mentor. "I find his generous spirit especially inspiring because he wants to make a difference by helping to change lives . . . and produce leaders."
Robert Meyerhoff wanted to focus on helping young African American men achieve success in the sciences. "Everything [Meyerhoff] saw on TV, if it was not about sports, it was very negative when it came to that group," Hrabowski said. "He wanted the country to know that if you give these children support, all things are possible."
Hrabowski stressed, "It is not the case that the high achieving high school student will tend to enter science and succeed."
Citing his 2011 National Academies report on underrepresentation in the sciences, he said, "We were not surprised that only 20% of blacks and Hispanics who begin with a major in one of the sciences or engineering would actually graduate with a Bachelor's in those areas. But, we were absolutely shocked to see that only 32% of whites and 41% of Asians who begin with majors in those areas actually graduate in those areas," he said.
In order for more students of all backgrounds to excel in the sciences, he believes the culture of introductory classes being weed out courses needs to change. Lessons learned from the Meyerhoff Program including the importance of high expectations, mentoring, and group learning, have thus been applied to other programs across the UMBC campus.
The most rewarding part of Hrabowski's career has been "that we are producing large numbers of students from diverse backgrounds who are going on to get PhDs and MD/PhDs. And those people are now having an impact in different ways on the scientific community and on the larger community," he said.
"I think the most stunning statistic in terms of diversity for us is that we are the leading producer of African Americans who go on to complete MD/PhDs."
Hrabowski also recognizes the need to address diversity within the life sciences faculty. UMBC is thus making concerted efforts to attract underrepresented scientists into tenure-track positions.
When it comes to mentoring Hrabowski said, "Effective mentors help students develop a strong sense of self to believe in themselves, and to be really focused on setting goals for themselves, looking at ways of achieving those goals and learning those habits of mind that will lead to success."
Receiving the Viktor Hamburger Outstanding Educator Prize was "such an honor" for Hrabowski. He was inspired by how Hamburger overcame the challenges of losing his research position in Germany in 1933 due to his Jewish ancestry. Two years later he joined the faculty at Washington University of St. Louis where he spent the next 50 years making significant contributions to the field of developmental biology. "[Hamburger] had a vision for himself that really did focus on being the best and asking good questions . . . characteristics that we'd like to see in our students," Hrabowski said.
Hrabowski is a Fellow of the American Academy of Arts & Sciences, Fellow of the American Association for the Advancement of Science, and a recipient of the U.S. Presidential Award for Excellence in Science, Mathematics, and Engineering Mentoring.
Watch Freeman Hrabowski's 2017 Viktor Hamburger Outstanding Educator Prize Lecture here.