Developmental and Signaling Pathways: Schematic Model for Patterning Dorsal Tissues in the Drosophila Embryo
Reference: O'Connor, M. B., Umulis, D., Othmer, H. G. and Blair, S. S. (2006). Shaping BMP morphogen gradients in the Drosophila embryo and pupal wing. Development 133: 183-193. PubMed ID: 16368928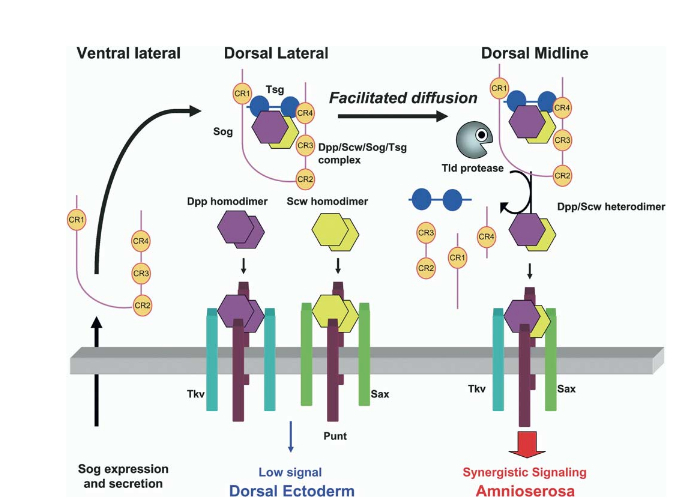 ---
Legend: Schematic Model for Patterning Dorsal Tissues in the Drosophila Embryo Homodimers and heterodimers of Dpp and Scw are produced throughout the dorsal domain. Sog is expressed and secreted in the ventral lateral region and diffuses toward the dorsal side. Dpp and Scw homodimers do not bind to Sog and Tsg with high affinity. As a result, they are free to bind with receptors, but they produce only low-level signals that can activate targets such as pnr. In contrast, Dpp/Scw heterodimers bind with high affinity to Sog and Tsg. Net flux of the complex toward the dorsal midline leads to an increase in the heterodimer concentration at the midline. Tld processes Sog at the midline to release the ligand, which then binds to a receptor complex containing both Sax and Tkv. This complex produces a synergistic high signal that activates high-level response genes such as race and leads to specification of the amnioserosa (O'Connor 2006).
---
back to Graphic Pathways
Home page: The Interactive Fly © 2016 Thomas B. Brody, Ph.D.


The Interactive Fly resides on the
Society for Developmental Biology's Web server.