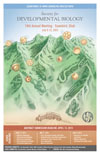 Registration and abstract submission are now open for the 74th SDB Annual Meeting to be held July 9-13, 2015 in Snowbird, Utah. Renew your membership today for reduced registration rates, eligibility for short talk consideration, and application for travel awards! The abstract submission deadline is April 13 and the early-discounted meeting registration deadline is June 8. Latin American-Caribbean Student/Postdoc and Faculty Scholarship applications and Paul D. Henion Graduate Student Travel Award applications are due April 13. Student/postdoc travel award and teaching/junior faculty travel grant applications are due May 11.
---
The SDB Board of Directors elected the following recipients for the 2015 SDB Awards. The presentations and award lectures will take place at the 74th Annual SDB Meeting in Snowbird, UT.
Edwin G. Conklin Medal: Michael Levine, University of California, Berkeley
Developmental Biology-SDB Lifetime Achievement Award: Brigid Hogan, Duke University
Viktor Hamburger Outstanding Educator Prize:
Kathryn Tosney, University of Miami
---
Thank you for participating in the SDB membership survey conducted last December. Results of the survey were discussed at the January SDB Board of Directors meeting and the SDB Board and staff are working to implement many of your suggestions. More than seventy percent of respondents expressed an interest in communicating their science to legislators and the public. At the SDB annual meeting in Snowbird, the education symposium--How to Communicate Your Science: Do's and Don'ts--will address how to communicate your science with legislators, teachers, and the general public.
---
Seven SDB regional meetings will be held throughout the US this year (five this spring and two in the fall). Regional meetings are an excellent opportunity for students and postdocs to present their research and give short talks. See upcoming events below for meeting dates and locations.
---
SDB is now accepting nominations for President-elect, Secretary, and Representatives for the Canada, and Southeast regions. Go here for nomination details. Deadline is March 2, 2015.
---
---
Did you know?
SDB members can apply for non-SDB meeting grants to fund member-organized conferences central to developmental biology. Deadline: May 31, 2015.
SDB members are eligible for travel awards through the FASEB MARC Program.
SDB will provide travel assistance for Latin American investigators to visit a host lab in the US or Canada to learn new techniques or approaches in developmental biology with the SDB Latin American Short Visit Grant. Proposal deadline: May 1, 2015.
---