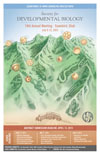 Registration and Late Abstract submission are open for the 74th SDB Annual Meeting to be held July 9-13, 2015 in Snowbird, Utah. Renew your membership today for reduced registration rates and application for travel awards! The early-discounted meeting registration deadline is May 11. Student/postdoc travel award and teaching/junior faculty travel grant applications are due May 11. The housing reservations deadline for the SDB group rate is June 7.
---

Developmental Biology is a conduit to understanding the great diversity of life. We are at an exciting time where a deep understanding of developmental mechanisms can strongly inform and extend studies from evolution to health and disease, from tissue engineering to regeneration, from cell biology to quantitative modeling, from systems biology and epigenetics to elucidation of the impact of environmental factors.
---
The Board of Directors of the Society for Developmental Biology (SDB) and the Editors of its official journal Developmental Biology are very concerned about the recently published study applying CRISPR/Cas9 genome editing technology to human embryos (1). SDB supports a voluntary moratorium by members of the scientific community on all manipulation of pre-implantation human embryos by genome editing. Such studies raise deep ethical concerns on their own, and in addition could lead to unanticipated consequences if manipulated embryos were implanted into a womb and allowed to develop to term.
---

Congratulations! You have finished your first year rotations and joined a lab to pursue research on an exciting topic in developmental biology. Perhaps you are in the process of doing a literature review for your thesis. Are you stumped when looking for a sufficient review in your research area? Are you working on a topic in which core emerging themes have yet to be coalesced? Are there historical data that would shed light on new ideas? As a graduate student, this might be the perfect opportunity for you to write that great review article.
---

Last year I attended the 73rd Society for Developmental Biology Meeting in Seattle, WA thinking that I would have the chance to meet new people and learn about cool research in a location that I had never been. I was a graduate student in Elena Silva Casey's lab at Georgetown University studying the role of Sox21 in regulating neurogenesis during early embryonic development.
---
Wnt Signaling in Development and Disease: Molecular Mechanisms and Biological Functions, 2014
by Stefan P. Hoppler and Randall T. Moon
Principles of Developmental Genetics, 2nd Ed., 2014
by Sally A. Moody (Editor)
Genomic Control Process, 1st Ed., 2015
by Isabelle S. Peter and Eric H. Davidson
Ecological Developmental Biology: The Environmental Regulation of Development, Health, and Evolution, 2nd Ed., 2015
by Scott F. Gilbert and David Epel

If an SDB member would like to have their recently published book mentioned in SDB e-news, please send an email to [email protected].
---
In 2011, the Society for Developmental Biology launched SDB Collaborative Resources (SDB CoRe), an online community for learning and teaching developmental biology. CoRe provides short, authoritative, image-driven explanations of basic concepts in developmental biology. SDB needs your help in making this a great resource. Submit your images and movies to SDB CoRe today.
---
All current SDB members can vote for President-elect, Secretary, and Representatives for Canada and Southeast regions. If you are a current member you should have received an email with a unique link to the ballot. If you did not, contact SDB at [email protected]. The election deadline is June 5, 2015.
---
---
Did you know?
SDB members can apply for non-SDB meeting grants to fund member-organized conferences central to developmental biology. Deadline: May 31, 2015.
SDB members are eligible for travel awards through the FASEB MARC Program.
---