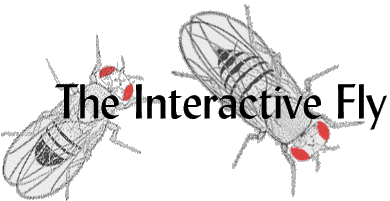 What's new in edition 67
April 2013
Gene sites new with this edition
---
The Interactive Fly was first released July/August 1996, with updates provided at approximately one month intervals, through September 1997 (edition 13). Updating quarterly started with edition 14. With edition 40, the Interactive Fly began to schedule updates three times a year: fall, winter and spring.
---
Activated Cdc42 kinases (Acks) are evolutionarily conserved non-receptor tyrosine kinases. Activating somatic mutations and increased ACK1 protein levels have been found in many types of human cancers and correlate with a poor prognosis. ACK1 is activated by epidermal growth factor (EGF) receptor signaling and functions to regulate EGF receptor turnover. ACK1 has additionally been found to propagate downstream signals through the phosphorylation of cancer relevant substrates. Using Drosophila as a model organism, it has been determined that Drosophila Ack possesses potent anti-apoptotic activity that is dependent on Ack kinase activity and is further activated by EGF receptor/Ras signaling. Ack anti-apoptotic signaling does not function through enhancement of EGF stimulated MAP kinase signaling, suggesting that it must function through phosphorylation of some unknown effector. Several putative Drosophila Ack interacting proteins were isolated, many being orthologs of previously identified human ACK1 interacting proteins. Two of these interacting proteins, Drk and Yorkie, were found to influence Ack signaling. Drk is the Drosophila homolog of GRB2, which is required to couple ACK1 binding to receptor tyrosine kinases. Drk knockdown blocks Ack survival activity, suggesting that Ack localization is important for its pro-survival activity. Yorkie is a transcriptional co-activator that is downstream of the Salvador-Hippo-Warts pathway and promotes transcription of proliferative and anti-apoptotic genes. yorkie and Ack were found to synergistically interact to produce tissue overgrowth, and yorkie loss of function interferes with Ack anti-apoptotic signaling. These results demonstrate how increased Ack signaling could contribute to cancer when coupled to proliferative signals (Schoenherr, 2012).
Drosophila neural stem cells, larval brain neuroblasts (NBs), align their mitotic spindles along the apical/basal axis during asymmetric cell division (ACD) to maintain the balance of self-renewal and differentiation. This study identified a protein complex composed of the tumor suppressor anastral spindle 2 (Ana2), a dynein light-chain protein Cut up (Ctp), and Mushroom body defect (Mud), which regulates mitotic spindle orientation. Two ana2 alleles were isolated that displayed spindle misorientation and NB overgrowth phenotypes in larval brains. The centriolar protein Ana2 anchors Ctp to centrioles during ACD. The centriolar localization of Ctp is important for spindle orientation. Ana2 and Ctp localize Mud to the centrosomes and cell cortex and facilitate/maintain the association of Mud with Pins at the apical cortex. These findings reveal that the centrosomal proteins Ana2 and Ctp regulate Mud function to orient the mitotic spindle during NB asymmetric division (Wang, 2011).
The conserved Hippo tumor suppressor pathway is a key kinase cascade that controls tissue growth by regulating the nuclear import and activity of the transcription co-activator Yorkie. This study reports that the actin-Capping Protein αβ heterodimer, which regulates actin polymerization, also functions to suppress inappropriate tissue growth by inhibiting Yorkie activity. Loss of Capping Protein activity results in abnormal accumulation of apical F-actin, reduced Hippo pathway activity and the ectopic expression of several Yorkie target genes that promote cell survival and proliferation. Reduction of two other actin-regulatory proteins, Cofilin and the cyclase-associated protein Capulet, cause abnormal F-actin accumulation, but only the loss of Capulet, like that of Capping Protein, induces ectopic Yorkie activity. Interestingly, F-actin also accumulates abnormally when Hippo pathway activity is reduced or abolished, independently of Yorkie activity, whereas overexpression of the Hippo pathway component expanded can partially reverse the abnormal accumulation of F-actin in cells depleted for Capping Protein. Taken together, these findings indicate a novel interplay between Hippo pathway activity and actin filament dynamics that is essential for normal growth control (Fernández, 2011).
Cilia and flagella are involved in a variety of processes and human diseases, including ciliopathies and sterility. Their motility is often controlled by a central microtubule (MT) pair localized within the ciliary MT-based skeleton, the axoneme. This study characterized the formation of the motility apparatus in detail in Drosophila spermatogenesis. Assembly of the central MT pair starts prior to the meiotic divisions, with nucleation of a singlet MT within the basal body of a small cilium, and the second MT of the pair only assembles much later, upon flagella formation. BLD10/CEP135, a conserved player in centriole and flagella biogenesis, can bind and stabilize MTs and is required for the early steps of central MT pair formation. This work describes a genetically tractable system to study motile cilia formation and provides an explanation for BLD10/CEP135's role in assembling highly stable MT-based structures, such as motile axonemes and centrioles (Carvalho-Santos, 2012).
The Notch signaling pathway plays important roles in a variety of developmental events. The context-dependent activities of positive and negative modulators dramatically increase the diversity of cellular responses to Notch signaling. In a screen for mutations affecting the Drosophila follicular epithelium, a mutation was isolated in CoREST that disrupts the Notch-dependent mitotic-to-endocycle switch of follicle cells at stage 6 of oogenesis. Drosophila CoREST positively regulates Notch signaling, acting downstream of the proteolytic cleavage of Notch but upstream of Hindsight activity; the Hindsight gene is a Notch target that coordinates responses in the follicle cells. CoREST genetically interacts with components of the Notch repressor complex, Hairless, C-terminal Binding Protein and Groucho. In addition, it was demonstrated that levels of H3K27me3 and H4K16 acetylation are dramatically increased in CoREST mutant follicle cells. The data indicate that CoREST acts as a positive modulator of the Notch pathway in the follicular epithelium as well as in wing tissue, and suggests a previously unidentified role for CoREST in the regulation of Notch signaling. Given its high degree of conservation among species, CoREST probably also functions as a regulator of Notch-dependent cellular events in other organisms (Domanitskaya, 2012).
Antimicrobial peptides (AMPs), major innate immune effectors, are induced to protect hosts against invading microorganisms. AMPs are also induced under non-infectious stress; however, the signaling pathways of non-infectious stress-induced AMP expression are yet unclear. This study demonstrates that growth-blocking peptide (GBP) is a potent cytokine that regulates stressor-induced AMP expression in insects. GBP overexpression in Drosophila elevates expression of AMPs. GBP-induced AMP expression does not require Toll and immune deficiency (Imd) pathway-related genes, but imd and basket are essential, indicating that GBP signaling in Drosophila does not use the orthodox Toll or Imd pathway but uses the JNK pathway after association with the adaptor protein Imd. The enhancement of AMP expression by non-infectious physical or environmental stressors is apparent in controls but not in GBP-knockdown larvae. These results indicate that the Drosophila GBP signaling pathway mediates acute innate immune reactions under various stresses, regardless of whether they are infectious or non-infectious (Tsuzuki, 2012).
Secretions within the adult female reproductive tract mediate sperm survival, storage, activation, and selection. Drosophila female reproductive gland secretory cells reside within the adult spermathecae and parovaria, but their development remains poorly characterized. With cell-lineage tracing, this study found that precursor cells downregulate lozenge and divide stereotypically to generate three-cell secretory units during pupal development. The NR5A-class nuclear hormone receptor Hr39 is essential for precursor cell division and secretory unit formation. Moreover, ectopic Hr39 in multiple tissues generates reproductive gland-like primordia. Rarely, in male genital discs these primordia can develop into sperm-filled testicular spermathecae. Drosophila spermathecae provide a powerful model for studying gland development. It is concluded that Hr39 functions as a master regulator of a program that may have been conserved throughout animal evolution for the production of female reproductive glands and other secretory tissues (Sun, 2012).
The localization of specific mRNAs can establish local protein gradients that generate and control the development of cellular asymmetries. While all evidence underscores the importance of the cytoskeleton in the transport and localization of RNAs, there is only limited knowledge of how these events are regulated. Using a visual screen for motile proteins in a collection of GFP protein trap lines, the Drosophila IGF-II mRNA-binding protein (Imp), an ortholog of Xenopus Vg1 RNA binding protein and chicken zipcode-binding protein, was identified. In Drosophila, Imp is part of a large, RNase-sensitive complex that is enriched in two polarized cell types, the developing oocyte and the neuron. Using time-lapse confocal microscopy, it was establish that both dynein and kinesin contribute to the transport of GFP-Imp particles, and that regulation of transport in egg chambers appears to differ from that in neurons. In Drosophila, loss-of-function Imp mutations are zygotic lethal, and mutants die late as pharate adults. Imp has a function in Drosophila oogenesis that is not essential, as well as functions that are essential during embryogenesis and later development. Germline clones of Imp mutations do not block maternal mRNA localization or oocyte development, but overexpression of a specific Imp isoform disrupts dorsal/ventral polarity. Loss-of-function Imp mutations, as well as Imp overexpression, can alter synaptic terminal growth. These data show that Imp is transported to the neuromuscular junction, where it may modulate the translation of mRNA targets. In oocytes, where Imp function is not essential, a specific Imp domain in the establishment of dorsoventral polarity is implicated (Boylan, 2008).
Many animals attract mating partners through the release of volatile sex pheromones, which can convey information on the species, gender and receptivity of the sender to induce innate courtship and mating behaviours by the receiver. Male Drosophila melanogaster fruitflies display stereotyped reproductive behaviours towards females, and these behaviours are controlled by the neural circuitry expressing male-specific isoforms of the transcription factor Fruitless (FRUM). However, the volatile pheromone ligands, receptors and olfactory sensory neurons (OSNs) that promote male courtship have not been identified in this important model organism. This study describes a novel courtship function of Ionotropic receptor 84a (IR84a), which is a member of the chemosensory ionotropic glutamate receptor family, in a previously uncharacterized population of FRUM-positive OSNs. IR84a-expressing neurons are activated not by fly-derived chemicals but by the aromatic odours phenylacetic acid and phenylacetaldehyde, which are widely found in fruit and other plant tissues that serve as food sources and oviposition sites for drosophilid flies. Mutation of Ir84a abolishes both odour-evoked and spontaneous electrophysiological activity in these neurons and markedly reduces male courtship behaviour. Conversely, male courtship is increased -- in an IR84a-dependent manner -- in the presence of phenylacetic acid but not in the presence of another fruit odour that does not activate IR84a. Interneurons downstream of IR84a-expressing OSNs innervate a pheromone-processing centre in the brain. Whereas IR84a orthologues and phenylacetic-acid-responsive neurons are present in diverse drosophilid species, IR84a is absent from insects that rely on long-range sex pheromones. Our results suggest a model in which IR84a couples food presence to the activation of the fruM courtship circuitry in fruit flies. These findings reveal an unusual but effective evolutionary solution to coordinate feeding and oviposition site selection with reproductive behaviours through a specific sensory pathway (Grosjean, 2012).
In Drosophila, defects in asymmetric cell division often result in the formation of stem cell derived tumors. This study shows that very similar terminal brain tumor phenotypes arise through a fundamentally different mechanism. Brain tumors in l(3)mbt mutants originate from overproliferation of neuroepithelial cells in the optic lobes caused by de-repression of target genes in the Salvador-Warts-Hippo (SWH) pathway. ChIP-seq was used to identify L(3)mbt binding sites, and it was shown that L(3)mbt binds to chromatin insulator elements. Mutating l(3)mbt or inhibiting expression of the insulator protein gene mod(mdg4) results in upregulation of SWH-pathway reporters. As l(3)mbt tumors are rescued by mutations in bantam or yorkie or by overexpression of expanded the deregulation of SWH pathway target genes is an essential step in brain tumor formation. Therefore, very different primary defects result in the formation of brain tumors, which behave quite similarly in their advanced stages (Richter, 2011).
Jarid2 was recently identified as an important component of the mammalian Polycomb repressive complex 2 (PRC2), where it has a major effect on PRC2 recruitment in mouse embryonic stem cells. Although Jarid2 is conserved in Drosophila, it has not previously been implicated in Polycomb (Pc) regulation. Therefore, Drosophila Jarid2 and its associated proteins were purified, and it was found that Jarid2 associates with all of the known canonical PRC2 components, demonstrating a conserved physical interaction with PRC2 in flies and mammals. Furthermore, in vivo studies with Jarid2 mutants in flies demonstrate that among several histone modifications tested, only methylation of histone 3 at K27 (H3K27), the mark implemented by PRC2, was affected. Genome-wide profiling of Jarid2, Su(z)12 (Suppressor of zeste 12), and H3K27me3 occupancy by chromatin immunoprecipitation with sequencing (ChIP-seq) indicates that Jarid2 and Su(z)12 have very similar distribution patterns on chromatin. However, Jarid2 and Su(z)12 occupancy levels at some genes are significantly different, with Jarid2 being present at relatively low levels at many Pc response elements (PREs) of certain Homeobox (Hox) genes, providing a rationale for why Jarid2 was never identified in Pc screens. Gene expression analyses show that Jarid2 and E(z) (Enhancer of zeste, a canonical PRC2 component) are not only required for transcriptional repression but might also function in active transcription. Identification of Jarid2 as a conserved PRC2 interactor in flies provides an opportunity to begin to probe some of its novel functions in Drosophila development (Herz, 2012).
Formation and regulation of excitatory glutamatergic synapses is essential for shaping neural circuits throughout development. A genetic screen for synaptogenesis mutants in Drosophila identified mind the gap (mtg), which encodes a secreted, extracellular N-glycosaminoglycan-binding protein. Mtg is expressed neuronally and detected in the synaptic cleft, and is required to form the specialized transsynaptic matrix that links the presynaptic active zone with the post-synaptic glutamate receptor (GluR) domain. Null mtg embryonic mutant synapses exhibit greatly reduced GluR function, and a corresponding loss of localized GluR domains. All known post-synaptic signaling/scaffold proteins functioning upstream of GluR localization are also grossly reduced or mislocalized in mtg mutants, including the dPix-dPak-Dock cascade and the Dlg/PSD-95 scaffold. Ubiquitous or neuronally targeted mtg RNA interference (RNAi) similarly reduce post-synaptic assembly, whereas post-synaptically targeted RNAi has no effect, indicating that presynaptic MTG induces and maintains the post-synaptic pathways driving GluR domain formation. These findings suggest that MTG is secreted from the presynaptic terminal to shape the extracellular synaptic cleft domain, and that the cleft domain functions to mediate transsynaptic signals required for post-synaptic development (Rohrbough, 2007).
mini spindles (msps) was identified in a cytological screen for mitotic mutants. Mutation in msps disrupts the structural integrity of the mitotic spindle, resulting in the formation of one or more small additional spindles in diploid cells. Nucleation of microtubules from centrosomes, metaphase alignment of chromosomes, or the focusing of spindle poles appears much less affected. The msps gene encodes a 227-kD protein with high similarity to the vertebrate microtubule-associated proteins (MAPs), human TOGp and Xenopus XMAP215, and with limited similarity to the Dis1 and STU2 proteins from fission yeast and budding yeast. Consistent with their sequence similarity, Msps protein also associates with microtubules in vitro. In the embryonic division cycles, Msps protein localizes to centrosomal regions at all mitotic stages, and spreads over the spindles during metaphase and anaphase. The absence of centrosomal staining in interphase of the cellularized embryos suggests that the interactions between Msps protein and microtubules or centrosomes may be regulated during the cell cycle (Cullen, 1999).
miR-124 is conserved in sequence and neuronal expression across the animal kingdom and is predicted to have hundreds of mRNA targets. Diverse defects in neural development and function were reported from miR-124 antisense studies in vertebrates, but a nematode knockout of mir-124 surprisingly lacked detectable phenotypes. To provide genetic insight from Drosophila, its single mir-124 locus was deleted, and it was found to be dispensable for gross aspects of neural specification and differentiation. In contrast, a variety of mutant phenotypes were detected that were rescuable by a mir-124 genomic transgene, including short lifespan, increased dendrite variation, impaired larval locomotion, and aberrant synaptic release at the NMJ. These phenotypes reflect extensive requirements of miR-124 even under optimal culture conditions. Comparison of the transcriptomes of cells from wild-type and mir-124 mutant animals, purified on the basis of mir-124 promoter activity, revealed broad upregulation of direct miR-124 targets. However, in contrast to the proposed mutual exclusion model for miR-124 function, its functional targets were relatively highly expressed in miR-124-expressing cells and were not enriched in genes annotated with epidermal expression. A notable aspect of the direct miR-124 network was coordinate targeting of five positive components in the retrograde BMP signaling pathway, whose activation in neurons increases synaptic release at the NMJ, similar to mir-124 mutants. Derepression of the direct miR-124 target network also had many secondary effects, including over-activity of other post-transcriptional repressors and a net incomplete transition from a neuroblast to a neuronal gene expression signature. Altogether, these studies demonstrate complex consequences of miR-124 loss on neural gene expression and neurophysiology (Sun, 2012).
Fragile X-associated tremor/ataxia syndrome (FXTAS), a late-onset neurodegenerative disorder, has been recognized in older male fragile X premutation carriers and is uncoupled from fragile X syndrome. Using a Drosophila model of FXTAS, it has been shown that transcribed premutation repeats alone are sufficient to cause neurodegeneration. miRNAs are sequence-specific regulators of post-transcriptional gene expression. To determine the role of miRNAs in rCGG repeat-mediated neurodegeneration, miRNA expression was profiled, and selective miRNAs were identified, including miR-277, that are altered specifically in Drosophila brains expressing rCGG repeats. Their genetic interactions with rCGG repeats were tested, and it was found that miR-277 can modulate rCGG repeat-mediated neurodegeneration. Furthermore, Drep-2 and Vimar were identified as functional targets of miR-277 that could modulate rCGG repeat-mediated neurodegeneration. Finally, it was found that hnRNP A2/B1, an rCGG repeat-binding protein, can directly regulate the expression of miR-277. These results suggest that sequestration of specific rCGG repeat-binding proteins could lead to aberrant expression of selective miRNAs, which may modulate the pathogenesis of FXTAS by post-transcriptionally regulating the expression of specific mRNAs involved in FXTAS (Tan, 2012).
Muscleblind-like proteins, Muscleblind (Mbl) in Drosophila and MBNL1-3 in vertebrates, are regulators of alternative splicing. Human MBNL1 is a key factor in the etiology of myotonic dystrophy (DM), a muscle wasting disease caused by the occurrence of toxic RNA molecules containing CUG/CCUG repeats. MBNL1 binds to these RNAs and is sequestered in nuclear foci preventing it from exerting its normal function, which ultimately leads to mis-spliced mRNAs, a major cause of the disease. Muscleblind-proteins bind to RNAs via N-terminal zinc fingers of the Cys(3)-His type. These zinc fingers are arranged in one (invertebrates) or two (vertebrates) tandem zinc finger (TZF) motifs with both fingers targeting GC steps in the RNA molecule. This study shows that mbl genes in Drosophila and in other insects also encode proteins with two TZF motifs, highly similar to vertebrate MBNL proteins. In Drosophila the different protein isoforms have overlapping but possibly divergent functions in vivo, evident by their unequal capacities to rescue the splicing defects observed in mbl mutant embryos. In addition, using whole transcriptome analysis, several new splicing targets were identified for Mbl in Drosophila embryos. Two of these novel targets, kkv (krotzkopf-verkehrt, coding for Chitin Synthase 1) and coracle (coding for the Drosophila homolog of Protein 4.1), are not muscle-specific but expressed mainly in epidermal cells, indicating a function for mbl not only in muscles and the nervous system (Irion, 2012).
Defining the function of the genes that, like RUNX1, are deregulated in blood cell malignancies represents an important challenge. Myeloid leukemia factors (MLFs) constitute a poorly characterized family of conserved proteins whose founding member, MLF1, has been associated with acute myeloid leukemia in humans. To gain insight into the functions of this family, the role of the Drosophila MLF homolog was investigated during blood cell development. mlf controls the homeostasis of the Drosophila hematopoietic system. Notably, mlf participates in a positive feedback loop to fine tune the activity of the RUNX transcription factor Lozenge (LZ) during development of the crystal cells, one of the two main blood cell lineages in Drosophila. At the molecular level, these data in cell cultures and in vivo strongly suggest that MLF controls the number of crystal cells by protecting LZ from degradation. Remarkably, it appears that the human MLF1 protein can substitute for MLF in the crystal cell lineage. In addition, MLF stabilizes the human oncogenic fusion protein RUNX1-ETO and is required for RUNX1-ETO-induced blood cell disorders in a Drosophila model of leukemia. Finally, using the human leukemic blood cell line Kasumi-1, it was shown that MLF1 depletion impairs RUNX1-ETO accumulation and reduces RUNX1-ETO-dependent proliferation. Thus, it is proposed that the regulation of RUNX protein levels is a conserved feature of MLF family members that could be critical for normal and pathological blood cell development (Bras, 2012).
Protein tyrosine phosphatases (PTPs) are a group of tightly regulated enzymes that coordinate with protein tyrosine kinases to control protein phosphorylation during various cellular processes. Using genetic analysis in Drosophila non-transmembrane PTPs, one role was identified that Myopic (Mop), the Drosophila homolog of the human His domain phosphotyrosine phosphatase (HDPTP), plays in cell adhesion. Depletion of Mop results in aberrant integrin distribution and border cell dissociation during Drosophila oogenesis. Interestingly, Mop phosphatase activity is not required for its role in maintaining border cell cluster integrity. Rab4 GTPase was further identified as a Mop interactor in a yeast two-hybrid screen. Expression of the Rab4 dominant-negative mutant leads to border cell dissociation and suppression of Mop-induced wing-blade adhesion defects, suggesting a critical role of Rab4 in Mop-mediated signaling. In mammals, it has been shown that Rab4-dependent recycling of integrins is necessary for cell adhesion and migration. This study found that human HDPTP regulates the spatial distribution of Rab4 and integrin trafficking. Depletion of HDPTP resulted in actin reorganization and increased cell motility. Together, these findings suggest an evolutionarily conserved function of HDPTP-Rab4 in the regulation of endocytic trafficking, cell adhesion and migration (Chen, 2012).
Neurexins have been proposed to function as major mediators of the coordinated pre- and postsynaptic apposition. However, key evidence for this role in vivo has been lacking, particularly due to gene redundancy. Null mutations have been obtained in the single Drosophila Neurexin gene. Nrx loss of function prevents the normal proliferation of synaptic boutons at glutamatergic neuromuscular junctions, while Nrx gain of function in neurons has the opposite effect. Nrx mostly localizes to the active zone of presynaptic terminals. Conspicuously, Nrx null mutants display striking defects in synaptic ultrastructure, with the presence of detachments between pre- and postsynaptic membranes, abnormally long active zones, and increased number of T bars. These abnormalities result in corresponding alterations in synaptic transmission with reduced quantal content. Together, these results provide compelling evidence for an in vivo role of neurexins in the modulation of synaptic architecture and adhesive interactions between pre- and postsynaptic compartments (Li, 2007).
Precise apposition of presynaptic and postsynaptic domains is a fundamental property of all neuronal circuits. Experiments in vitro suggest that Neuroligins and Neurexins function as key regulatory proteins in this process. In a genetic screen, several mutant alleles of Drosophila neuroligin 1 (dnlg1) were uncovered that cause a severe reduction in bouton numbers at neuromuscular junctions (NMJs). In accord with reduced synapse numbers, these NMJs show reduced synaptic transmission. Moreover, lack of postsynaptic DNlg1 leads to deficits in the accumulation of postsynaptic glutamate receptors, scaffold proteins, and subsynaptic membranes, while increased DNlg1 triggers ectopic postsynaptic differentiation via its cytoplasmic domain. DNlg1 forms discrete clusters adjacent to postsynaptic densities. Formation of these clusters depends on presynaptic Drosophila Neurexin (DNrx). However, DNrx binding is not an absolute requirement for DNlg1 function. Instead, other signaling components are likely involved in DNlg1 transsynaptic functions, with essential interactions organized by the DNlg1 extracellular domain but also by the cytoplasmic domain (Banovic, 2010).
During development, dendrites arborize in a field several hundred folds of their soma size, a process regulated by intrinsic transcription program and cell adhesion molecule (CAM)-mediated interaction. However, underlying cellular machineries that govern distal higher-order dendrite extension remain largely unknown. This study shows that Numb-associated kinase (Nak), a clathrin adaptor-associated kinase, promotes higher-order dendrite growth through endocytosis. In nak mutants, both the number and length of higher-order dendrites are reduced; these characters phenocopied by disruptions of clathrin-mediated endocytosis. Nak interacts genetically with components of the endocytic pathway, colocalizes with clathrin puncta and is required for dendritic localization of clathrin puncta. More importantly, these Nak-containing clathrin structures preferentially localize to branching points and dendritic tips that are undergoing active growth. Evidence is presented that the Drosophila L1-CAM homolog Neuroglian is a relevant cargo of Nak-dependent internalization, suggesting that localized clathrin-mediated endocytosis of CAMs facilitates the extension of nearby higher-order dendrites (Yang, 2011).
During the development of locomotion circuits it is essential that motoneurons with distinct subtype identities select the correct trajectories and target muscles. In vertebrates, the generation of motoneurons and myelinating glia depends on Olig2, one of the five Olig family bHLH transcription factors. This study investigated the so far unknown function of the single Drosophila homolog Oli. Combining behavioral and genetic approaches, this study demonstrates that oli is not required for gliogenesis, but plays pivotal roles in regulating larval and adult locomotion, and axon pathfinding and targeting of embryonic motoneurons. In the embryonic nervous system, Oli is primarily expressed in postmitotic progeny, and in particular, in distinct ventral motoneuron subtypes. oli mediates axonal trajectory selection of these motoneurons within the ventral nerve cord and targeting to specific muscles. Genetic interaction assays suggest that oli acts as part of a conserved transcription factor ensemble including Lim3, Islet and Hb9. Moreover, oli is expressed in postembryonic leg-innervating motoneuron lineages and required in glutamatergic neurons for walking. Finally, over-expression of vertebrate Olig2 partially rescues the walking defects of oli-deficient flies. Thus, these findings reveal a remarkably conserved role of Drosophila Oli and vertebrate family members in regulating motoneuron development, while the steps that require their function differ in detail (Oyallon, 2012).
Members of the T-Box gene family of transcription factors are important players in regulatory circuits that generate myogenic and cardiogenic lineage diversities in vertebrates. This study shows that during somatic myogenesis in Drosophila, the single ortholog of vertebrate Tbx1, optomotor-blind-related-gene-1 (org-1), is expressed in a small subset of muscle progenitors, founder cells and adult muscle precursors, where it overlaps with the products of the muscle identity genes ladybird (lb) and slouch (slou). In addition, org-1 is expressed in the lineage of the heart-associated alary muscles. org-1 null mutant embryos lack Lb and Slou expression within the muscle lineages that normally co-express org-1. As a consequence, the respective muscle fibers and adult muscle precursors are either severely malformed or missing, as are the alary muscles. To address the mechanisms that mediate these regulatory interactions between Org-1, Lb and Slou, distinct enhancers associated with somatic muscle expression of lb and slou. These lineage- and stage-specific cis-regulatory modules (CRMs) bind Org-1 in vivo, respond to org-1 genetically and require T-box domain binding sites for their activation. In summary, it is proposed that org-1 is a common and direct upstream regulator of slou and lb in the developmental pathway of these two neighboring muscle lineages. Cross-repression between slou and lb and combinatorial activation of lineage-specific targets by Org-1-Slou and Org-1-Lb, respectively, then leads to the distinction between the two lineages. These findings provide new insights into the regulatory circuits that control the proper pattering of the larval somatic musculature in Drosophila (Schaub, 2012).
A long-standing question in the study of long-term memory is how a memory trace persists for years when the proteins that initiated the process turn over and disappear within days. Previously, it was postulated that self-sustaining amyloidogenic oligomers of cytoplasmic polyadenylation element-binding protein (CPEB) provide a mechanism for the maintenance of activity-dependent synaptic changes and, thus, the persistence of memory. This study found that the Drosophila CPEB Orb2 forms amyloid-like oligomers, and oligomers are enriched in the synaptic membrane fraction. Of the two protein isoforms of Orb2, the amyloid-like oligomer formation is dependent on the Orb2A form. A point mutation in the prion-like domain of Orb2A, which reduced amyloid-like oligomerization of Orb2, did not interfere with learning or memory persisting up to 24 hr. However the mutant flies failed to stabilize memory beyond 48 hr. These results support the idea that amyloid-like oligomers of neuronal CPEB are critical for the persistence of long-term memory (Majundar, 2012).
The Drosophila antimicrobial response is one of the best characterized systems of pattern recognition receptor-mediated defense in metazoans. Drosophila senses Gram-negative bacteria via two peptidoglycan recognition proteins (PGRPs), membrane-bound PGRP-LC and secreted/cytosolic PGRP-LE, which relay diaminopimelic acid (DAP)-type peptidoglycan sensing to the Imd signaling pathway. In the case of PGRP-LC, differential splicing of PGRP domain-encoding exons to a common intracellular domain-encoding exon generates three receptor isoforms, which differ in their peptidoglycan binding specificities. This study used Phi31-mediated recombineering to generate fly lines expressing specific isoforms of PGRP-LC, and the tissue-specific roles were assessed of PGRP-LC isoforms and PGRP-LE in the antibacterial response. In vivo studies demonstrate the key role of PGRPLCx in sensing DAP-type peptidoglycan-containing Gram-negative bacteria or Gram-positive bacilli during systemic infection. The contribution of PGRP-LCa/x heterodimers to the systemic immune response to Gram-negative bacteria was highlighted through sensing of tracheal cytotoxin (TCT), whereas PGRP-LCy may have a minor role in antagonizing the immune response. The results reveal that both PGRP-LC and PGRP-LE contribute to the intestinal immune response, with a predominant role of cytosolic PGRP-LE in the midgut, the central section of endodermal origin where PGRP-LE is enriched. The in vivo model also definitively establishes TCT as the long-distance elicitor of systemic immune responses to intestinal bacteria observed in a loss-of-tolerance model. In conclusion, this study delineates how a combination of extracellular sensing by PGRP-LC isoforms and intracellular sensing through PGRP-LE provides sophisticated mechanisms to detect and differentiate between infections by different DAP-type bacteria in Drosophila (Neyen, 2012).
Establishment of germline sexual identity is critical for production of male and female germline stem cells, as well as sperm versus eggs. This study identified PHD Finger Protein 7 (PHF7) as an important factor for male germline sexual identity in Drosophila. PHF7 exhibits male-specific expression in early germ cells, germline stem cells, and spermatogonia. It is important for germline stem cell maintenance and gametogenesis in males, whereas ectopic expression in female germ cells ablates the germline. Strikingly, expression of PHF7 promotes spermatogenesis in XX germ cells when they are present in a male soma. PHF7 homologs are also specifically expressed in the mammalian testis, and human PHF7 rescues Drosophila Phf7 mutants. PHF7 associates with chromatin, and both the human and fly proteins bind histone H3 N-terminal tails with a preference for dimethyl lysine 4 (H3K4me2). It is proposed that PHF7 acts as a conserved epigenetic 'reader' that activates the male germline sexual program (Yang, 2012).
The detection of water and the regulation of water intake are essential for animals to maintain proper osmotic homeostasis. Drosophila and other insects have gustatory sensory neurons that mediate the recognition of external water sources (Evans, 1962; Meunier, 2000; Inoshita, 2006), but little is known about the underlying molecular mechanism for water taste detection. This study identified a member of the Degenerin/Epithelial Sodium Channel family (Kellenberger, 2002), ppk28, as an osmosensitive ion channel that mediates the cellular and behavioral response to water. This study used molecular, cellular, calcium imaging and electrophysiological approaches to show that ppk28 is expressed in water-sensing neurons and loss of ppk28 abolishes water sensitivity. Moreover, ectopic expression of ppk28 confers water sensitivity to bitter-sensing gustatory neurons in the fly and sensitivity to hypo-osmotic solutions when expressed in heterologous cells. These studies link an osmosensitive ion channel to water taste detection and drinking behavior, providing the framework for examining the molecular basis for water detection in other animals (Cameron, 2010).
Type II phosphatidylinositol 4-kinase (PI4KII) produces the lipid phosphatidylinositol 4-phosphate (PI4P), a key regulator of membrane trafficking (see Metabolic fates of phosphatidic acid). This study generated genetic models of the sole Drosophila melanogaster PI4KII gene. A specific requirement for PI4KII emerged in larval salivary glands. Mucin-like glue, secreted by salivary glands, serves to adhere the pupal case to a solid substrate during metamorphosis. In PI4KII mutants, mucin-containing glue granules fail to reach normal size, with glue protein aberrantly accumulating in enlarged Rab7-positive late endosomes. Presence of PI4KII at the Golgi and on dynamic tubular endosomes indicated two distinct foci for its function. First, consistent with the established role of PI4P in the Golgi, PI4KII is required for sorting of glue granule cargo and the granule-associated SNARE Snap24. Second, PI4KII also has an unforeseen function in late endosomes, where it is required for normal retromer dynamics and for formation of tubular endosomes that are likely to be involved in retrieving Snap24 and Lysosomal enzyme receptor protein (Lerp) from late endosomes to the trans-Golgi network. Genetic analysis of PI4KII in flies thus reveals a novel role for PI4KII in regulating the fidelity of granule protein trafficking in secretory tissues (Burgess, 2012).


---
date revised: 19 April 2013

Home page: The Interactive Fly © 2012 Thomas B. Brody, Ph.D.

The Interactive Fly resides on the
Society for Developmental Biology's Web server.