Larry Bock Awarded Hamburger Outstanding Educator Prize
By Marsha E. Lucas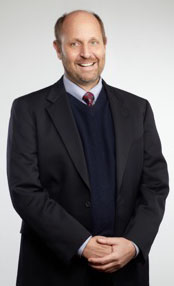 The 2014 Viktor Hamburger Outstanding Educator Prize was awarded to Larry Bock, founder of the USA Science & Engineering Festival (USASEF). This award recognizes individuals who have made outstanding contributions to education in developmental biology and related areas. Bock achieved this through his organization of the of largest celebration of science in the United States. Some 325,000 attendees visited the USASEF in Washington, DC this past April where some 1100 organizations created interactive science and engineering exhibits for people of all ages. The Society for Developmental Biology has actively participated in this biennial festival since its inception in 2010.
In an interview in June, Bock described how this festival came about.
"I spent most of my career as a high-tech entrepreneur, started about forty high-tech or life science companies worth about 70 billion dollars, and then called it quits in early 2002. [I] took my family abroad for fun and it was in that context that I bumped into these international science festivals and I thought they were such a great idea that I came back to the States sort of invigorated to create my own," he said.
"The reason I thought they were a great idea is I could not recruit Americans to the advanced science positions of the companies I was starting up—not because I didn't want to, but because they weren't going into those fields."
You get what you celebrate. Those words by Segway inventor, Dean Kamen, resonated with Bock.
"We celebrate athletes and pop stars and actors and actresses, but we don't celebrate scientists and engineers. So it was sort of my goal to put on the largest celebration of science and engineering."
Bock earned his bachelor's in biochemistry from Bowdoin College in 1981. He started out as a researcher at Genentech and then in 1985 earned an MBA from the University of California, Los Angeles. This was the beginning of his career as a "serial entrepreneur" in which he invested in and founded dozens of biotech companies including the gene sequencing and microarray company Illumina.
In 2008 Bock founded the non-profit Science Spark to "create the most compelling science festivals around the country." The first San Diego Science Festival was held in 2009.
"The night before [the festival] I called up all my friends and said, 'Look, can you come down to Balboa Park where the Expo is and in case there's no one standing in front of a booth, could you just go up there, so I'm not embarrassed?'"
His concerns turned out to be unwarranted.
"Very shortly after [10 am] there was literally an eight-mile back-up on the 163 Freeway coming to Balboa Park," Bock said.
"I didn't fully comprehend how much underlying want there was by the public for a science event," he said. Being able to fill this void has been one of the most rewarding parts of doing this festival.
Following the success of the San Diego Science Festival, the chief technology officer of Lockheed Martin—its lead sponsor—contacted Bock.
"Ray O. Johnson called me up and said, 'That was fun, but really this should be a national event. We should do it in Washington, DC.' And I ...very stupidly said, 'Yeah, but Washington, DC is not a science city. It really wouldn't work there.'
In fact, "[Washington, DC] ended up really being an ideal place to do it," he said. This was due in part to the large number of scientific societies, government agencies and national labs that have offices in the Washington, DC area.
The first USA Science & Engineering Festival was held on the National Mall in October 2010 and drew about 500,000 people. Subsequent festivals have been held at the convention center where weather is not a factor and microscopes can't be damaged by flying dust.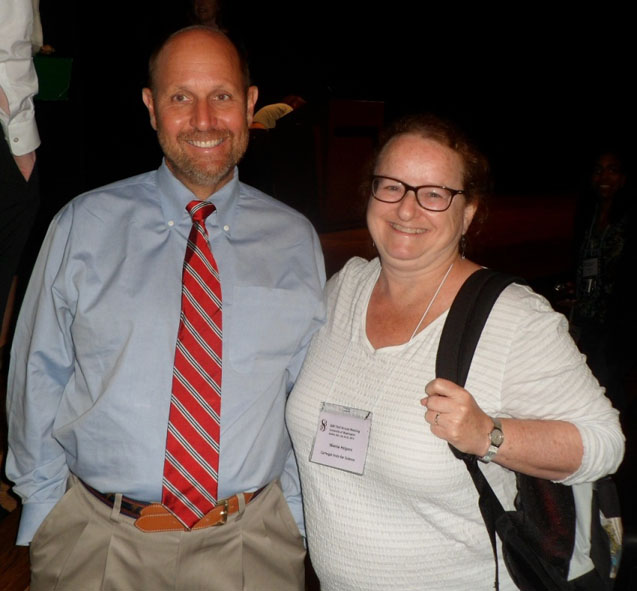 Bock with Halpern following the 2014 SDB Awards Lectures.
Bock said people get interested in science because of teachers, parents, role models, and sometimes an event. The USASEF hits upon all those things.
"We have a Nifty Fifty Program where we bring scientists and engineers into schools and we're trying to create a current set of new role models." SDB member, Marnie Halpern, from the Carnegie Institution for Science participated in this program all three years.
In 2016, the USASEF will have a day specifically for teachers to visit the expo and get resources, he said. Finally, the expo itself is a family event.
"Your organization [SDB] I think sort of expressed this to me one time [that] this event is not only for the attendee, but it's also for the exhibitor. The number of times I get a comment along the lines of 'Hey, kids stood in line for an hour to do the activity at my booth and all of a sudden my kids thought what I was doing was really important.'"
Even big corporations like Lockheed don't sponsor events like this just for philanthropic reasons or to get their name out there, he said. It's to "have their employees involved in something that they feel is meaningful."
Bock donated his $2000 Viktor Hamburger Outstanding Educator Prize money to the USASEF in SDB's name. The Society will be recognized as a Titanium Level Sponsor for the 2016 Festival.