Mark your calendar for the 72nd Annual SDB Meeting to be held June 16-20, 2013 in Cancun, Mexico in conjunction with the 17th International Congress of Developmental Biology!
Don't miss the 2013 SDB Regional Meetings schedule below!
---

In an effort to increase the number of underrepresented minorities (URM) and persons with disabilities entering doctoral programs in pursuit of research careers in developmental biology, the Society for Developmental Biology (SDB) has launched a new three-year National Science Foundation (NSF)-funded project called CHOOSE DEVELOPMENT!
---
The Society for Developmental Biology participated in the 2nd New Jersey Science & Engineering Festival held October 13-14, 2012 in Clifton, New Jersey. The festival, about forty five minutes outside of New York City, attracted many students, parents, and science educators from the community.
---
The Embryology Course at the Marine Biological Laboratory in Woods Hole, Massachusetts is the premier comprehensive lecture and laboratory course in animal developmental biology.
---
Nominations for the 2013 SDB Awards are now being accepted.
Deadline for receipt of all nominations: December 10, 2012.
---
We invite submission of proposals for Satellite Symposia for the SDB 2013 Annual Meeting to be held jointly with the 17th International Congress of Developmental Biology, in Cancun, Mexico, June 15, 2013. See guidelines here.
Deadline for receipt of all proposals: November 5, 2012.
---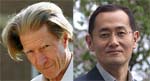 The 2012 Nobel Prize in Physiology or Medicine was awarded to John Gurdon (Gurdon Institute, UK), the 2001 Conklin Medal winner, and Shinya Yamanaka (Kyoto University, Japan) "for the discovery that mature cells can be reprogrammed to become pluripotent."
---
Former SDB President and SDB Lifetime Achievement Award winner, Donald Brown (Carnegie Institution), and Tom Maniatis (Columbia University) were awarded the Lasker-Koshland Special Achievement Award in Medical Science for their contributions to understanding the nature of genes and for their exceptional leadership and citizenship in biomedical science.
---
---
Did you know?
SDB members can apply for non-SDB meeting grants to fund member-organized conferences central to developmental biology. Deadline: December 1, 2012.
SDB members are eligible for travel awards through the FASEB MARC Program.
SDB will provide travel assistance for Latin American investigators to visit a host lab in the US or Canada to learn new techniques or approaches in developmental biology with the SDB Latin American Short Visit Grant. Proposal deadline: December 1, 2012.
---