Interview with Latin American-Caribbean Short Visit Grant Awardee Ana Sanz Ochotorena
By Marsha Lucas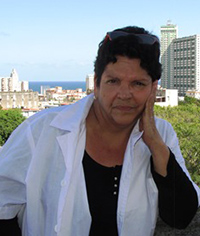 Cuban scientist, Ana Sanz Ochotorena of the University of Havana, was awarded the final Latin American-Caribbean Short Visit Grant by the Society for Developmental Biology. This discontinued program facilitated travel of Latin American investigators to laboratories based in the United States and Canada to learn developmental biology techniques and approaches that would further research at their home institution. This past January, Dr. Sanz spent a month in Anita Fernandez' lab at Fairfield University in Connecticut to learn techniques for identifying genes required during C. elegans development and characterizing defects leading to sterility. Dr. Sanz has been teaching developmental biology at the University of Havana for 23 years. The Short Visit Grant was an opportunity for her to get hands-on experience studying development in a classical genetic model system and share it with her colleagues back home. Below is our interview with Dr. Sanz.
Where did you grow up?
I grew up in Havana, but I also lived in Varadero Beach as a child. I have excellent memories of that stage of my life.
What led you to study biology?
I always loved animals. When I lived in Varadero Beach, I had an excellent biology teacher during my secondary studies. Her name was Felicia and she motivated me a lot.
Where did you do your training?
I received my Bachelor's degree in Biological Sciences at the University of Havana in 1976, and then I did technical training in electron microscopy and experimental embryology at Eotvös Lorandz University in Budapest, Hungary. In 1989, I got my Master's in Molecular and Cellular Biology at Moscow's Lomonosov University in Russia and I did another postgraduate study in Embryology there. Finally, I obtained my PhD in the Faculty of Sciences of the National Autonomous University of Mexico in 1999.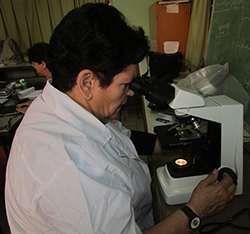 Describe your current research at the University of Havana.
I have been researching gametogenesis in endemic animals of Cuba (amphibians, reptiles) and in invaders using advanced microscopic techniques. With this, we intend to elucidate evolutionary and taxonomic elements of these animals and contribute to their conservation.
Is it true that you are the only developmental biologist at the University of Havana? Are there other developmental biologists on the island?
It´s true. I work now with two young people who are aspirants. In Cuba there are two other universities with a biology major where developmental biology is taught: at the Unversidad de Oriente (UO) in Santiago de Cuba and at the Central University of Las Villas (UCLV) in Villa Clara. There, I also teach young teachers to whom I give all possible advice. Of course, embryology is taught in the Cuban Universities of Medical Sciences, but not developmental biology.
Why is it important to expand the study of developmental biology in Cuba?
Because it is a very integrative science that tries to explain the ontogeny and it has seen extraordinary growth in the last decades, especially with the development of molecular biology and genetics. Current research on stem cells, gene therapy and patterns of gene expression during development are essential in this century that has been called the Century of Biology. By the way, in Cuba from another point of view there is great progress in stem cell therapy.
What was the goal of your Short Visit in Dr. Fernandez' lab at Fairfield University?
I always had the dream of working with the nematode C. elegans and I knew of the prestige and experience of Dr. Fenandez in these topics. So, I fulfilled my dream.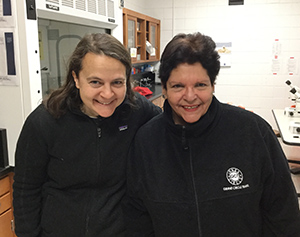 Anita Fernandez and Ana Sanz Ochotorena in the lab at Fairfield University.
Describe your experience in the Fernandez lab.
It was excellent from every point of view. I learned and worked a lot with Dr. Fernandez, a wonderful person. In addition, colleagues in the Department of Biology at Fairfield University were supportive, kind, and affectionate to me. I am very grateful to the Society for Developmental Biology, its executives, especially Ida Chow for giving me this opportunity and to Anita Fernandez for receiving me and sharing with me her laboratory, her experiences and her friendship.
What was the most fascinating thing you learned?
Handling that nematode (C. elegans) with my hands was astounding. In Cuba at Havana University we lack equipment and reagents to perform technical work of this type. So it was very important for me to work with my own hands in the laboratory of Anita Fernandez.
If you could be granted three wishes for the future of developmental biology research in Cuba, what would they be?
Have a laboratory with the necessary equipment to develop internships for my students. In that, my three wishes are summed up. From there we can start to develop more research.