2014 USA Science & Engineering Festival Report
By Marsha E. Lucas
The Society for Developmental Biology was an official partner of the 3rd USA Science & Engineering Festival held April 24-27, 2014 in Washington, DC. SDB has participated in this biennial festival since 2010 and took a lead this year in sponsoring several developmental biology-themed outreach activities.
The Society nominated Marnie Halpern (Carnegie Institution for Science – Embryology) for the festival's Nifty Fifty program in which scientists visit middle and high schools to share with students their research and promote careers in science, technology, engineering, and mathematics (STEM). On March 13, Halpern visited W.E.B. Dubois High School in Baltimore, Maryland where she spoke to seniors about brain asymmetry in zebrafish. Her lab studies developmental genes essential for brain asymmetry and how left/right differences influence fish behavior. Students learned that behavioral laterality exists throughout the animal kingdom including the direction a snake spirals, handedness in humans, and which eye a fish uses to check for predators versus look for food. Her lab showed that fish with altered brain laterality are more fearful and less adventurous.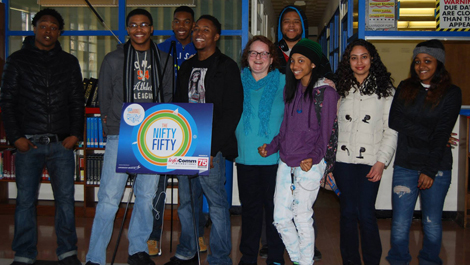 Marnie Halpern (center) with students from W.E.B. Dubois High School.
On April 23, SDB organized a DC Metro STEM Event, Developmental Biology, Birth Defects, and Diseases. This public lecture, co-sponsored by the George Washington University Office of the Vice President for Research, was geared toward middle and high school students and featured short talks by several developmental biologists.
SDB President Martin Chalfie (Columbia University) presented an overview of developmental biology and the kinds of questions developmental biologists ask. Irene Zohn (Children's Research Institute, DC) introduced the neural tube and how failure of the neural tube to close leads to defects in the brain and spinal cord. She shared about her research to find maternal dietary supplements that can reduce the incidence of neural tube defects. Maximilian Muenke, a pediatrician at the National Institutes of Health (Bethesda), focused on a particular neural tube defect—holoprosencephaly. Muenke had students in the audience identify distinct physical features associated with this birth defect and observe how the disease manifests in mild to severely affected patients, particularly within families. Anthony LaMantia (George Washington University, DC) showed how the similar organization of genes between mouse and human chromosomes allowed him to develop a mouse model for DiGeorge Syndrome—a large deletion on human chromosome 22 that results in developmental delay, learning disabilities, and cleft palate to name a few. He can study the loss of the same group of genes missing in the human condition, in the mouse because their gene order is evolutionarily conserved between the two species. Finally, Susan M. Smith (University of Wisconsin, Madison) discussed how through a combination of The Society for Developmental Biology was an official partner of the 3rd USA Science & Engineering Festival held April 24-27, 2014 in Washington, DC. SDB has participated in this biennial festival since 2010 and took a lead this year in sponsoring several developmental biology-themed outreach activities.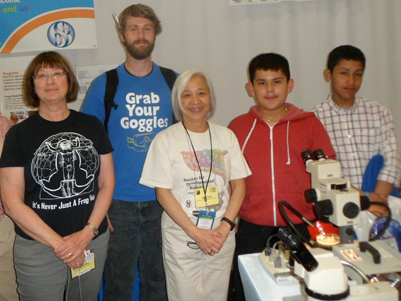 Matt Hobbs (2nd from left) brought his students from Cesar Chavez Prep in Washington, DC to the public lecture at George Washington University and later to the the Festival Expo.
Students from Cesar Chavez Prep--a public charter school in Washington, DC—attended the event with their science teacher Matt Hobbs. Their engagement with the speakers and excellent questions made for a truly enjoyable experience.
The 3rd USA Science & Engineering Festival ended with the Finale Expo held April 25-27 at the Walter E. Washington Convention Center. More than fifty volunteers including high school students, scientists, K-12 teachers and friends helped out at the SDB exhibit Developmental Changes Form All Creatures which featured Xenopus, zebrafish and several plant species.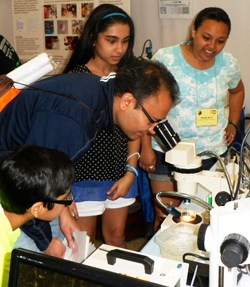 Visitors checking out Xenopus embryos
Sally Moody of George Washington University provided microscopes along with Xenopus embryos and tadpoles. One family was so intrigued by the frogs, they came back the next day to examine the embryos after 24 more hours of development.
BioEyes co-founder, Steve Farber of the Carnegie Institution for Science, provided microscopes and zebrafish embryos, larvae, and adults. Visitors were able to observe early embryonic stages, see circulating blood and beating hearts in older embryos, and distinguish between male and female adult zebrafish.
Ben Feldman from the Eunice Kennedy Shriver National Institute of Child Health and Human Development at NIH spearheaded an activity on gene expression in zebrafish embryos. Using RNA in situ-labeled embryos he highlighted how even at early stages of development when the embryo is a ball of cells, there are specific genes expressed in distinct locations at distinct times.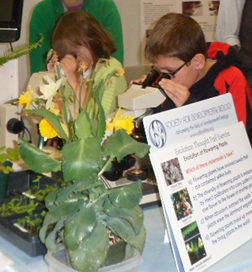 Visitors observe Arabidopsis seeds and fern spores under the microscope with Mother of Thousands in foreground.
Zhongchi Liu of the University of Maryland (College Park) provided a microscope and plants for our exhibit on plant reproductive strategies and the evolution of flowering plants. This was the first year plant development was featured at SDB's booth and it proved to be a hit. Representative seedless vascular plants, gymnosperms, and angiosperms were displayed with their reproductive strategies highlighted. People were able to observe under the microscope the spores on the back of a fern leaf and the seeds within the fruit of an Arabidopsis plant. The most unique plant was the Mother of Thousands, an angiosperm that reproduces by growing plantlets on the outer edges of its leaves which eventually fall off and become new plants.
This year, SDB also coordinated the Evolution Thought Trail which brought together 12 scientific organizations with evolution themed activities at the Expo. Festival goers who visited 3 booths along the trail won a prize. To see more pictures from the festival expo click here. SDB plans to participate in the festival when it returns again in 2016.