Clement L. Markert, 1917-1999
Clement L. Markert, 82, a Distinguished University Research Professor in the Department of Animal Sciences at North Carolina State University, died October 1 after a short bout with multiple illnesses. He leaves behind his wife Margaret, two sons and one daughter.
Markert graduated summa cum laude from Colorado University in 1940 and went on to receive master and doctorate degrees from UCLA and Johns Hopkins, respectively. He did his post-doctoral work at the California Institute of Technology, 1948-50, then professed biology and zoology successively at the University of Michigan, Yale and Johns Hopkins. In 1986 he moved to Raleigh where he finished his career teaching at NC State. In the 1980s and early 1990s he had several visiting and honorary professorshis, including positions in China and Japan.
Markert fulfilled editorial duties for various scientific publications from 1963 on and was perpetually active in national committees, panels and societies dedicated to the advancement of science. His many professional distinctions include being inducted into: the National Academy of Sciences, the Institute of Medicine of the National Academy of Sciences, the American Academy of Arts and Sciences and the American Association for the Advancement of Science. He served on the Society for Developmental Biology Board of Trustees from 1961 to 1965, including a term as President in 1963. In June 1999, he was given the Edwin Grant Conklin Medal by SDB for significant and sustained contribution to the field of developmental biology.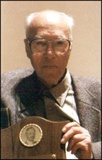 Clement Markert with his 1999
Conklin Award plaque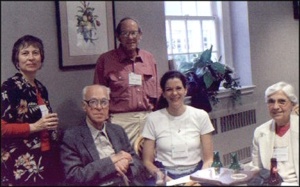 Kathryn Tosney, Clement Markert, John Coleman,
Diana Darnell and Marie Di Berardino, June 1999



Developmental Biology
Published by Elsevier Science under Auspices of Society for Developmental Biology