James W. Lash, 1929-2000
James (Jay) Lash died of pancreatic cancer on January 11, 2000, in Woodstock, Vermont. He is survived by his wife, Natalie, his daughter, Rebecca and two brothers.
Dr. Lash was born in Chicago and received his doctoral degree in zoology from the Univ. of Chicago in 1954. He then went to Univ. of Pennsylvania School of Medicine for postdoctoral research, and remained a faculty member in the Department of Anatomy (later renamed Department of Cell and Developmental Biology, under his urging) until his retirement in 1995. He served on a number of editorial boards, on NIH study sections and advisory boards and he taught in the Woods Hole Marine Biological Laboratory's embryology course.
Jay Lash was mainly interested in cell-cell, cell-tissue and cell-matrix interactions during the course of development; but he also published in other areas such as wound healing and tissue organization. He was very involved with teaching, especially embryology and histology to medical students; and he produced the Interactive Embryology: The Human Embryo Program after his retirement.
A more detailed article on Jay Lash by Kersti K. Linask and Joseph W. Sanger is published in Developmental Biology 224:1-2, 2000.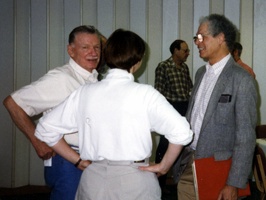 John Saunders (left) and Jay Lash (right); Leon Browder (background), 1996



Developmental Biology
Published by Elsevier Science under Auspices of Society for Developmental Biology