Thomas J. King (1921-2000)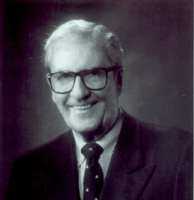 Thomas J. King Jr., SDB President 1972-1973, died of cancer, at the age of 79, on October 25, 2000 at the Johns Hopkins Hospital in Baltimore, Maryland. Together with Robert W. Briggs (1911-1983), Tom King showed that transfer of nuclei from frog (Rana pipiens) blastula cells into enucleated, activated eggs produced healthy tadpoles (Briggs, R. and King, T.J, 1952. Proc. Natl. Acad. Sci. USA 38:455-463). Their pioneering nuclear transplantation experiments not only confirmed totipotency of nuclei from blastula and gastrula cells, they also paved the way for studies that led to cloning of sheep, cows, mice and other mammals, by transferring adult somatic cell nuclei into enucleated oocytes, almost 50 years later (see http://www.faseb.org/opar/cloning/). In 1972, for their groundbreaking work, Drs. King and Briggs were the first Americans to be awarded the Charles-Leopold Mayer Prize of the Académie des Sciences, Institut de France, the highest honor of the French Academy.
Dr. King's bachelor's degree was from Fordham University (New York, NY), and his master's and doctorate degrees were from New York University. The Ph.D. work was a portion of the research done in Dr. Brigg's laboratory at the Institute for Cancer Research (today's Fox Chase Center in Philadelphia, PA), where he stayed and later became the chair of the Department of Embryology. In 1967, he left for the Department of Biology at Georgetown Univ., Washington, DC. He was a division director at the National Cancer Institute, from 1974 until 1980, when he returned to Georgetown and stayed until retirement in 1990. Dr. King also was the Director of the Kennedy Institute of Ethics and Deputy Director of the Lombardi Cancer Research Center at Georgetown.
Tom King was born in New York and raised in Ridgefield Park, N.J. He was an instructor in the Army Medical Technicians School and a Medical Administrator Corps officer in the Pacific during World War II. He was a former treasurer and director of the American Association of Cancer Researchers. Dr. King is survived by his second wife, Hannah May Lyddane; a daughter from his first marriage (first wife Marion E. King died in 1989), Deborah King Kurz; two grandchildren and three stepchildren.



Developmental Biology
Published by Elsevier Science under Auspices of Society for Developmental Biology