Volunteer at the USA Science & Engineering Festival
By Marsha E. Lucas

The Society for Developmental Biology will once again be participating in the USA Science & Engineering Festival Expo to be held April 28 - April 29 in Washington, DC with a special sneak peak event on Friday, April 27. This is a wonderful opportunity to introduce the public to the awesomeness of developmental biology. Based on the success of our 2010 Expo (see the Node report with more cute kids and scopes), we are very excited to do it again.
Come experience this great outreach event and volunteer with SDB!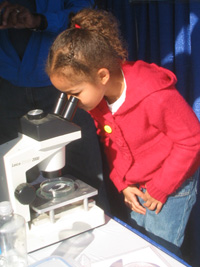 The 2012 Viktor Hamburger Outstanding Educator Prize winners at BioEYES, Steve Farber (Carnegie Institution for Science) and Jamie Shuda (University of Pennsylvania), will be on hand for the zebrafish demonstration. Volunteers from SDB Treasurer Sally Moody's lab at George Washington University will spearhead the Xenopus demonstration, while Karen Bennett from the University of Missouri will organize the C. elegans exhibition. SDB will be among nearly 20 scientific societies and organizations on the Evolution Thought Trail in which visitors can participate in evolution-themed exercises and win prizes. We will also have various organism masks for kids color.
In order to make this event a success, SDB needs local volunteers to help with demonstrations and talking with the public about developmental biology. If you live in the Mid-Atlantic region or plan to visit Washington, DC we would appreciate your participation on Friday, April 27, Saturday, April 28, or Sunday, April 29 at the Walter E. Washington Convention Center. Please sign-up here.
Along with the Festival Expo, many satellite events are taking place throughout the country. If you would like to host a public talk or scientific demonstration around the developmental biology theme, please contact Ida Chow as some financial support may be available.
SDB also nominated Marnie Halpern from the Carnegie Institution for Science for the Nifty Fifty (times 2) program in which noted scientists fan out across the Washington, DC area to speak with middle and high school students about their science and careers.
We appreciate everyone's help in making this year's Expo a success. If you have any questions or suggestions please contact Ida Chow at ichow@sdbonline.org.