SDB Collaborative Resources Launched
By Marsha E. Lucas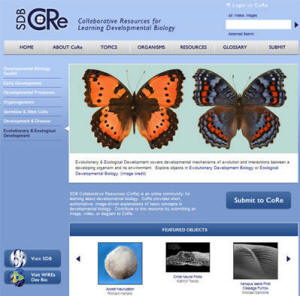 SDB Collaborative Resources (CoRe), our new online community for learning about developmental biology has now launched. The goal of CoRe is to provide short, authoritative, image-driven explanations of basic concepts in developmental biology. It is free and open to all.
SDB CoRe is easily-searchable and can be browsed by topic, organism, or featured objects. All objects have short descriptions aimed at helping users learn something about development with glossary words highlighted in green.
Object pages contain references as well as links to related CoRe objects, links to reviews in WIREs Developmental Biology, and when relevant, to original research papers in SDB's official journal Developmental Biology. Users can create a My CoRe account in order to comment on an object or save it in their favorites.
SDB needs your help in building this community resource! We are looking for visuals that help explain basic concepts in developmental biology across numerous plant and animal species. Here are the guidelines for submitting to CoRe. If you are an SDB member you can login to CoRe with your email address to submit. Non-members that would like to submit to CoRe please contact me at info@sdbcore.org. If you have any questions or suggestions for the site please email me as well. Enjoy SDB CoRe!