Nifty Fifty event with Marnie Halpern
By Marsha E. Lucas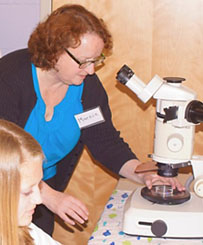 Marnie Halpern at the fluorescence microscope. (Image by Shelley Johnson)
On April 20, Marnie Halpern visited some 200 students and faculty at Our Lady of Perpetual Help (OLPH) School in Ellicott City, Maryland on behalf of the Society for Developmental Biology to share her research using zebrafish to study development.
SDB nominated Halpern of the Carnegie Institution for Science in Baltimore for the 2nd USA Science & Engineering Festival's Nifty Fifty (times 2) program. With this program, 100 scientists and engineers fanned out across the Washington, DC area to speak about their research and careers at various middle and high schools.
This was the second year Halpern spoke as a Nifty Fifty scientist on behalf of SDB. In 2010 she addressed an overflowing auditorium at Gaithersburg High School in Maryland. This year's visit, however, presented a particular challenge as OLPH is comprised of elementary through middle school students. Instead of giving a lecture about her research, Halpern decided to spend the entire school day at OLPH and engage each of the classes in age-appropriate activities on zebrafish development.
Halpern enlisted the help of BioEYES program manager and educator, Valerie Butler, to plan targeted activities for all the students. Due to a last minute cancellation, Butler was able to bring the week-long BioEYES program to OLPH for the 5th grade students the same week as the Nifty Fifty program. The students learned to identify male and female fish, set up crosses, and observed embryonic and larval development over five days. The excitement of the 5th graders spread throughout the school, such that by the end of the week, all the classes were ready and primed for Halpern's Nifty Fifty visit.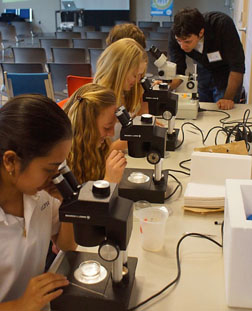 Students assisted by Erik Duboué observe zebrafish mutant embryos. (Image by Shelley Johnson)
The Nifty Fifty program day was broken up into 30 to 45 minute sessions for each grade level to participate in age-specific activities. Halpern began every session with a brief introduction to zebrafish development adapted for the grade level. "I always show them the movie of the developing zebrafish because everybody can relate to that. It doesn't really matter what your age is," she said. "How animals develop is of great interest even to the young children."
Following the introductions, Halpern conducted hands-on activities with the help of Butler and her postdocs, Erik Duboué and Troy Horn.

The seventh and eighth graders broke into small groups and rotated through four different activity stations. At station #1 they observed live embryos and larvae from cleavage stages through 4 days under light microscopes. At station #2 they compared wild type embryos to cyclops, one-eyed pinhead, and no tail mutants. At station #3 the students had to match zebrafish mutant names like leopard, golden, albino, and long fin to their corresponding adult phenotypes. Finally, at station #4 students observed transgenic fish expressing either green or red fluorescent protein in the blood, blood vessels, pancreas, and liver under a fluorescence microscope.
The grade six students also broke up into small groups, but only rotated through stations #1 and #2 observing the wild type and mutant zebrafish embryos. When they were not at a station, the students made flip-books of zebrafish development. This is an exercise that BioEYES does and is from the Exploratorium website, a great resource for science activities. The students assembled cards with a series of images of the first 48 hours of zebrafish development on them. The cards are held together by a binder clip and when they flip through the book they see an embryo developing and a larvae swim away. "It's just like a cartoon flipbook," Halpern said.
Fifth grade students order developmental stages. (Image by Shelley Johnson)
Since the fifth graders had BioEYES in their classroom all week, Halpern used the opportunity to see how much they had learned. Their group activity required them to put cards with illustrations (from Kimmel et al.,1995) of various stages of zebrafish development in the correct order. When they were done and turned the cards over, the letters on the back created a secret message. "They got it pretty quickly," Halpern said. Butler, who worked with the fifth graders the entire week reflected on the experience. "I had a fantastic time at OLPH! Typically my students are enthusiastic about their week with BioEYES, but there was something magical with the fifth grade class at OLPH. And I'm not just saying that."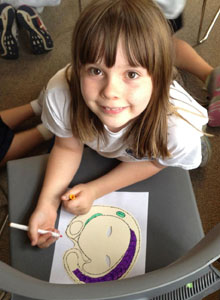 Making a mask. (Image by Shelley Johnson)
The third and fourth graders spent their session observing the developmental stages at stations #1 and #2. When they weren't at the microscopes they decorated zebrafish embryo masks that SDB created two years ago for the first USA Science & Engineering Festival. The glitter glue was a hit.
Finally, the first and second graders visited station #3 with the adult zebrafish. Observing the fish mutants with their various pigment patterns was a great segue into the cut-and-paste fish activity provided by BioEYES. The students had to cut out a zebrafish, paste fins on it, and color it to their liking. The teachers were apprehensive about letting the youngest students near the microscopes, but Halpern and her postdocs allowed a few of the most interested children observe the embryos at the microscope.


First and second grade students with their zebrafish. (Image by Shelley Johnson)
By the end of the day, Halpern said she learned that keeping bright and inquisitive children intellectually engaged is exhausting—even for her youthful postdocs!
"Whenever I do outreach in schools it always reinforces for me how dedicated and motivated teachers are. The teachers just really want the kids to expand their minds and learn about lots of different things. I just found them very motivated and positive. ... I strongly feel that scientists can play a bigger role supporting what teachers do."
Check out the SDB website for more Nifty Fifty photos.