Welcome to the first installment of SDB e-news
SDB e-news is a new quarterly electronic newsletter from the Society for Developmental Biology. It will feature SDB member stories, pertinent society news, and highlight interesting tidbits in developmental biology. Our goal is to keep you informed of emerging issues, provide access to the numerous opportunities for SDB members, and offer a community forum for professional development.
In future issues we hope to include a career development section geared toward junior members of the society and science policy news from the Federation of American Societies for Experimental Biology (FASEB). If you would like to contribute an article or story idea for SDB e-news please contact Marsha Lucas at [email protected]. We welcome membership support and feedback!
In addition to SDB e-news, we have recently launched our SDB Facebook page. Become a fan of SDB and stay up-to-date on the latest happenings within the society.
We hope you find SDB e-news both informative and engaging. Enjoy!
Alexandra L. Joyner
SDB President
---
SDB will hold its 70th annual meeting July 21-25, 2011 in Chicago, IL at the Hyatt Regency. Many great speakers and sessions are lined up. The abstract submission deadline is March 21 and the early meeting registration deadline is May 31. Latin American-Caribbean Student and Faculty Scholarship applications due March 21. Student, postdoc, and teaching faculty travel award applications due April 25.
---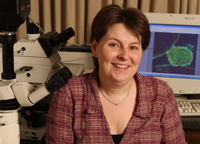 Gargoyle wings, elf ears, and a mermaid tail fin are just a few of the anatomical features studied by students in Judith Thorn's developmental biology class at Knox College.
---
Edwin G. Conklin Medal: Ruth Lehmann, Skirball Institute of Biomolecular Medicine, NYU School of Medicine and Howard Hughes Medical Institute; Developmental Biology-SDB Lifetime Achievement Award: Peter A. Lawrence, University of Cambridge (UK); Viktor Hamburger Outstanding Educator Prize: Mary S. Tyler, University of Maine. Drs. Lehmann and Tyler will give awards lectures July 24 at the annual meeting in Chicago.
---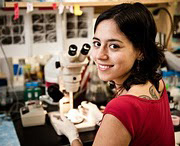 While pursuing her PhD at Tulane University in New Orleans, Duygu Özpolat, a developmental biologist from Turkey, translated evolutionary biology texts into her native language.
---
---
Did you know?
---