New Jersey Science & Engineering Festival a Success
By Marsha E. Lucas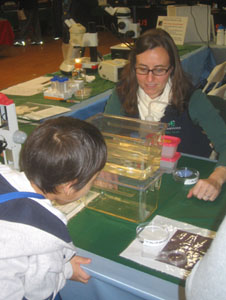 Tracy Nelson (BioEYES) shows child adult zebrafish.
The Society for Developmental Biology participated in the 2nd New Jersey Science & Engineering Festival held October 13-14, 2012 in Clifton, New Jersey. The festival, about forty five minutes outside of New York City, attracted many students, parents, and science educators from the local community. SDB's presence was definitely needed as of the fifty or so exhibitors at the festival, only a handful were from the life sciences. SDB volunteers hailed from BioEYES at the University of Pennsylvania, the Mount Sinai School of Medicine, Upstate Medical University, Queens College, and Princeton University.
Tracy Nelson (BioEYES) and Nathalia Holtzman (Queens College) provided microscopes and zebrafish for the exhibit. Visitors were able to observe various stages of zebrafish development and learn why scientists study them. Sergei Sokol (Mount Sinai School of Medicine) provided Xenopus laevis embryos and tadpoles for the exhibit. Visitors were able to compare their development to that the direct developing Coqui frog. They learned that humans and mice are more closely related than these two frog species through our evolution exercise. Many thanks to Richard Elinson (Duquene University) for providing fixed Coqui embryos and froglets. Also a special thanks to Alberto Roselló, a postdoc in Alexandra Joyner's lab at Memorial Sloan-Kettering Cancer Center who provided us with microscopes for the weekend.
| | |
| --- | --- |
| | |
| Hwee Gon Tay (left) shows visitor zebrafish embryos. | |
Hwee Gon Tay, a postdoc in Jeffrey Amack's lab at Upstate Medical University expressed her appreciation for the outreach opportunity. "I definitely learned how [a] simple setup coupled with interaction in an informal environment could actually attract attention and interest from [the] general public," she said. "I have shared my positive experience with [my] lab members and many are very interested to participate in any future developmental biology outreach events."
In addition to the live embryos, children (and some adults) had the opportunity to become a model organism themselves with our fruit fly head, Xenopus tadpole, and zebrafish embryo masks. Some kids even enjoyed looking at the embryos while wearing their masks.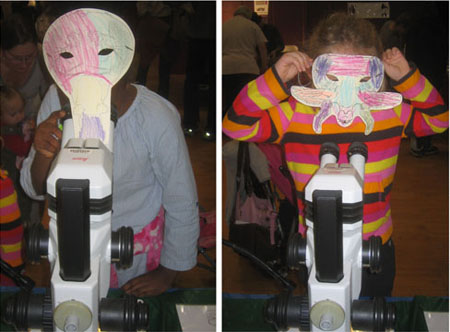 Wild type (left) and Antennapedia mutant (right) fruit flies observe Coqui embryos.
The New Jersey science festival was a satellite event of the USA Science & Engineering Festival in which SDB participated. The next USA Science & Engineering Festival is scheduled for April, 2014.