---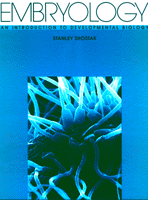 Stanley Shostak
Embryology: An Introduction to Developmental Biology
1991
Harper/Collins, New York
ISBN 0-06-046126-8







Contents
Part 1: Introdution
1. EMBRYOS AND DEVELOPMENT 3
2. EMBRYOS AND ADULTS 25
Part 2: Continuity and Change: Heredity and Development
3. CELL REPRODUCTION AND MOLECULAR REPLICATION 55
4. THE GENE AND DIFFERENTIATION 75
Part 3: Reproductive Biology: Where Embryos Come From
5. TYPES OF REPRODUCTION 113
6. THE SPERMATOZOON AND THE OVUM 133
7. GAMETOGENESIS 163
Part 4: Fertilization and the Zygote
8. THE EMBRYO'S BEGINNINGS 229
9. REORGANIZING THE ZYGOTE: PREFORMATION VERSUS EPIGENESIS 261
Part 5: Cleavage and Blastomeres
10. GENERAL AND UNIQUE FEATURES OF CLEAVAGE 293
11. TYPES OF CLEAVAGE: DESCRIPTIONS AND COMPARISONS 307
12. CONSEQUENCES OF CLEAVAGE: ANALYTIC STUDIES 353
Part 6: Blastulation and Blastulas
13. THE DESCRIPTIVE ANATOMY OF BLASTULAS 387
14. PATTERN FORMATION IN THE BLASTULA 415
15. ACTIVATING THE BLASTULA'S GENOME AND INAUGURATING HIGHER LEVELS OF CONTROL 449
16. GENETIC VERSUS EMBRYOLOGICAL CONCEPT OF DEVELOPMENT 479
Part 7: Gastrulas and Gastrulation
17. DEFINING THE GASTRULA 497
18. DEVELOPMENTAL ANATOMY OF LECITHOTROPHIC GASTRULAS 505
19. DEVELOPMENTAL ANATOMY OF GASTRULAS FROM MICROLECITHAL AND MESOLECITHAL EGGS 531
20. MECHANISMS AND CONTROLS OF GASTRULATION 559
21. GERM LAYERS AND GASTRULAS: PHYLOGENY AND ONTOGENY 577
Part 8: Embryogenesis and Morphogenesis: Acquiring Species Characteristics
22. HOMOLOGY: THE GENETICS OF CELL LINEAGE, HOMEOTIC MUTANTS, HOMEOBOXES, AND POU 609
23. ESTABLISHING THE VERTEBRATE BODY PLAN: PALINGENESIS VERSUS PLASTICITY 631
24. CENOGENESIS IN VERTEBRATES 653
Part 9: Organogenesis and Specification
25. VERTEBRATE ORGANOGENESIS 687
26. SPECIFICATION OF THE NERVOUS SYSTEM 745
REFERENCES
INDEX
Preface
Twenty-five years ago when I started teaching embryology and developmental biology, I made a commitment to tell my students what they wanted to know about embryos. From listening to their comments and questions, I learned that my students wanted me to explain difficult subject matter, not simplify it. From their term papers, I learned that they were eager to bring the subject matter up to date and grapple with current research. And from their examinations, I learned that I served my students best by placing before them my own concerns with change and growth.

Embryology: An Introduction to Developmental Biology is the composite of what I have told my students. The book is a collection from lectures over the years, rather than a single lecture series, and students and instructors should sort out the material according to their needs and the limitations of their time. The subject matter is organized conceptually, chronologically, and by degrees of difficulty, but the reader should be able to pick and choose desired material among the chapters and utilize the remainder of the text for background information where necessary.

The demands of a printed page are different from those of an academic hour. On the debit side, as a writer, I lose, for the most part, access to the students' comments I found so valuable in creating my lectures. On the credit side, the book allows me to highlight details and data, as well as concepts, and to lay a foundation of knowledge as well as build an edifice of facts. In addition, students gain confidence in the information presented if only because they can return to the printed page without worrying if their notes are correct.

My objective as a teacher is to explain the sources and inspiration of knowledge of embryos and development. Embryology springs from a dynamic view of life. Embryology situates the embryo in a continuum of life cycles; it integrates form with change and function with evolution. The embryological literature contains descriptions and comparisons, analysis and theory. Upgraded and updated, a course in embryology provides a meaningful body of information and a sustaining intellectual challenge.

The subject of embryology receives a rounded and balanced treatment in Embryology. Examining organisms' early history, Embryology is concerned with origins, causes, and effects. Building on a cellular foundation, the text reaches out toward anatomy and histology and grows toward developmental biology and reproductive physiology.

Addressed to advanced undergraduates, Embryology provides biology majors with information on embryos that they will need in other courses. Students with aspirations to careers in health sciences and medicine receive fundamentals for acquiring more precise knowledge of human development, and students on their way to graduate school obtain contemporary information on the known and unknown sides of embryos. Embryology also serves as a reference, a lexicon, a source of data, and a window to the literature of embryology.

The first parts of Embryology are introductory: Part 1 introduces embryology, while Part 2 introduces developmental biology. Classical embryology begins with reproductive physiology, gametes, and gametogenesis in Part 3, and the embryo's own development begins with fertilization in Part 4. Parts 5-9 are organized chronologically as the embryo unfolds. The sections present increasingly complex subject matter and concepts. Description gives way to analysis, and a comparative approach yields to experimentation. Following the adage that "history is the postscript of wisdom," sections end with discussions of the history of the subject. Conceding to the practical limitations, the book focuses on vertebrates for its final chapters and more or less ends at the point where the mammalian embryo transits into a fetus.

Each part is followed by Summary and Highlights, Questions for Discussion, and Recommended Readings. These are all intended to aid study by pointing the way backward or forward to information or by jogging memory. Key words and species are listed in the Index. Numbers in boldface identify pages in the text containing definitions. Additional information may be pursued through citations dotting the text and listed alphabetically by the first author's last name in the References.

Ultimately, the success of Embryology will not be measured by how far the text has taken students but by how much further students take the text. Friedrich Seidel, who ranks among the parents of modern developmental biology, makes this point while explaining his motivation for studying development:
I have been very fortunate to participate at a Congress of the German Zoological Society in
 Gottingen 60 years ago (1920) and to listen to the talk of Hans Spemann on his
 transplantation experiments with Triton eggs. This has been a truly incisive event in my life.
 I have given a detailed report of these investigations to many of my student friends ....
 Then I have gathered all available publications of Spemann and my decision was made:
 "Something like that you ought to be doing! "
My goal for Embryology was to distill Seidel's "something like that" for contemporary students. If I succeeded, it was entirely due to the scientists who labor in embryology. In addition, I would like to thank all those who helped me bring this book to fruition: Professor Marcia Landy, whose belief in the project and effort on its behalf never flagged; Claudia Wilson, college editor, who told me at the beginning to "write your own book" and meant it; Albert Chung, Chairperson of the Department of Biological Sciences, and Peter Koehler, Dean of the Faculty of Arts and Sciences, who granted me sabbatical leave for the purpose of completing the manuscript; Drynda Lee Johnston, departmental reference librarian, and her able assistants who located and procured the literature I required; Ruth Ann Schulte, who patiently gathered all the permissions, and the following reviewers, whose comments were a tremendous help: Dr. Klaus Kalthoff, University of Texas; Dr. Brian Kay, University of North Carolina; Dr. Gerald Bergtron, University of Wisconsin; Dr. Hugh Stanley, Utah State University; Professor Helmut Sauer, Texas A&M University; Professor Howard Nornes, Colorado State University; Albert Harris, University of North Carolina at Chapel Hill; James Fowler, State University of New York; Betty L. Black, North Carolina State University; Herbert Phillips, University of Texas, Arlington; James Asher, Jr., Michigan State University; Dr. William Forbes, Indiana University of Pennsylvania; Dr. Ronald Harris, University of Southern California. Finally, let me thank the publishers and authors who gave permission to use illustrations, especially those who contributed photographs from original work.
STANLEY SHOSTAK
I. F. Seidel, 1981. Introductory address to the conference on progress in developmental biology, Mainz, March 25-28, 1980. In H. W. Sauer, ed., Progress in developmental biology. Fischer Verlag, Stuttgart, pp. 1-5.
---
Prev Page | Home Page


SOCIETY FOR DEVELOPMENTAL BIOLOGY
SDB Webmaster
Created, Saturday, June 8, 1996