---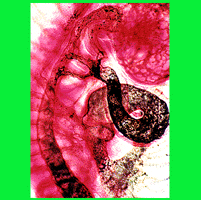 Gary C. Schoenwolf
Embryo: Color Atlas for Developmental Biology
Prentice Hall, Englewood Cliffs, NJ








Description of CD-ROM
EMBRYO: COLOR ATLAS FOR DEVELOPMENTAL BIOLOGY is a collection of hundreds of high-quality color photographs of developing frog, chick, and pig embryos on CD-ROM.
Paired labeled and unlabeled images are included, with each pair consisting of conventional whole mounts or serial transverse and sagittal sections.
Also included are time-lapse clips of developing chick embryos and stacks of serial sections—which can be viewed sequentially in rapid sequence to aid the student in tracing structures rostrocaudally throughout the length of the embryo.
Embryonic rudiments appearing in images can be searched for by key word, and individual databases can be constructed using the simple navigational tools.
Suitable for both student self-study and computer-aided teaching withina classroom setting, this exciting new tool will enhance your students'experience in developmental biology.
Sample Images
Each image on the CD will consist of a group of three: a fully labeled image (below left), an image labeled with letters for testing purposes (below middle), and a completely unobscured, unlabeled image (below right). [Click on an image to see a full-size version.]

---
Prev Page | Home Page


SOCIETY FOR DEVELOPMENTAL BIOLOGY
SDB Webmaster
Modified Wednesday, January 1, 1997