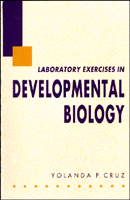 Yolanda P. Cruz
Laboratory Exercises in Developmental Biology
1993
Academic Press, Inc.
ISBN 0-12-198390-0-4
Preface
Background
EXERCISE 1
Fertilization in the Sea Urchin
EXERCISE 2
Early Development in the Sea Urchin and Starfish
EXERCISE 3
Early Development in the Frog: To Neurulation
EXERCISE 4
Early Development in the Frog: To 10 Millimeters
EXERCISE 5
Preventing Axis Formation in Amphibians with Ultraviolet Irradiation
EXERCISE 6
Early Chick Development: To 48 Hours
EXERCISE 7
Early Chick Development: To 96 Hours
EXERCISE 8
Chick Development in a Windowed Egg
EXERCISE 9
Ethyl Alcohol, Caffeine, and Chick Development
EXERCISE 10
Totipotency of the Unincubated Chick Blastoderm
EXERCISE 11
Cardia Bifida in the Chick
EXERCISE 12
Tadpoles and Thyroxine
EXERCISE 13
Blastomere Totipotency in the Two-Cell Mouse Embryo
EXERCISE 14
Alizarin Staining
EXERCISE 15
Drosophila Polytene Chromosomes
EXERCISE 16
Induction of Chromosome Puffing with Heat Shock
EXERCISE 17
Drosophila Imaginal Discs and Ecdysone
Index
Preface
Developmental biology is a rapidly expanding field of study. From its origins in classical embryology and experimental morphology, developmental biology has come to include, in recent years, many facets of genetics, cell and molecular biology, biochemistry, and comparative anatomy. Keeping up with new knowledge in developmental biology has become an almost daunting task, leaving many instructors with no choice but to concentrate on incomplete but familiar subsets of topics. Because of this, teaching a course in developmental biology has become a real challenge.
An additional challenge faces those of us who teach laboratory courses in developmental biology at the college level. There is the constant dilemma of deciding which laboratory exercises would be appropriate and manageable within the constraints of limited time, space, and material resources. Additionally, there is legitimate concern about the learning benefits of those laboratory exercises we eventually select. Most college instructors in developmental biology agree that a firm grounding in embryology is paramount, but that familiarity with novel experimental approaches to problems in developmental biology is no less worthwhile. Doing justice to the discipline while meeting the needs of our students then becomes a potentially arduous exercise in striking just the right balance.
This manual is intended as an accompaniment to a lecture course in animal development. Its focus is on fostering familiarity with the different animal experimental systems that have provided us with opportunities to understand just what is going on at the organismal, cellular, and subcellular levels. Its approach is a combination of learning techniques, performing experiments, and providing opportunities to formulate questions about interesting problems in developmental biology. Inherent in its content and organization is the recognition that neither observation nor experimentation alone suffices as individually adequate strategies in comprehending recent advances in animal development. The manual deliberately takes a broad, introductory view of developmental systems and thus, of necessity, sacrifices some depth in the treatment of any one of these experimental systems. The breadth in coverage that is gained, however, more than convincingly compensates for the exclusion of laboratory exercises whose main focus would be narrower, or would be more appropriate for a class in cell or molecular biology. Indeed, the laboratory exercises presented here are best described as laboratory exercises in animal development.
This volume is the result of 6 years of teaching developmental biology to college juniors and seniors at Oberlin College. With rare exceptions, these students have academic interests in biology, neuroscience, and biochemistry. Without exception, these students have had introductory courses in organismal biology and in cell and molecular biology. This manual is designed for a class of 20 meeting twice weekly. Many of the exercises can be completed during a 3-hour lab; some span the course of days; others, weeks. The sequence in which the exercises appear here is dictated by the lecture topics. Each exercise, however, can stand on its own; for this reason, a section called "Notes to the Preparator" is included in every exercise.
Many students and colleagues gave advice and assistance during the formative years of these lab exercises. I am forever in their debt: Steve Black, Dennis Chang, Kirsten Hagstrom, Edina Harsay, Anne Hastings, Roger Pedersen, Johann Soults, Jim Sutherland, and Cheryl Wolfe. I am grateful to my students in Biology 302 for their comments and suggestions; to my colleague, Robin Treichel, and my editor, Phyllis Moses, for encouragement. I thank Elsa Pearson and David Love for their forbearance. Finally, I acknowledge the helpful suggestions offered by several anonymous reviewers.
Yolanda P. Cruz