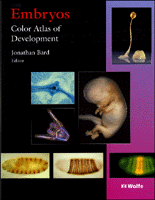 Jonathan Bard, Editor
EMBRYOS, Color Atlas of Development
1994
Mosby-Year Book Limited, London
ISBN 0-7234-1740-7
Contents
Preface
Introduction
1. Arabidopsis
Gerd Jurgens and Ulrike Mayer
Institut fur Genetik und Mikrobiologie, University of Munich, Munich D8000, Germany
2. Dictyostelium discoideum
Robert R. Kay and Robert H. Insall
MRC Laboratory of Molecular Biology, Hills Rd., Cambridge, CB2 2QH, U.K.
3. The Sea Urchin
Jeff Hardin
Dept. Zoology, University of Wisconsin, Madison, WI 53706, U.S.A.
4. Caenorhabditis elegans, the Nematode Worm
Ian A. Hope
Dept. Pure and Applied Biology, University of Leeds, Leeds LS2 9JT, U.K.
5. Molluscs
Jo A.M. van den Biggelaar, Wim J.A.G. Dictus and Florenci Serras
Zoological Laboratory, State University of Utrecht, Utrecht, Netherlands
6. The Leech
David A. Weisblat
Dept. Zoology, University of California, Berkely, CA 94720, U.S.A.
7. Drosophila
Maria Leptin
Max Plank Institut fur Entwicklungsbiologie, Spemannstrasse 35, 7400 Tubingen, Germany
8. The Zebrafish
Walter K. Metcalfe
Institute of Neuroscience, University of Oregon, Eugene, OR 97403, U.S.A.
9. Xenopus and Other Amphibians
Jonathan M. W. Slack
Dept. Zoology, Oxford University, Oxford, OX1 3PX, U.K.
10. The Chick
Claudio D. Stern
Dept. Human Anatomy, Oxford University, Oxford, OX1 3QX, U.K.
11. The Mouse
Jonathan B.L. Bard and Matthew H. Kaufman
MRC Human Genetics Unit, Western General Hospital, Edinburgh, EH4 2XU, U.K.
Dept. Anatomy, Edinburgh University, Edinburgh, EH8 9AG, U.K.
12. The Human
Marjorie A. England
Dept. Anatomy, Medical Sciences, University of Leicester, Leicester, LE1 9HN, U.K.
Index
Preface
This book was written to help developmental biologists and molecular geneticists working on one embryo understand research being done on others, but it has two other purposes. One is to highlight the wide range of developmental and morphogenetic problems that are currently being investigated, many of which still lack even the beginnings of a molecular solution, and the other is to display the sheer wonder at the way in which the complexity and richness of the functioning organism are generated by a modest egg. I therefore hope that developmental biologists from undergraduates onwards will not only find the book useful but will also enjoy browsing through its pages and letting the embryos speak of their mysteries through their pictures.
This book is a joint effort and I am grateful to my collaborators who have set aside their research work in order to show how their embryos develop and what they can do. In addition, I particularly appreciate the generosity of our many colleagues who have allowed us to use their photographs: embryology is a visual subject and pictures are more powerful than words can ever be in bringing the subject to life. I would also like to thank Vernon French for his comments and advice, Tracy Cooper, my editor, for her support, enthusiasm and help, and Penny Bourke who had the difficult task of integrating the text and pictures to produce a book that was both easy to read and pleasing to look at.
Jonathan Bard

Developmental Biology
Published by Elsevier Science under Auspices of Society for Developmental Biology